Five takeaways from Indiana's win over Illinois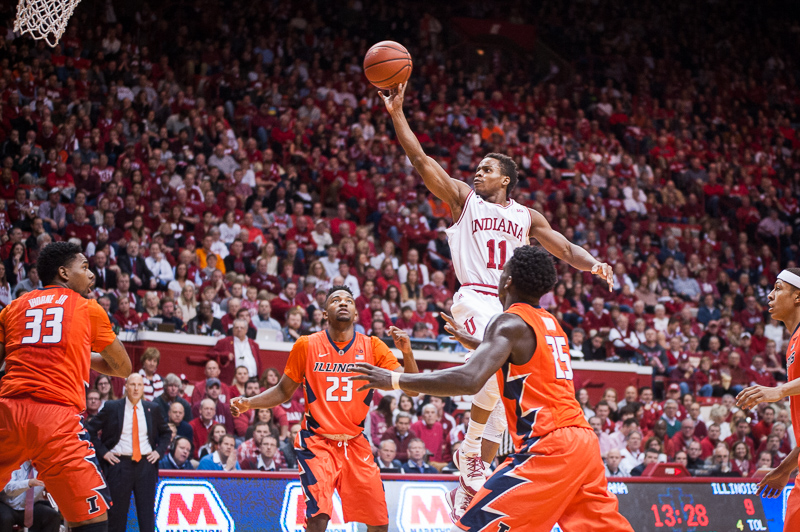 Indiana won its 11th straight game in dominating fashion, 103-69, on Tuesday night over Illinois at Assembly Hall. The victory moved the Hoosiers to 16-3 overall and 3-0 in the Big Ten.
Here's a look at five takeaways from the win over the Fighting Illini:
· Ferrell continues best stretch of his career: Through six games, Big Ten opponents have no answer for Yogi Ferrell. The Indianapolis native carved up another conference foe on Tuesday night to the tune of 16 points and nine assists.
Not only did Ferrell set Indiana's all-time assists record in the game, but he also shut down Kendrick Nunn, who finished with just 10 points on 3-of-11 shooting before fouling out. Ferrell continues to strike the perfect balance between scorer and distributor while also drawing the toughest matchups defensively. He's guarding bigger players – like Ohio State's Marc Loving, Nebraska's Andrew White and Nunn – and doing so successfully.
"He sets the tone defensively," Tom Crean said of Ferrell. "He sets the tone offensively. What I love about him is he's incredibly happy for their success (his teammates), and his maturity is well on its way. We've got a lot of basketball left. We've got a lot of games left. We've got 12 regular season games I think right now, and there is a lot of basketball left to be played. But if he stays on this path of continuing to improve the way that he is and keeps that work ethic that way, he'll leave here with a really strong legacy."
· Record setting 3-point performance set up by ball movement, unselfishness: Indiana hit 19 3s in the rout of Illinois and that feat can be heavily attributed to crisp ball movement and a willingness to share the ball.
Some of the numbers from this game are incredible. The Hoosiers hit 19 of their 36 attempts from distance and assisted on 27 of their 37 made field goals. Nine (!) different players made a 3, including Thomas Bryant and Harrison Niego. None of the shots seemed to come outside of the flow of the regular offense, either.
"It's not like we come out and that's our game plan is to shoot 3s," Troy Williams explained. "We just drive the ball inside, get it rotated outside and knock down the 3. Or we get in transition, like one example, I get in transition and I pass it back to Yogi for the 3. Just shooting the right shot at the right time."
· Williams appears to have worked out of his early funk: The numbers for Troy Williams through three Big Ten games were not good. But over his last three, he's turned it around as the numbers below bear out:

We've written about how important it is for Williams to keep things simple for his entire career in Bloomington. Over his last three games, he's been terrific about his decision making and shot selection which is leading to more assists, fewer turnovers and more opportunities for him to cash in at the foul line.
When he keeps things simple, there are few defenders who can square Williams up and keep him out of the lane. He's historically run into trouble when he tries to make plays that aren't there. Over the last three, he's virtually eliminated those kind of mistakes.
· Defense continues to hold strong: After allowing Kennesaw State, the nation's 258th best offense, to score 1.08 points per possession in the final non-conference game, Indiana has now held six straight opponents under one point per possession.
The Hoosiers currently own the Big Ten's second best defense at .934 points per possession allowed, just behind Maryland (.931). So what's different from the IU team that went 1-2 in Maui and was crushed at Duke? Max Bielfeldt broke it down pretty well in his postgame comments.
"You've got Thomas (Bryant) guarding college ball screens for the first time and all these new pieces," he explained. "You practice them for October, September, all those months. And you finally get to the game, and you've got teams throwing all sorts of different things at you. You're guarding some different athletes, different players, and I think it just took us a little bit to kind of figure out what we needed to do and what was most effective."
· Johnson shoots it with confidence: Robert Johnson has struggled offensively early in Big Ten play, but the sophomore appears to be gaining confidence. Part of his struggles may be due to injuries that Crean has said Johnson has been dealing with. And part of it could be adjusting to life without James Blackmon Jr., whose absence has allowed teams to focus more on Johnson.
The sophomore guard showed no hesitation to take shots on Tuesday and while he hit just three of his nine attempts from distance, his 13 points were the most for Johnson since the Notre Dame game.
In addition to the scoring, Johnson also added seven rebounds, six assists and just two turnovers. After turning it over 13 times in the first three Big Ten games, Johnson has just six turnovers over the last three contests.
Filed to: Robert Johnson, Troy Williams, Yogi Ferrell