The Minute After: Illinois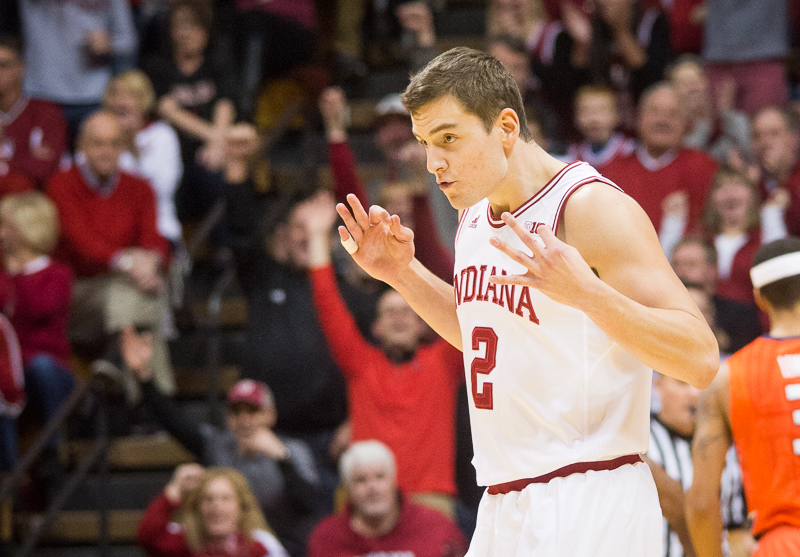 Thoughts on a 103-69 win over the Illini:
It was one of those special nights under the Assembly Hall lights.
We've been here before with a second half where Indiana's offense seemingly could do no wrong. But it'll be one to remember for some time when you add in Yogi Ferrell becoming Indiana's all-time assists leader and a program record 19 3-pointers.
Illinois took a page from Minnesota's gameplan and packed the paint on Indiana early. But the Hoosiers, as they do often at home, got hot from the outside. It helped fuel the record-setting performance. They rested on it for a bit too long early, however. They weren't getting into the paint and working inside out. It in part helped Illinois crawl back into the contest at 22-21. But once Indiana stopped settling and starting passing, cutting, driving, moving and shaking, the Illini just couldn't hang.
A 17-point halftime lead (42-25) ballooned to as much as 38 in the second half before Indiana cruised to a 34-point victory.
The second half numbers are gaudy: The Hoosiers scored 61 points and hit 10-of-15 from distance. Nine different Hoosiers scored. Max Bielfeldt (16 points) scored 10 straight for Indiana, including two 3-pointers. His performance tonight (and really all season) has mostly made you forget about the losses of Emmitt Holt and Hanner Mosquera-Perea. Troy Williams (21 points) worked on and off the ball to great effect and went a perfect 4-of-4 from the field with no turnovers. OG Anunoby shot a perfect 3-of-3 for seven points. Ferrell hit 3-of-4 from distance. Indiana got pretty much whatever it wanted on the Illini. It was near comical.
Things got so bad that John Groce reportedly yelled "no pride!" at his team during the under-8 timeout in the second half.
By the time the dust settled, Indiana posted its best mark of the conference season in terms of points per possession (1.46). And the defense — though a tiny bit shaky at times when Illinois showed some semblance of an offense, which wasn't often — also made it six straight conference games of holding the opponent under a point per possession (.98). The Hoosiers also valued the ball extremely well (16 TO%.) Tonight's beatdown also marks two straight games where a conference opponent has come into Assembly Hall and gotten destroyed.
Sure, Indiana's been favored in each game in its 6-0 Big Ten start. But inside the wins, the Hoosiers have shown resolve. They've shown toughness and togetherness. They've made up for slow starts on the road with convincing finishes. They've crushed two opponents at home while grinding a win out against another. They've displayed a much improved and committed defense. Their offense has gotten it done without James Blackmon Jr. Turnovers have only proved to be an intermittent issue. And with a senior point guard leading the way and playing the best basketball of his career, this Indiana team is starting to turn heads.
We know the harder tests are on the way and there is plenty of league play left. But with Michigan State and Purdue picking up unexpected losses, the Hoosiers are suddenly looking more and more like serious contenders for the conference crown.
Filed to: Illinois Fighting Illini