What to Expect: Illinois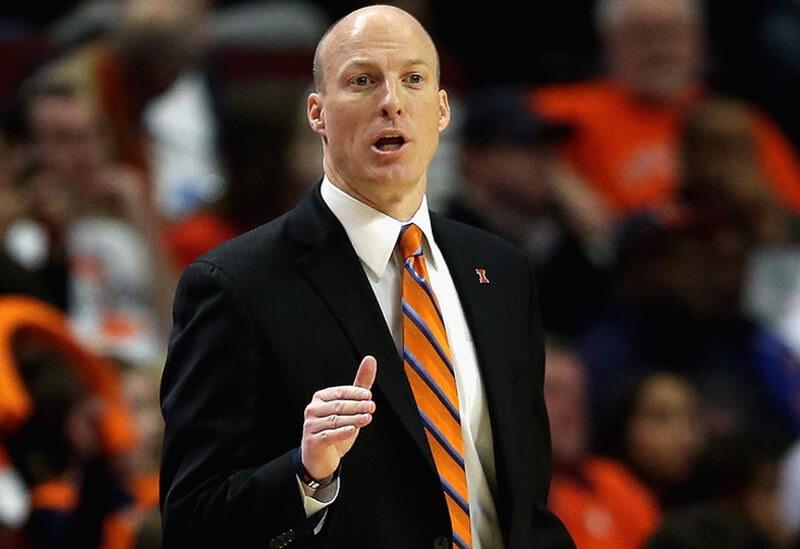 Indiana will aim to extend its winning streak to 11 games on Tuesday night when the Hoosiers welcome Illinois to Assembly Hall. The Fighting Illini are 9-9 overall and 1-4 in the Big Ten.
The game will be broadcast on ESPN at 7 p.m. ET with Mike Tirico, Dan Dakich and Allison Williams on the call:
The Hoosiers have taken advantage of a favorable conference schedule to start with a 5-0 league record, including three wins away from Assembly Hall. Indiana will again be a favorite on Tuesday as Illinois, which is coming off a home loss to Nebraska, comes to Bloomington.
It's been a disappointing season thus far in Champaign as John Groce has dealt with significant injuries and losses in four of the program's first five league games. And while a win over Purdue at home should have helped Illinois build momentum, following it up with a home loss to Nebraska was a clear regression.
Indiana, meanwhile, sits tied atop the Big Ten standings with Iowa at 5-0. The Hawkeyes are clearly the league's best team at this point based on who they've beaten and where they've beaten them, but the Hoosiers can continue to stay in the conversation as a contender by winning games. This week provides another opportunity to claim a pair of wins as Indiana looks to remain unbeaten this season at Assembly Hall.
MEET THE FIGHTING ILLINI (all stats are now conference only unless otherwise noted)
Illinois is without three players that would either be starting or making major contributions to what is now a roster fairly thin on depth. Center Mike Thorne and forward Leron Black remain out with injuries and Tracy Abrams is done for the season after suffering a torn Achilles over the summer. Thorne's status is "out indefinitely" following a meniscus tear and Black is also out indefinitely with a similar injury.
So what's left for Groce to work with? The clear centerpieces are juniors Malcolm Hill and Kendrick Nunn.
Nunn is averaging a team-best 18.5 points in league play. He's shooting 40 percent on 3s and 55.6 percent on 2s. At 6-foot-3, he's a powerful guard that can be difficult to keep out of the lane due to his strength and athleticism. Nunn ranks in the 94th percentile nationally for the season on spot-up possessions as he's scored 73 points on 56 possessions. Given the assignments he's drawn thus far in Big Ten play, it wouldn't be surprising to see Yogi Ferrell on Nunn for significant stretches.
Here's a full-season shot chart for Nunn, who loves the right wing, via ShotAnalytics: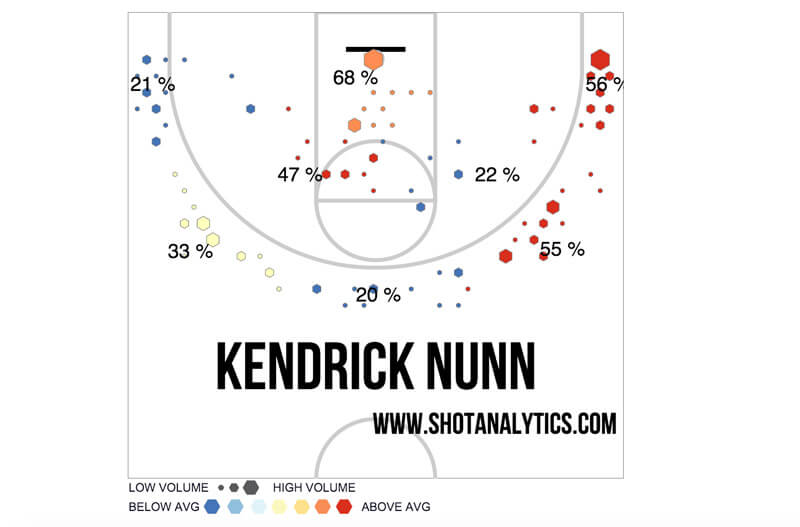 Hill, a 6-foot-6 wing, has struggled with his shooting from distance through five league games. He's hitting just 26.7 percent on 3s and a below average 46.8 percent on 2s. The strength of his offensive game is drawing fouls. Hill is drawing 7.1 per 40 minutes in Big Ten games, which is the second best mark in the conference. He's scoring more than five of his 16.4 points per game in conference from the foul line.
Freshman Jalen Coleman-Lands, a longtime Indiana recruiting target, is making 37.5 percent of his shots from deep in league play and is turning it over on just 6.5 percent of his possessions, an excellent mark for a newcomer. For the season, Coleman-Lands has scored 81 points on 68 spot-up possessions per Synergy Sports, which ranks him in the 88th percentile nationally.
With Black and Thorne sidelined, interior play is a major problem for Illinois. Freshman Michael Finke and junior Maverick Morgan have been thrust into larger roles than planned. The 6-foot-10 Finke is fourth on the team in scoring in league play at 8.6 points per game, but he's more of a perimeter oriented player. Finke has taken 15 2s and 27 3s in Big Ten play and is hitting a higher percentage from outside the arc (37 percent on 3s vs. 33.3 percent on 2s). Morgan is making 50 percent of his 2s, but has been mostly non-existent as a rebounder.
Other players Indiana will need to keep in mind as it works through the scouting report are junior point guard Jaylon Tate, freshman guard Aaron Jordan, freshman wing D.J. Williams and senior guard Khalil Lewis.
Tate has a team-best 25.1 assist rate in league play and Lewis, who is a graduate transfer, may also see some time at the point.
TEMPO-FREE PREVIEW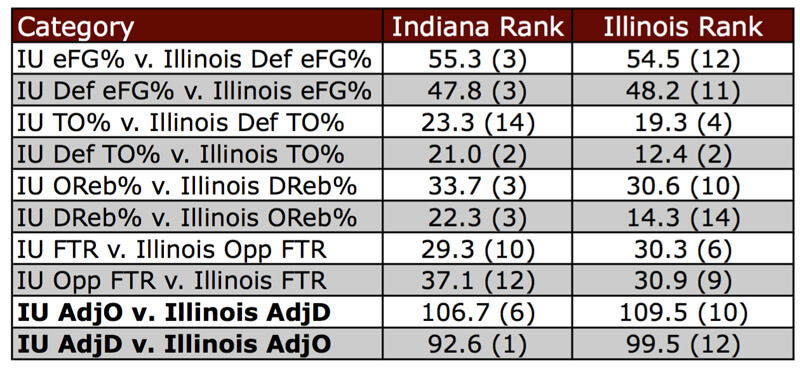 Indiana has played the easiest Big Ten schedule of any team so far, so these conference-only numbers are going to see some adjustments as the season moves along.
Still, it's hard not to point out that Indiana currently has the Big Ten's best defense and is second in terms of forcing turnovers in the league. Illinois hasn't done much right offensively in league play, but the Illini do take care of the ball so it will be interesting to see if the Hoosiers can create any turnovers to get out in transition.
The main thing that Illinois has to be concerned with is the rebounding. The Illini have struggled to keep teams off the offensive glass and Indiana attacks there relentlessly. With a depleted frontcourt that is going to have to find a way to matchup with Thomas Bryant, Max Bielfeldt and Troy Williams, the challenge for the Illini is a significant one. Additionally, this is a team that doesn't crash the offensive boards, so when shots aren't falling, the offense struggles.
WHAT IT COMES DOWN TO
Indiana opened as a 12.5-point favorite, KenPom likes Indiana to win by 13 with a 88 percent chance of victory and Sagarin likes IU by 14.5. Illinois has played two Big Ten road games thus far with a two-point loss at Ohio State and a 25-point beatdown at Michigan State.
On paper, this is a game Indiana should win and do so comfortably. Illinois clearly struggles against teams with a frontcourt presence and the Hoosiers would be well served to get Bryant involved early and often. Beyond that, the challenge of slowing down Ferrell, who is playing arguably his best stretch of basketball we've seen in an IU uniform, is a tough one.
With such a reliance on two players in Nunn and Hill for offensive output, Illinois is likely to continue struggling as teams key on those guys and force others, who simply haven't been good enough to this point, to beat them. A win for the Hoosiers would push the record to 16-3 overall in advance of Saturday's matchup at Assembly Hall with Northwestern. The Hoosiers are streaking: Can they continue the run?
(Photo credit: Jonathan Daniel/Getty Images North America)
Filed to: Illinois Fighting Illini