Curtis Jones scores 22 points in loss at Flyin' to the Hoop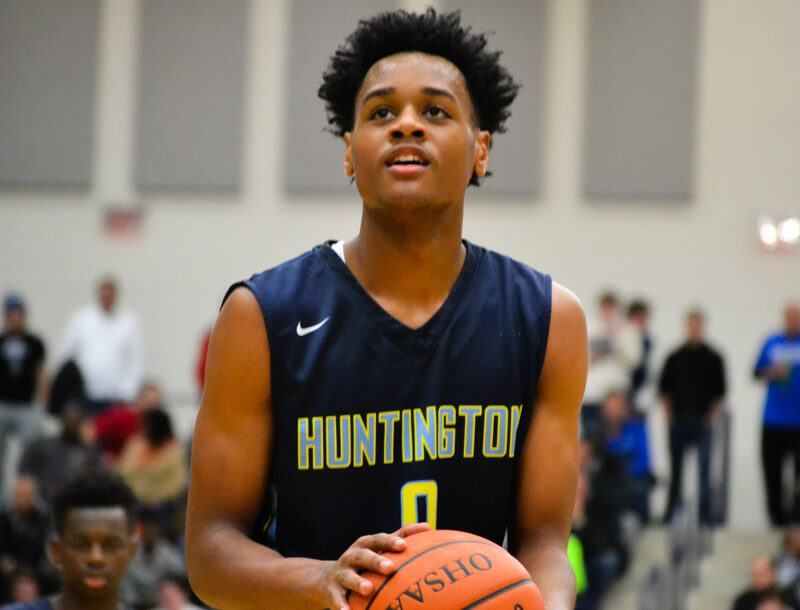 KETTERING, Ohio — IU signee Curtis Jones scored 22 points in his return to the Premier Health Flyin' to the Hoop, one year after the Huntington Prep (W.V.) guard was selected to the annual basketball showcase's all-star team.
But Jones' Saturday night wound up a disappointment after Prolific Prep (CA) forward Josh Jackson – the No. 1 player in the country according to the 247Composite – hit a buzzer-beating 3-pointer to beat Huntington Prep, 64-63.
Huntington Prep led by as many as 11 points and held a six-point lead with less than a minute to play. But the Fighting Irish could not put away Prolific Prep, including missing three of four three throws down the stretch.
Up two and with less than 10 seconds, Jones made a key defensive play, jumping to tip a Prolific Prep pass, which resulted in a Huntington Prep steal. But one of Jones' teammates missed the front end of a one-and-one, before the ball went out of bounds with 1.2 seconds to play.
This set up a Prolific Prep desperation baseball-style pass toward the top of three-point line, where Jackson – who sprinted from the sideline to the middle of the court – managed to tip the ball to himself and knock down the game-winner, his toes barely outside the three-point arc.
Nearly 365 days earlier at the same event in suburban Dayton, Ohio – a mere 10 miles from University of Dayton Arena, home of IU's last NCAA tournament victory in 2013 – Jones and Huntington Prep took down Jackson and Prolific Prep, 81-65. Jones scored 19 points that night, while then-teammate and current IU freshman Thomas Bryant scored 11.
This year, despite 22 points from Jones, including a perfect 4-for-4 from behind the three-point line, it was not enough to beat Prolific Prep, leaving Jones feeling disappointed.
"I played all right," Jones said. "I could've been more active rebounding and defensively."
Jones got it going early, hitting a deep two in the opening minutes of the game, before adding a couple of 3s later in the first quarter.
The combo guard – who is listed at 6-foot-3 and 170 pounds – added five more points in the second quarter, including another 3. Jones' 13 points were a game high at the intermission, with the game tied at 31.
Miles Bridges, Jones' teammate and a former IU recruit, led the way for Huntington Prep in the third quarter, before Jones scored seven consecutive points late in the third quarter (dunk, two free throws and a 3).
Jones had a quiet two points in the final frame, finishing with 22 points, as did Bridges, a Michigan State signee. Both Jones and Bridges played the entire 32 minutes.
The loss, which knocked Huntington Prep to 15-7, was the team's third one-point loss this month.
Jones acknowledged it being tough losing several closes games this year, but said he's personally been "playing pretty well" in his last year before heading to IU. He added that he is "trying to be a leader" on his team, something IU coach Tom Crean acknowledged on his weekly radio show on Monday.
The No. 83 player in the 2016 class, according to the 247Composite, was recently in Bloomington for the IU-Wisconsin game. Jones said his trip to IU was "great" and that he enjoyed the opportunity to talk with the players, including Bryant (his former Huntington Prep teammate) and sophomore Robert Johnson (also from the Richmond, Va. area).
While Jones lived up to his reputation as a talented and athletic scorer on Saturday night, it is plain to see that Jones will need to bulk up for the next level. In fact, he said the IU coaches' top goal for him is to improve his "strength and getting my body right for college."
Jones, who handled point guard duties for Huntington Prep for nearly the entire game, is comfortable playing at either guard position, specifically saying he will do "whatever [Coach Crean] needs" to help the team win games.
While it is too early to tell what his exact role will be, he already has the stamp of approval from one of his current teammates and a future Big Ten rival.
"He's a great leader and he'll be a great point guard for Indiana," Bridges, a five-star forward, said after the Prolific Prep game. "He'll be able to fill in right for Yogi (Ferrell)."
Huntington Prep plays Garfield Heights (Ohio) at 5 p.m. on Sunday at the Flyin' to the Hoop at Trent Arena. The annual basketball event, held each year during Martin Luther King, Jr. Day weekend, brings some of the nation's top teams and players to Kettering, Ohio.
Recent top NBA draft picks Anthony Davis and Andrew Wiggins are among those who have played at Flyin' to the Hoop. Other more recent standouts include now-Kentucky sophomore Tyler Ulis and freshmen Luke Kennard (Duke) and Caleb Swanigan (Purdue).
Stanford Robinson was the last IU signee to play in the event. The aforementioned Bryant was uncommitted at this time last year.
(Photo credit: Justin Cohen Photography)
Filed to: Curtis Jones