Robinson leads Findlay Prep at Flyin' to the Hoop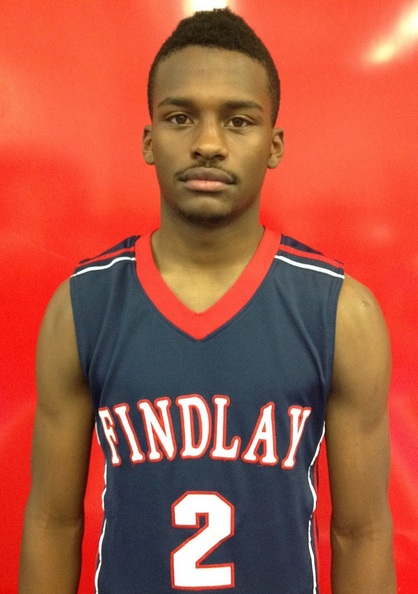 KETTERING, Ohio — The 11th annual Good Samaritan Flyin' to the Hoop Basketball Invitational kicked off Friday with a double header that featured IU signee Stanford Robinson and Findlay Prep (Nev.) in the opener. This premier basketball event brings several national powers to suburban Dayton each January to compete amongst each other and various top Ohio schools. Past participants include the likes of Rudy Gay, J.R. Smith and Brandon Jennings, as well as more recent standouts such as Brandon Knight, Anthony Davis and Jared Sullinger.
Findlay Prep, the top-ranked high school team according to USA Today, made a stop in Southwest Ohio before heading to Springfield, Mass. to face #2 Montverde Academy (Fla.) on Monday. The 21-0 Pilots feature a number of D1-bound seniors, including Robinson, Nigel Williams-Goss (Washington), Allerik Freeman (UCLA) and Christian Wood (UNLV). Uncommitted forward Gavin Schilling also drew the likes of Tom Izzo, Tubby Smith and Ohio State assistant Jeff Boals to Trent Arena on Friday. IU assistant coach and recruiting coordinator Kenny Johnson was on hand as well, seated first row for both the Findlay Prep game and also La Lumiere's later victory against Huntington Prep (W. Va.).
The Pilots were significantly bigger and more talented than Thurgood Marshall, Ohio's #1 Division II team, and went inside early, with the UNLV-bound Wood scoring 10 first quarter points. Robinson played off the ball and mostly was standing outside the 3-point line in the opening period. The offense continued to run through Robinson's teammates in the second quarter, but he had one particularly impressive second quarter play, in which he slashed to the bucket and sliced through two players to drop in a layup.
Findlay Prep came out of the locker room at halftime with a 34-22 lead before Robinson played his most impressive basketball. The four-star recruit, who played rather well defensively, began to fill up the stat sheet midway through the third quarter just as Thurgood Marshall cut the lead down to seven. In a period of no more than two minutes, Robinson hit two of three 3-pointers, had a steal and subsequent assist in transition, and he later exploded to the bucket on a fast break and made a layup while being fouled.
After 10 points in the third quarter, Robinson padded his stats a bit more in the early parts of the fourth, despite no more points. Findlay ultimately won the game 71-47, with Robinson posting an impressive stat line in 22.5 minutes of action: 16 points, eight rebounds, three assists, two steals and one block. He finished 5-of-11 from the floor and 4-of-7 at the free throw line.
Following the game, Inside the Hall spoke with Robinson, the #58 ranked player according to ESPN.com, as well as Findlay Prep assistant and nine-year NBA veteran Jerome Williams, a.k.a. the "Junkyard Dog" or "JYD".
Describe your game to someone that hasn't seen you play.
"I'm a guard who likes to put it on the floor, get to the rim when possible. And I like to catch and shoot."
Should fans get used to seeing efforts like what you displayed in the third quarter?
"If I keep working and working hard, putting in the same work that I'm putting in now, then they'll definitely see that."
What did you think of the many fans in the crowd wearing IU apparel?
"It was fun watching people in the stands from IU because me being out on the West, they don't get a lot of time to see me."
16 points is a lot on this team, isn't it?
"Yeah, 16 points is a lot on this team. I'm kind of used to it because, you know, (Team) Takeover is kind of like the same, you know, playing around a lot of talent. You really don't get a lot of points, but I just try my best to fill up the stat sheet as much as possible."
What type of numbers have you been putting up this year?
"They kind of alter, vary from different game. We've got so many scorers. I'm just out here trying to play as hard as I can… My high (in a game this season) is 23 or 24."
You showed some range. Is that part of your game that's developing?
"The range is developing. I've been with "JYD," players on the team, just … just trying to improve my game. Shooting is a big part of it."
You played well defensively, talk about your defense.
"My on-ball defense has progressed because, when I first came I liked to reach a lot and gamble and take high risks. Coach Simon just got into me, got into my head, 'don't reach.'"
How has the move to Findlay Prep from Paul VI helped your game?
"Strength-wise I've become a lot stronger, mentally stronger, just being pushed to another level and getting past that brick wall. Coming out here playing against new players, I'm just having that mindset that I've got to pick it up, I've got to show him who I am."
How about Findlay Prep's national championship potential?
"The reason I came out here is because I wanted to show people I was a winner. If we get this national championship as a team, that will also show that Stan Robinson is always a winner and he knows how to win and that's what I want people to know."
Talk about your upcoming schedule.
"We've got Montverde on Monday and then a couple games back on the West. Montverde is like the really big game that we're all looking forward to playing. There's been a lot of trash talking from them, so we just going to see on Monday."
How has IU looked so far?
"We're doing pretty good. We only have two losses. It's better to get the losses early, so when we get to the tournament, we'll know what to expect, what we've got to work on."
How often have you been in touch with Tom Crean and Kenny Johnson?
"Me and Johnson, we actually talk every day. If we don't talk, I'll call him or he'll call me. Me and Tom Crean, we don't really talk a lot because of the busy schedules. Me and Johnson, we have a close relationship. Me and Coach Crean, we will probably talk more after the season."
Have you been in touch with any of the IU players or fellow recruits, such as Troy Williams?
"Me and Victor, we always talk, because we're like brothers, so when I'm home and he's home, we'll hang out and things like that because he doesn't live that far. But like Troy and somebody, they kind of like the enemy right now. I don't really talk to the enemy during high school season."
Talk about your relationship with Victor Oladipo.
"Vic, we grew up together. We played in the same high school conference. We played against each other. I've always looked up to Victor, he's always been my role model. Just to be able to follow in his path, it'll be fun. He's doing a tremendous job at Indiana, hopefully he keeps it up and maybe he's in the pros."
Have you been a recruiter yourself with some of the D.C. kids?
"Yeah, we're actually recruiting Bryant Crawford. Me and Bryant, we're actually close. He's another Takeover kid. I'm in his ear a lot, as much as possible."
Talk about adding Noah Vonleh to the 2013 recruiting class.
"That's a tremendous pickup because Noah is a versatile player. I think he'll fill in the spot for Cody Zeller when he leaves. He's going to do big things."
What do you think about being named a McDonald's All American nominee?
"It means a lot. Just to know that I'm being recognized, being an underrated player. There's like 800 players on the list, so I just know that it ain't done yet. I've got to keep working hard and show people."
What would it mean to be named to the actual McDonald's All American game?
"To make the game, that would be big. That's been one of my dreams. To make that game, that's like a dream come true."
Did you change your jersey from '2' to '22'?
"Yeah, I changed my jersey number. First, I was 2. It was a guy from D.C., Mo Creek probably talked about him. His name was Jamar (Board) and he was real close to me. He actually brought me up in the basketball world. He passed a way, so I changed his number to honor him."
Findlay Prep Assistant Jerome "Junkyard Dog" Williams
How has Stan's game developed since he's arrived at Findlay Prep?
"It's been a great transition for him. He came in as a very explosive guard, very high basketball IQ. He's doing a better job on defense and that's really going to separate him from being a starter at the next level. Right now, just improving his perimeter defense – and he's doing better, he's doing well, and I think that the sky's the limit for him. He's a very talented player, very crafty with the basketball in transition. He's going to do wonders at Indiana."
Any player comparisons?
"'Show Me Love' is basically… he's got a little bit of Steve Francis in his game, a little explosive. I'd compare him to that."
Coming into a new program and playing with so many other top players, how has Stan been as a teammate?
"He's a great teammate. He's a great teammate."
Jordan Cohen is a former men's basketball columnist for The Indiana Daily Student.
Filed to: Stanford Robinson