Recruiting roundup: Checking in on IU's 2016 commits, Al Durham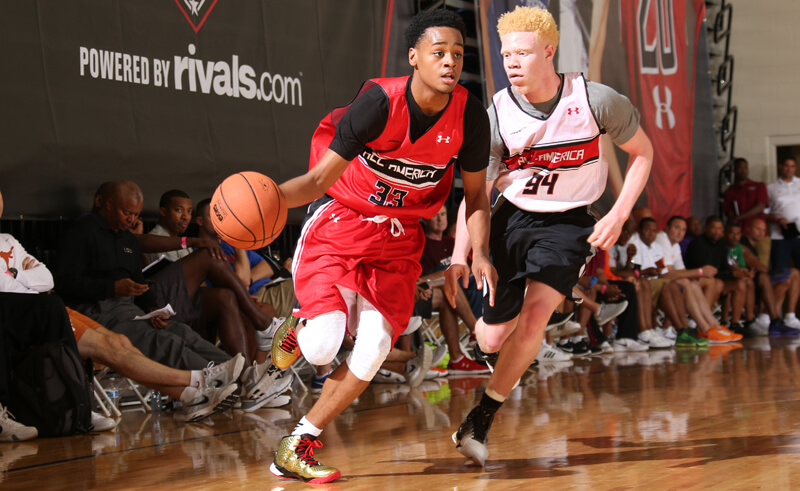 We're well into the high school season for Indiana's four class of 2016 recruits and lone 2017 commit Al Durham. So it's time for a look at how each prospect has fared so far this season:
Class of 2016
De'Ron Davis, Overland (Colo.)
After a 7-0 start and a title at the Tarkanian Classic in Las Vegas, it's been a tough start to the new year for Davis and Overland. The Trailblazers have lost two of their last three and Davis had to sit out their most recent loss due to a pair of technical fouls he picked up in the previous game.
In nine games, he's averaging 15.6 points, 9.4 rebounds and 4.9 blocks. He also has 15 assists, 14 steals and 12 turnovers and is 38-of-49 from the free throw line.
Curtis Jones, Huntington Prep (W.V.)
The 6-foot-4 guard had a triple-double with 19 points, 11 assists and 10 rebounds on Jan. 8 in a 117-93 Huntington Prep win over Victory Prep (Texas). He also had 18 points in a win over Athletes Institute on Jan. 9, which features Thon Maker.
Jones attended Indiana's 59-58 win over Wisconsin at Assembly Hall last week.
Grant Gelon, Crown Point
It's been an up-and-down season so far for both Gelon and Crown Point. His team is just 5-5. On Jan. 3, Gelon hit six straight 3s in the first quarter and finished with 24 points in a 68-60 win over South Bend Washington.
On Jan. 8, he finished with just 11 points in a 58-55 loss to Michigan City. On his weekly radio show, Crean offered some thoughts on Gelon:
"He is just an absolute lights-out shooter," he said, according to The Herald-Times. "When he gets strength and when he can do more with his footwork, when he gets into the college environment and learns the speed of the game, I think he's going to be fantastic. He's one of those guys that keeps backing up. He can make tough shots. What I like about all three of them and, in this case, Grant, is he's well coached. He comes from a very good system and (Crown Point coach) Clint Swan does an excellent job. To me, we feel very good about him."
Devonte Green, Long Island Lutheran (N.Y.)
Indiana's newest commit is having a strong season at Long Island Lutheran. He's averaging 20.2 points per game and could be on his way to winning the Nassau player of the year award once again.
Green's brother, Danny, offered his thoughts to Newsday on what Devonte will bring to Bloomington:
"He's a very good player, he's very talented. He does a little bit of everything. He's a scorer, more of a scorer than I was in high school.  He's smaller than my brother and I were. He's a better ballhandler and better penetrator than I. He can create his own shot. Hopefully he can learn to keep up the mental part of the game and take his emotions out of it. Sometimes he gets a little emotional. But he's very skilled."
Class of 2017
Al Durham, Berkmar (Ga.)
Durham had 11 points on Tuesday in a 55-53 loss to Shiloh, which dropped Berkmar to 10-6 on the season. Prior to that, he had 15 points in a 75-68 overtime victory over Dacula and 19 points in a 61-58 win over Archer.
Filed to: Aljami Durham, Curtis Jones, Deron Davis, Devonte Green, Grant Gelon