De'Ron Davis leads Overland to Tarkanian Classic title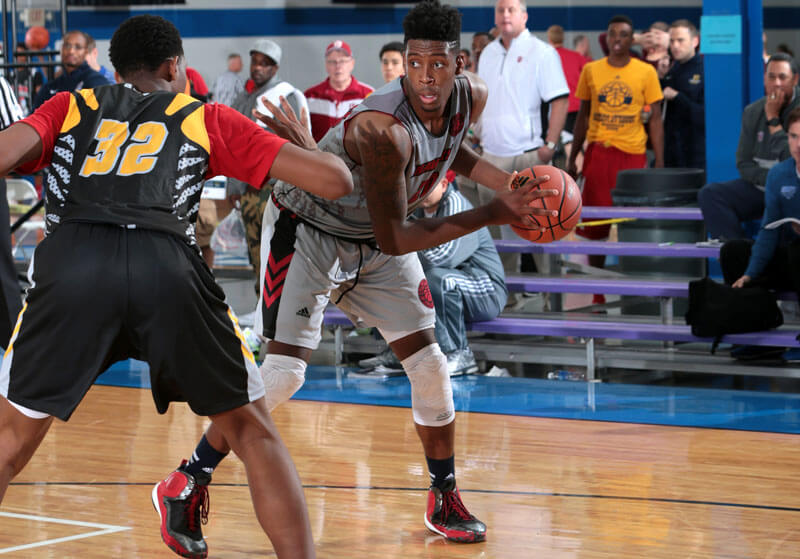 It was a statement weekend for De'Ron Davis and his Overland (Colo.) High School basketball teammates.
The 6-foot-9 forward, who signed a National Letter of Intent last month with Indiana, led Overland to the Tarkanian Classic platinum championship in Las Vegas by winning four games in four days.
Overland, ranked No. 1 in Colorado, beat Long Beach Poly (Calif.), Dillard (Fla.), Bingham (Utah) and Bishop Gorman (Nev.) on its way to the title.
In the championship game against Bishop Gorman, Davis scored the winning basket with four seconds left to lift his team to a 58-56 win. He finished with 20 points, nine rebounds and two blocked shots in a head-to-head matchup with Gorman's Zach Collins, a Gonzaga recruit ranked No. 64 nationally by the 247Composite.
Overland coach Danny Fisher said Davis has shown steady improvement through the first seven games of his senior season, but is really making his mark defensively.
"He was averaging five or six blocks per game, probably four steals and he took at least one charge per game," Fisher said. "The piece that he's really added is that it is very difficult for opposing big men to score one-on-one against him. We don't help him at all no matter who it is. He blocks a lot of shots. He stays on his feet really well."
With defenses keying on Davis, Fisher said he's challenged his big man to read defenses more efficiently as he prepares for his freshman season in Bloomington.
"He's so unselfish. He's really come to enjoy the challenge of reading double and triple teams and knowing where those are coming from," Fisher explained. "A lot of times in the past he would make the pass that made the pass for the bucket, but now he's reading so well, he's making that assist directly."
In the event's semifinals, Davis had 16 points, 12 rebounds, six blocks and four steals as Overland beat Bingham (Utah) 64-55. Bingham features Yoeli Childs, a 6-foot-7 BYU recruit. Childs is ranked No. 184 nationally by the 247Composite.
Fisher said the matchups Davis had with both Childs and Collins were a lot of fun to watch.
"Yoeli is amazing. He and De'Ron had a nice matchup," Fisher said. "De'Ron kind of dominated him in the post and Yoeli stepped out and made some 3s and jumpshots. He couldn't do much in the post. De'Ron kept him out of there and made him ineffective.
"There was a point in the matchup (with Collins) where five straight possessions on each end where De'Ron scored on three of them, Zach scored on four of them and De'Ron assisted on two of them. It was just unbelievable watching those two go back and forth."
Overland is now 7-0 and is off until January 5.
"What I hear De'Ron and the senior talking about is continuing their dominance and not letting themselves fall off after this tournament," Fisher said. "They want to challenge themselves to be good against everybody."
Filed to: Deron Davis