What to Expect: Ohio State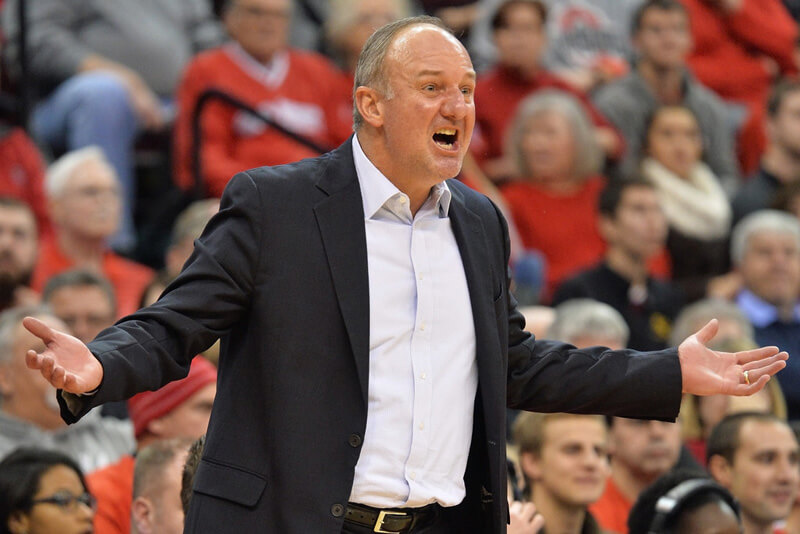 Indiana aims for its ninth straight win on Sunday afternoon as the Hoosiers host Ohio State in Assembly Hall. The Buckeyes have won 9 of 10 and are coming off of a win at Northwestern. They are 3-0 in Big Ten play.
The game will be broadcast on CBS at 1:30 p.m. ET with Carter Blackburn and Bill Raftery on the call:
Since falling 94-74 to Duke in early December, Indiana is on a run. Winners of eight straight, the Hoosiers are KenPom favorites in five of their next six. It hasn't been pretty with all of the turnovers and the loss of James Blackmon Jr., but Indiana continues to win.
The next test is a surging Ohio State team that started just 2-4, but is young, talented and appears to be improving rapidly. That probably shouldn't be surprising given that Thad Matta is one of the top three coaches in the Big Ten over the last 11 seasons, but things started out rough this year in Columbus. The Buckeyes lost home games to UT Arlington and Louisiana Tech, a neutral court game to Memphis in overtime and also to Virginia at home in the Big Ten/ACC Challenge.
The only blemish on the record since the 2-4 start is a 20-point blowout loss at UConn, but the Buckeyes also own a neutral court win over Kentucky and a 3-o start in league play. In what appeared to be a retooling season in Columbus and a season on the brink in Bloomington early, the Hoosiers and Buckeyes will battle to move to 4-0 in the Big Ten on Sunday afternoon in front of a national television audience.
MEET THE BUCKEYES
Matta is going with a nine-man rotation through three conference games, which is a larger rotation than we've seen in the past. Youth probably has plenty to do with it as Ohio State only has one upperclassmen on the roster, junior Marc Loving.
The 6-foot-7 Loving is the team's leading scorer at 14.9 points per game and is a very solid offensive player. Loving is making 35 percent of his 3s and and 51 percent of his 2s. As the graphic below shows, Loving is most effective in transition, post-ups and off of screens (via Synergy Sports):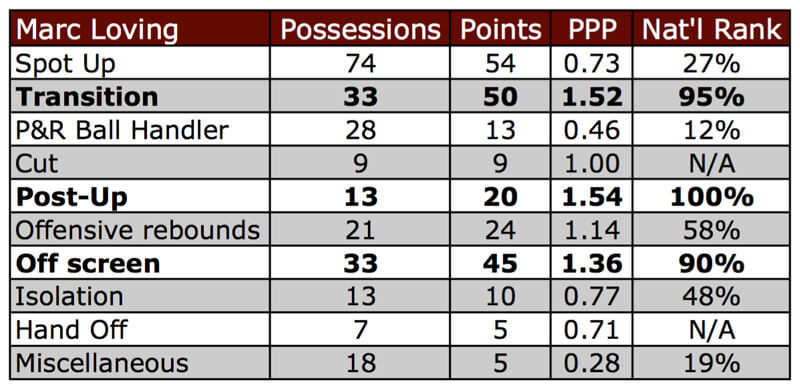 Two other Buckeyes – sophomores Keita Bates-Diop and Jae'Sean Tate – are averaging in double figures. The 6-foot-7 Bates-Diop is a tough matchup because of his wingspan, which has been reported to be in the 7-foot-3 range.
He's a capable shooter, but has struggled from the perimeter so far at just 32.3 percent. He's finishing well at the rim (64 percent) and rarely fouls (2.2 per 40 minutes), which is allowing him to stay on the floor for more than 30 minutes per game. As his Shot Analytics chart below shows, he's been most effective from deep on the wings: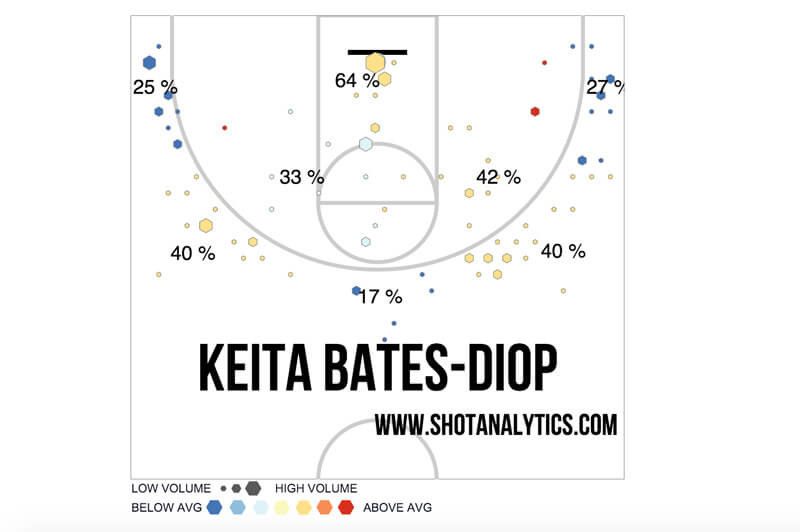 Tate was very good as a freshman, but his efficiency has dipped in his second season. A decent explanation there could be the absence of D'Angelo Russell, who was an elite distributor that made Tate's job much easier.
Still, he's a dangerous player who is making 55 percent of his 2s and is Ohio State's leading rebounder at 6.6 per game. His free throw game needs work (47.2 percent), but he's added the 3 to his arsenal this season and is hitting close to 35 percent, albeit on limited attempts so far.
The point guard position is in the hands of freshmen JaQuan Lyle and A.J. Harris, who are very different players. The 6-foot-5 Lyle has always been a great passer and his assist rate of 34.4 is among the best in the Big Ten. Turnovers, however, have been an issue (25.9 TO%) with Lyle and he hasn't shot it particularly well so far. He's taken 50 3s and is only hitting at a 24 percent clip. He's also shooting just 51 percent at the rim.
Harris is the backup and at 5-foot-9, has very good speed, but has been even more turnover prone (35.5 TO%) than Lyle.
Sophomore guard Kam Williams, who is in his third season in the program, is the team's best shooter (44.9 percent on 3s) and is coming off a 21-point effort at Northwestern where he hit 5-of-9 from deep. Williams is hitting 57 percent of his right wing 3s and 53 percent of his 3s from the left wing.
Up front, the Buckeyes have replaced last year's disappointing frontcourt with a duo that has plenty of upside. Virginia Tech transfer Trevor Thompson and freshman Daniel Giddens, both of whom were recruited by IU, share the duties at the five. Thompson, who played at Ben Davis before going to prep school, is second on the team with 24 blocks and had 12 points and 10 rebounds at Northwestern. Percentage wise, he is Ohio State's best defensive rebounder at 20.7 percent.
Giddens is an elite shot blocker (12.5 block percentage) who should only get better offensively as he develops in Columbus. His numbers so far are modest – 4.9 points and 4.1 rebounds per game – but his long term potential as an elite rim protector makes him very valuable.
Freshman Mickey Mitchell has only played in five games after issues getting cleared by the NCAA, but is beginning to come on strong. The 6-foot-7 forward had three assists in 11 minutes at Northwestern and should see his role continue to grow as he becomes more comfortable.
TEMPO-FREE PREVIEW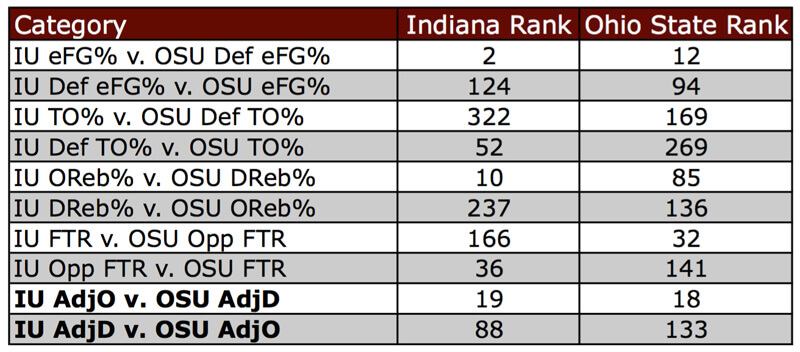 If you've watched the numbers, Indiana's offense continues to slide down the national rankings while the defense creeps up slowly. Ohio State has actually been a worse offensive team than Wisconsin, which came into Bloomington and scored just 58 points.
The difference, of course, is that Ohio State is a good defensive team with the potential to be great if the improvement continues. The Buckeyes are 12th in the country in effective field goal percentage defense and teams are shooting just 39.5 percent on 2s, which is fifth best in the country.
This looks like a game where Indiana is going to need make 3s to win, which means the Hoosiers are going to need more from Robert Johnson and Nick Zeisloft. With its length and rim protection, Matta will probably be willing to overplay the perimeter and try to force Indiana into drives and tough shots in the paint. Transition is also likely to be a factor as it will be advantageous for the Hoosiers to try push the ball and score quickly before Ohio State can set up its stingy man-to-man.
Turnovers also figure to loom large as both teams have issues there. Indiana's are far worse (26.4 TO%) in league play, but Ohio State is also up there (18.4 TO%) and playing in Assembly Hall is never easy.
WHAT IT COMES DOWN TO
Pomeroy is bullish on Indiana in this one and predicts the Hoosiers to win by seven with a 75 percent chance of victory. Sagarin's ratings like Indiana by nine in Assembly Hall, which seems high given how well the Buckeyes are playing as of late.
Indiana has done well recently at home against Ohio State with wins in three of its last four in Bloomington. The blemish on that mark, of course, was senior night in 2013, but the Hoosiers have won in Assembly Hall the last two years.
The bottom line is that Indiana cannot continue to win with Johnson and Troy Williams playing poorly on offense, so one or both needs to play better to give a solid third offensive option behind Yogi Ferrell and Thomas Bryant. OG Anunoby has been terrific through three league games, but expecting him to continue to play so well offensively is probably not wise. Ferrell's minutes (35, 38 and 36 in his last three) are also rising, so getting some reliable production from elsewhere on the perimeter is important moving forward.
Ohio State presents a significant challenge because of its defense, but Indiana appears to be moving in the right direction defensively and needs that to continue in order to contend in the Big Ten. On paper, this is a game Indiana has the pieces to win, but as we've seen so far, every Big Ten win must be earned and this one will be no exception.
(Photo credit: Jamie Sabau/Getty Images North America)
Filed to: Ohio State Buckeyes