The Minute After: Wisconsin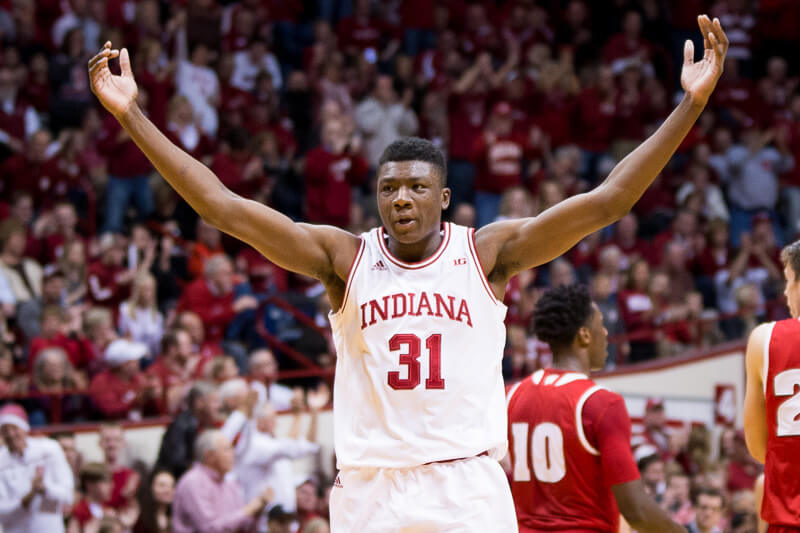 Thoughts on a 59-58 win against the Badgers:
Not every game flows. Not every one pretty. Sometimes you just have to hang on and gut out an ugly one. The Hoosiers did just that tonight en route to a 3-0 start in conference.
The James Blackmon Jr. injury is tough news. You feel for the kid. You do. But the reality is this: Indiana has been an improved defensive team in conference play without him in the lineup. This marks its third straight game holding a Big Ten opponent under a point per possession (.93). On a night the Hoosiers fell back into their silly ways with the ball (30 TO%) and had many shots rim out (.95 PPP), the defense was the difference.
They again forced shot clock violations. OG Anunoby and Juwan Morgan, the freshmen growing up fast, blocked Nigel Hayes' shots (3-of-13). Yogi Ferrell bothered Bronson Koenig. Wisconsin's offense, which came into the contest 73rd per KenPom, had huge scoring droughts in both the first and second half.
Offense is nice. But defensive stops are any basketball team's foundation. It's where you find pride in yourself and each other. If Indiana can keep this kind of defense going, it can re-write the narrative on the season because the offense without Blackmon Jr. is likely to still be just good enough.
It's only three games into Big Ten season. You don't want to get too high based on sample size. But man: OG. His play in conference has been an absolute revelation. With James Blackmon Jr. out and Collin Hartman in foul trouble, he stepped up in his career-high 17 minutes of action. Anunoby went a perfect 3-of-3 from distance on a night Ferrell, Robert Johnson and Nick Zeisloft shot just 3-of-13. He matched his career high of 11 points from Saturday's Nebraska win. He's using his length on defense well.
His teammates seem to be enjoying his play as much as the fans.
Ferrell started out rough in the first half (four turnovers, zero assists) and even airballed his patented pull-up 3-pointer in the second half. But he had 15 of his 19 after the break and did what a senior point guard leader needs to do: He put the game away late. Ferrell had an ill-advised drive with a minute to go. It resulted in a pass to Troy Williams in a bad spot under the hoop. Williams turned it over. But after crashing into a chair on the bench to try and save that turnover, Ferrell closed the door.
With a wrap on his arm from the crash, he hit a tough jumper off the right high post to put the Hoosiers up two with 38 seconds to go. After Johnson's great steal, Ferrell then hit all four of his free throws down the stretch. Miss one or more of those, and Hayes' desperation 3-pointer at the buzzer could have meant something different.
Just over a week ago, it was hard to see the Hoosiers winning a conference game scoring under 60 points. But they did just that tonight on the strength of an improving defense.
Eight straight now, including three in conference. Indiana's on a roll.
Filed to: Wisconsin Badgers