Five takeaways from Indiana's win over Nebraska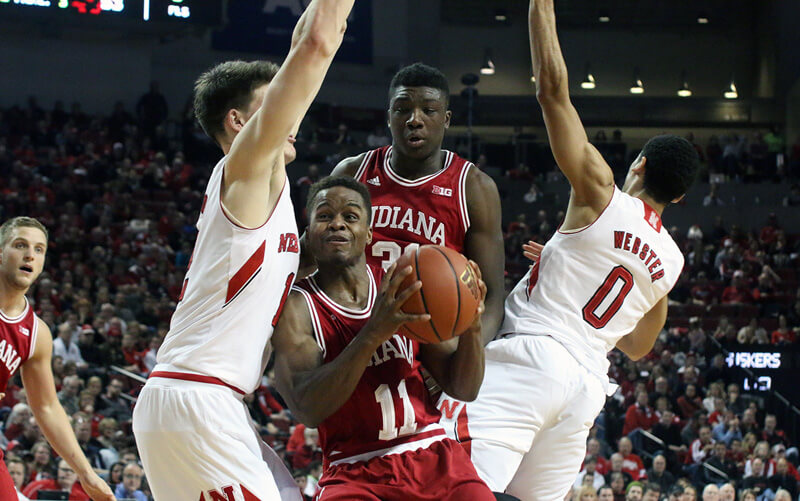 Indiana moved to 12-3 overall and 2-0 in conference play with a 79-69 win over Nebraska on Saturday afternoon at Pinnacle Bank Arena. The win was the seventh straight for the Hoosiers.
Here's a look at five takeaways from the win over the Cornhuskers:
· Indiana played terrific after halftime: It was a shaky close to the first half in Lincoln as Nebraska went into the locker room with a 39-36 and plenty of confidence offensively.
But credit the Hoosiers for coming out in the second half and taking care of the ball as well as defending much better. IU turned it over eight times before halftime, but dropped that number to six in the second half for a final turnover percentage of 20. That number is still not where it needs to be, but it was progress from Wednesday's performance at Rutgers. And after Nebraska scored 1.12 points per possession in the first half, the Hoosiers limited the Cornhuskers to .83 in the second half. Both were major improvements.
"I thought Indiana made plays," Nebraska coach Tim Miles said. "That is a great credit to them and the program and you know there were some things that we did right. I mean a lot of things we did right and they still scored on us. It wasn't like Northwestern where we had defensive errors that cost us. It was just these guys jumped up and stuck it in our eye."
· Yogi Ferrell took over offensively in the second half, but his defense was equally important: Indiana's senior point guard played like a veteran in the second half after a shaky opening 20 minutes.
Ferrell hit tough shots (like this one), took better care of the ball and also facilitated for his teammates. But his defense on Nebraska's Andrew White, who finished with 16 points, was just as important. With Shavon Shields struggling from the field (3-of-13), Ferrell kept White, who is seven inches taller, from taking over offensively.
"I was face guarded pretty much the whole game, usually by Yogi Ferrell," White told reporters postgame. "He was playing me nose-to-nose, and not necessarily looking at the action off the ball. His priority was to keep me from getting the ball. He did a pretty good job of that overall."
· Thomas Bryant came to life after a tough performance at Rutgers: Wednesday's game at Rutgers was a tough introduction to conference play for Thomas Bryant. The freshman McDonald's All-American played just six minutes before fouling out.
But to Bryant's credit, he didn't let that poor performance carry over to Saturday afternoon. Indiana looked for Bryant often at Pinnacle Bank Arena and he delivered with 19 points on 8-of-10 shooting from the field. He now leads the country in 2-point field goal percentage (77).
"People forget that Cody Zeller, in his first Big Ten game as a freshman, we were at Michigan State and it was really, really hard," Tom Crean said postgame. "He stayed in the game, but it was physical and they basically beat him up. He comes back and fouls out the next game, but we beat Ohio State when they were ranked."
· OG Anunoby continues to blossom: Anunoby, an unheralded freshman from Jefferson City, Missouri arrived in Bloomington with a national ranking outside of the top 250 nationally.
He had little impact through IU's first 12 games, but has come on strong over the last three. In 37 minutes against Kennesaw State, Rutgers and Nebraska, Anunoby scored 24 points, grabbed 12 rebounds and had four steals. He also hasn't committed a turnover since the IPFW game on Dec. 9.
On a team that is short on frontcourt depth and is down one of its primary scorers in James Blackmon Jr., there's an opportunity for Anunoby to carve out a larger role in the rotation.
· Indiana, so far, has taken advantage of a favorable start to the league schedule: There are very few road wins in the Big Ten that are a certainty, so it's notable that Indiana is now 2-0 away from Assembly Hall to open league play.
The Hoosiers now have four of their next five games at Assembly Hall with a road game at Minnesota in the middle of the five. The Golden Gophers already have four losses at Williams Arena.
With a schedule that gets much tougher on the back end, the next five games are critical for the Hoosiers to stack up wins and continue their solid start in Big Ten play.
Filed to: Nebraska Cornhuskers, O.G. Anunoby, Thomas Bryant, Yogi Ferrell