The Minute After: Notre Dame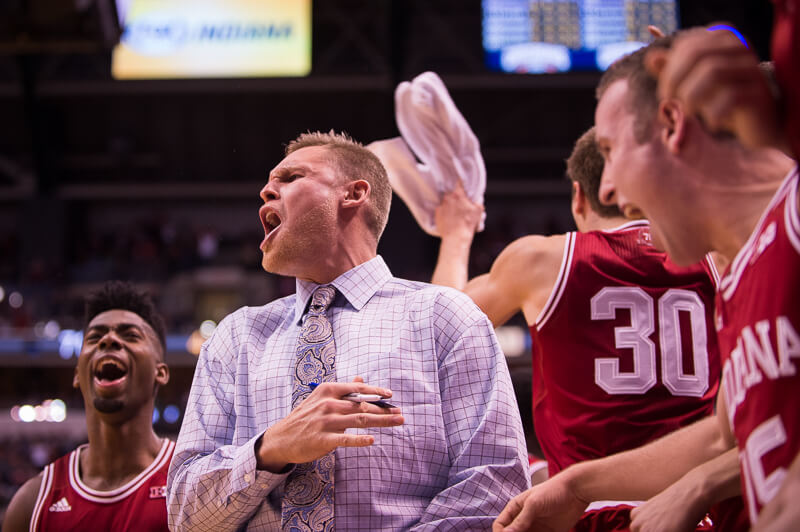 Thoughts on an 80-73 win over the Fighting Irish:
The same old story was playing out in Bankers Life Fieldhouse.
Indiana found itself away from Assembly Hall against a respectable opponent and wasn't getting it done. After a first half it shot poorly (41 eFG%) and defended even worse, the Hoosiers were lucky to be down just 10 (41-31). The Fighting Irish missed a number of wide open looks gifted to them by Indiana's confused defense.
The second half started in tragedy. Notre Dame came out hot, hit its first seven shots. Up 16 with 15:13 to go, the Fighting Irish sat in the driver's seat and you wondered how it was happening again. Isn't this Indiana team too good and too talented for yet another embarrassment?
But Indiana flipped the script in the game's final minutes, D'ed up, got to the foul line and pulled out a terrific come-from-behind victory. For an afternoon in Indianapolis, the Hoosiers got it done in a game it absolutely needed.
For all the griping about this team in the non-conference — and there has been plenty to complain about — there's one thing not up for criticizing: The Hoosiers play hard. They don't give up. They don't fold. It hasn't always looked that way from afar, but it's the truth.
Troy Williams had some bad possessions in the second half as Troy Williams does, but his energy out the gate after leaving the locker room was a catalyst. He was a terror at times on his way to 18 points and 10 rebounds. He kept coming and refused to be denied. O.G. Anunoby also gave some great minutes (two points, four rebounds) in a reserve role and it's something to build on for the freshman as conference play nears.
The Hoosiers simply just kept chipping away. James Blackmon Jr., Nick Zeisloft and Collin Hartman hit 3s to pull it closer. But during that stretch, Indiana played a 2-3 zone and allowed Notre Dame scores on three straight possessions — keeping the Hoosiers at bay. O.G.'s putback dunk pulled Indiana to within five at the 5:39 mark (71-66).
It was here the Hoosiers changed the game. Tom Crean had watched Bonzie Colson (game-high 24 points) continue to exploit the middle of IU's zone. And so when the Hoosiers went zone for pretty much the rest of the contest, they adjusted.
It looked like they set up in a 1-3-1 — though after the game Collin Hartman said it was a rotating 2-3 and Tom Crean said it was more of a 2-3 as well. Whatever it was, it shut off the middle. Notre Dame couldn't figure it out. The Fighting Irish scored only one field goal the last 5-plus minutes of the contest. They were gassed and out of sorts.
Indiana's defense shut down one of the best offenses in the country to come back and win this game. I repeat: Indiana's defense shut down one of the best offenses in the country to come back and win this game.
I was critical of Crean for not yanking Blackmon Jr. for some defensive miscues in the second half, but I spoke a little soon. The sophomore saw limited run down the stretch as Indiana's defense pulled it out.
"There were probably some people at home that turned the game off, but we just came together," Robert Johnson said after the contest.
It's been that kind of year for Indiana fans. Notre Dame had this game in the bag and was the better team for 35 minutes. It all looked lost. But the Hoosiers got stops. Got buckets. That's how you win a basketball game. Today's win was the biggest comeback of the Tom Crean era, and it couldn't have come at a time the Hoosiers needed it more.
With desperation setting in at Bankers Life Fieldhouse, Indiana dug deep and got it done.
Filed to: Notre Dame Fighting Irish