The Minute After: IPFW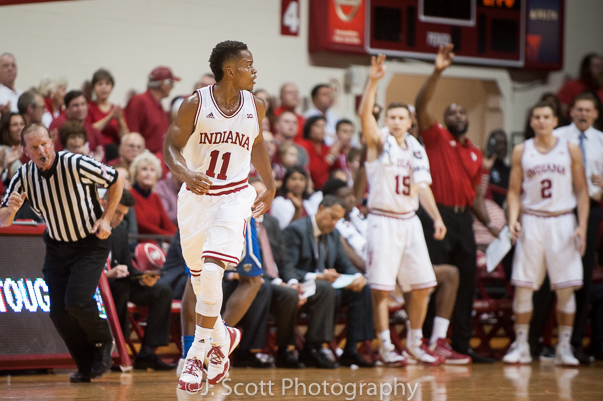 Thoughts on a 90-65 win against the Mastodons:
If you're looking for a encapsulation of Indiana's night, look no further than Troy Williams.
The junior grabbed a career-high 19 rebounds. Blocked a career-high five shots, too. But Williams set another less impressive career high with six turnovers. He jacked contested 3-pointers in the first half, shot just 36 percent from the floor (4-of-11) and let Mastodons go by him off the perimeter all night long.
The stats, career highs (Yogi Ferrell had 38 points to join Williams on a career night) and 25-point win look nice in a vacuum.
But Indiana's most pressing problems reared their heads once more.
After controlling the turnovers for the last three games, it was a sloppy performance tonight. The turnover percentage spiked back over 20 (22%). Troy got called for palming on two occasions. Tried to do too much at other times. He failed to covert on an alley-oop from Ferrell. Collin Hartman made a bad pass for a turnover. Thomas Bryant (four points) looked lost tonight and had four turnovers of his own. (Tom Crean said after the game that Bryant has been dealing with "injury situations", which could explain why he looked the way he did this evening.)
On defense in terms of points per possession, the Hoosiers did a respectable job holding IPFW to .84. But that was masked a bit by some poor shooting from the Mastodons (40.9 eFG%). IPFW had a lot of open looks tonight it simply didn't convert. More of those drop and we're looking at more points per possession and a game Indiana doesn't win as convincingly.
The Hoosiers also got beat in transition due to lack of hustle and not picking up the opponent. They had a hard time dealing with some curl action from around the rim, through the wing to the high block and down the lane for scores in the first half. It got beat in the pick-and-roll and off the perimeter.
Assembly Hall was far from full and pretty dead at the start of the game. That likely didn't help Indiana at the onset, as the Hoosiers looked a little flat during the opening minutes of the ballgame, a malaise they carried over a bit throughout the contest.
All that said, Ferrell's performance tonight was impressive. While yes, this came against IPFW, his 38 points was just four points shy of Steve Alford's all-time record of 42 points by an IU player in Assembly Hall. On a night the whistles never stopped, he capitalized, going 10-of-10 from the line. He shot 50 percent (4-of-8) from distance, 12-of-18 overall (66.6 percent) and added five assists and five rebounds to boot.
Robert Johnson also had another nice game in a starting role. Johnson was feeling it from distance and knocked down all five of his 3-point attempts and one from the line to finish second on the team in scoring with 16 points.
In the end, it's a 25-point win and the Hoosiers move to 7-3 on the season with McNeese State on deck Saturday night. But if you were looking for Indiana to build some consistency off its bounceback performance against Morehead State, it didn't quite happen tonight.
Filed to: IPFW Mastodons