The Minute After: Morehead State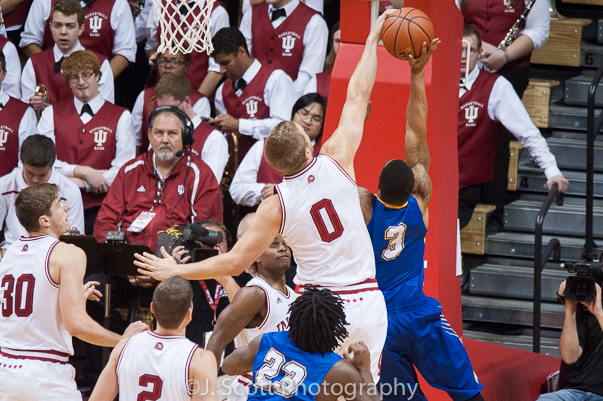 Thoughts on a 92-59 win over Morehead State:
The Eagles scored an easy bucket off the opening tip. On their next possession, Anthony Elechi blew by James Blackmon Jr. on the perimeter for a bucket at the rim. Two plays in and it looked as if Indiana's defensive struggles were going to continue for yet another game.
But this simply wasn't the case.
The Hoosiers reversed course and cruised to victory. Down 13-12 with 13:33 to go in the first half, Indiana busted out a 38-13 run the rest of way to halftime to lead 50-26. And get this: The defense was a large part of it. Indiana forced shot clock violations. It didn't allow easy drives for points. It blocked shots. It got steals and converted those into fast break points.
Entering the break, the Hoosiers held Morehead State to just .75 points per possession and turned them over on a whopping 46.2 percent of their possessions. Indiana scored 23 points off those turnovers.
Indiana also did a nice job on the offensive boards, rebounding 53.8 percent of its misses for 13 second-chance points. Max Bielfeldt had a big hand there with three offensive boards of his own. In probably his best game of the season, Bielfeldt had an efficient line. The Peoria product scored 12 points (5-of-5) and also recorded three blocks in just 16 minutes of action. Thomas Bryant had a similarly efficient evening. The freshman scored 14 points (4-of-4) and hit 6-of-7 from the line. And after failing to record a rebound against Duke, he led Indiana tonight with six boards.
Indiana scored a strong 1.29 points per possession against the Eagles and did it in a bit of a different way. It shot just 33.3 percent (5-of-15) from distance. But the Hoosiers finally got to the line in a big way (27-of-36). The 36 attempts were a season-high. Just about all the regulars got in the mix as Troy Williams (4-of-8), Yogi Ferrell (6-of-6) , Nick Zeisloft (2-of-6), Bielfeldt (2-of-3), James Blackmon Jr. (4-of-6), Robert Johnson (3-of-4), Collin Hartman (2-of-4) and the aforementioned Bryant all spent time at the line.
It's been a point of emphasis for this team that hasn't always come to fruition.
Indiana's defense dropped off a bit for short stretches in the second half and it allowed a 40-ish point lead to drop to 30-ish. But Indiana still allowed just .83 points per possession. That's progress.
The Hoosiers, after taking care of the ball extremely well in the first half (14.4 TO%) also got too sloppy after the break and saw their turnover percentage go up to 18.3 by game's end. Still, it's better than we've seen in a number of games this season and more in line with where the Hoosiers need to remain in terms of turnovers heading forward. To not see it balloon up into the low 20s against a team like the Eagles who thrive on creating turnovers is a win.
As Tom Crean said after the game, this was a long week for the Hoosiers and the earliest they'd finished up on an evening all week. This also finishes a stretch of six games in 13 days. That's a lot of basketball.
Tonight was a step in the right direction. But the Hoosiers are going to have to string several performances like this in a row to turn the skeptics into believers.
Filed to: Morehead State Eagles