What to Expect: Morehead State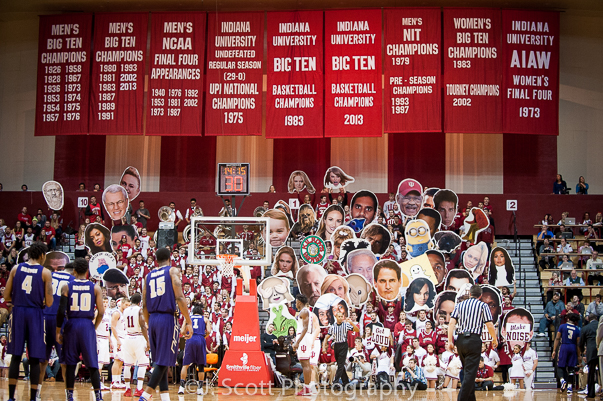 After Wednesday's 94-74 shellacking at Cameron Indoor Stadium in the Big Ten/ACC Challenge, Indiana returns to Assembly Hall on Saturday evening to face Morehead State.
The Eagles are 5-1 and are coming off of a 60-46 win at St. Louis on Wednesday night. The game will be broadcast at 7 p.m. ET on BTN:
Indiana traveled to Duke with hopes of competing with one of the nation's best teams in arguably the most hostile environment in the country. The Hoosiers left Durham as recipients of a thorough beatdown.
So it's back to square one for Indiana on Saturday as Morehead State, the most capable non-conference opponent remaining on the schedule not named Notre Dame. The Eagles, coached by former Kentucky standout Sean Woods, have lost just once and it was by one at Illinois State.
How will Indiana respond to its worst loss of the season thus far? Will any adjustments to lineups and schemes be made? And what will the environment be like at Assembly Hall? All valid questions that will be answered on Saturday evening.
MEET THE EAGLES
Morehead State is one of the best teams in the country at forcing turnovers and the Eagles have 11 players averaging 10 or more minutes per game.
Corbin Collins, a 6-foot-3 junior guard, is the team's only double figure scorer at 12.5 points per game. He's hitting 37.5 percent of his 3s and is also second on the team at 3.7 assists per contest. He's also excellent at taking care of the ball (turnover percentage of just 7.4).
Miguel Dicent, a 6-foot-3 sophomore, and Brent Arrington, a 6-foot-3 senior, join Collins in the starting backcourt. Dicent is hitting 46.2 percent of his 3s while Arrington has really struggled offensively thus far. His effective field goal percentage is just 31.5 through six games.
Xavier Moon, a 6-foot-2 junior, is the team's second leading scorer, but comes off of the bench. Moon is hitting 53.3 percent of his 3s, 57.1 percent of his 2s and rarely turns it over (6.4 turnover percentage).
In the frontcourt, Woods starts DeJuan Marrero, originally from Gary, Indiana, and Anthony Elechi. Marrero received a scholarship offer from Indiana as a freshman and played at DePaul before landing at Morehead.
Marrero is fourth on the team in scoring (7.5 ppg) and is the leader in rebounding (6.7 mpg). At just 6-foot-6, he's an undersized four man who has athleticism. Elechi, who is 6-foot-8 and 235 pounds, is finishing 55 percent of his 2s and averages five points and 5.5 rebounds.
Two names to remember coming off the bench are Treshaad Williams and Lyonell Gaines. Williams plays just 10.3 minutes per game, but is sixth on the team in scoring at five per game. He's also made 9 of his 13 2-point attempts. Gaines, a 6-foot-6 senior, is a solid offensive rebounder (10.9 OR%).
TEMPO-FREE PREVIEW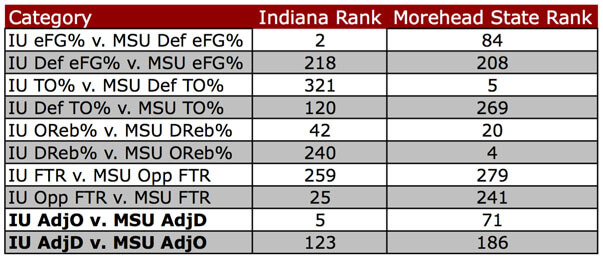 Not to sound like a broken record, but this game is going to come down to three things. In no particular order: The first is whether IU can take care of the ball against a team that is fifth in the country in turning teams over. Indiana was better against Duke and Alcorn State in this regard, but isn't far removed from the turnover parade in Maui.
Second, Morehead State crashed the offensive boards with authority. The Eagles are the fourth best offensive rebounding team in the country. IU just gave up 19 offensive boards and 26 second chance points in Wednesday loss at Duke.
And third – can IU put up any defensive resistance against a team that is very much average offensively? Morehead State is a solid 3-point shooting team (38.6 percent on 3s), but is finishing just 43.6 percent of its 2s and like IU, doesn't get to the free throw line very well.
WHAT IT COMES DOWN TO
Despite the fact that Pomeroy gives IU an 87 percent chance to emerge victorious, this game is far from a given. Morehead does two things very well that aren't strengths for IU. If they can turn the Hoosiers over and get on the offensive boards, this will be a game.
The Pomeroy projection is IU by 12 and the Vegas line opened with the Hoosiers as a 12.5-point favorite.
Simply stated: If IU is a team that has any aspiration of getting back on track, this is a game it needs to win. At 5-3 with just one win over a KenPom top 100 team, the Hoosiers cannot afford any more setbacks in non-conference play.
Filed to: Morehead State Eagles