Indiana faces first true road test at Duke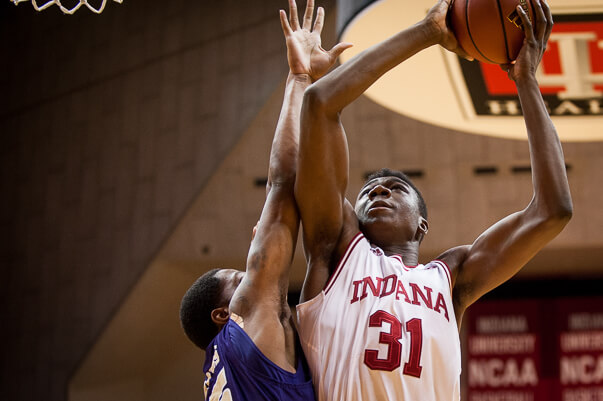 After a shaky 1-2 performance in Maui, Indiana needed a confidence booster before traveling to Duke on Wednesday.
Alcorn State, one of the worst teams in Division I, provided it. The Hoosiers built a double digit lead by the time Braves scored their first points and coasted to a 112-70 rout.
James Blackmon Jr. scored a career-high 33 points on 11-of-15 shooting, and five others also scored in double-figures.
But things are about to get difficult as IU will face the No. 7 team in the nation at Cameron Indoor Stadium in front of a national TV audience on ESPN. Troy Williams is confident, despite the fact that IU went 3-6 in true road games last season.
"It's a different team," Williams said. "We've got Thomas Bryant."
The defending champion Blue Devils are led by sophomore guard Grayson Allen who averages 22.6 points, 4.6 rebounds and 3.3 assists per game. They also feature senior forward Amile Jefferson who averages a double-double in the post.
"They drive to the rim. They get fouled. They have inside-outside attacks. They really, really want to get fouled," Tom Crean said of the Blue Devils. "I think Grayson Allen may be averaging seven or eight fouls drawn a game. That's tough. We'll have to be really sharp defensively."
Turnovers were slightly down against Alcorn State, as the Hoosiers turned the ball over 12 times for a turnover percentage of 17. But the Hoosiers still rank just 328th nationally out of 351 teams in terms of taking care of the ball.
Both Blackmon Jr. and Williams said they're excited for another chance to prove themselves on the national stage, and that playing in games like this are why they came to Indiana.
"Wednesday is definitely a huge opportunity for us," Blackmon Jr. said. "We're just going to practice hard like we have been and get it rolling and come out and do what we're supposed to do."
Williams, who has struggled with turnovers through the first seven games, was better in that regard on Monday. The junior had just one turnover. Indiana also went with a three-guard lineup with Robert Johnson starting with Yogi Ferrell and James Blackmon Jr.
Duke, which is coming off a 33-point win over Utah State, lost to Kentucky last month in the Champion's Classic at the United Center, but has rebounded well from the setback. The Blue Devils have wins over Georgetown and VCU since the Kentucky loss.
"I don't think we'll have any trouble with being ready to play a game like that," Crean said. "It's more making sure we understand the personnel, understand what they want to do, and understand how best we want to attack that and try to keep as accurate and we want to play fast, but we can't play reckless. You can't play reckless against anybody and give the ball away, and you certainly can't do it there."
Filed to: Duke Blue Devils