Five takeaways from Indiana's win over Alcorn State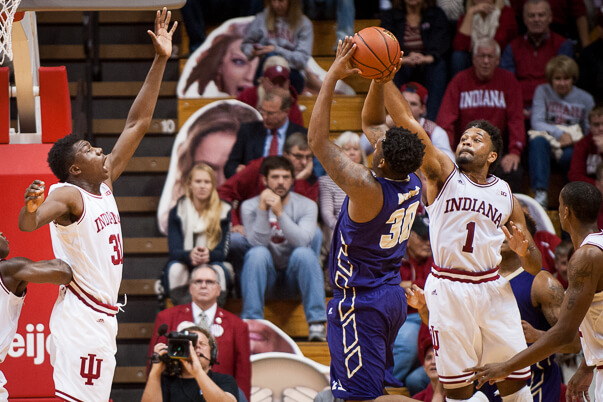 Indiana rolled to a 112-70 win over Alcorn State, likely the worst team on this season's schedule, on Tuesday night at Assembly Hall to improve to 5-2.
Here's a look at five takeaways from the win over the Braves:
· IU's defense wasn't great, but it didn't matter: It was obvious from the opening tip that Indiana outclassed Alcorn State, which is currently ranked the fourth worst team in the country in the Pomeroy ratings.
The Braves couldn't stop Indiana, but the Hoosiers also allowed one of the country's worst teams to score nearly one point per possession.
With Duke looming on Wednesday, Indiana's defense, currently ranked 83rd in the country, is going to get its toughest test to date. If the Hoosiers can't do a better job stopping penetration and defending the rim, the Blue Devils will put up explosive numbers.
· Turnovers are the key to IU's season: As much as the defense is being discussed, the real key to Indiana's season is its ability to take care of the ball. The Hoosiers aren't going to be a team built on defense, so outscoring teams is how many games will be won.
When Indiana turns it over, the Hoosiers are throwing away opportunities to let one of the country's most efficient offenses do its job. IU's current turnover percentage this season (22.9) is 5.7 percent higher than last season, which is a major difference.
IU turned it over 12 times on Monday in the win over Alcorn State for a turnover percentage of 17, which is more in line with where things were last season. In order to have sustained success moving forward, Indiana needs to clean up the careless mistakes that have been prevalent through seven games.
· Regardless of the opponent, it was smart to play a game before going to Duke: Last season, Pittsburgh came to Assembly Hall following its trip to the Maui Invitational and looked out of sorts from the onset.
Even though the opponent was overmatched, it was smart for Indiana to play a game before going into what will be a raucous road environment.
"It wouldn't matter if we're playing Duke on Wednesday," Tom Crean said. "You want to try to play another game because, again, the time changes and things like that hit everybody differently."
· Blackmon Jr.'s career night: James Blackmon Jr. deserves a mention for an efficient evening that resulted in the most points scored by an IU player under Crean.
His final line: 5-of-6 on 2s, 6-of-9 on 3s, 5-of-5 on free throws for 33 points. He also had four steals.
"I felt like my teammates were finding me every time I was open," he said. "And second, I just felt like I got my hands on a lot of balls defensively, and I got a lot of deflections."
· Wednesday will tell us plenty about where IU stands: The Hoosiers will enter Cameron Indoor Stadium as the underdog, but how will IU respond in its first true road environment?
Adversity is likely to hit early and often and how IU responds to it will be key to how competitive things are with the Blue Devils.
Given the fact that IU starts out with two road games in conference play, having an experience like playing at Duke under its belt could pay dividends down the line. Aside from maybe Michigan State, this will probably be the most intimidating environment the Hoosiers face this season.
Filed to: James Blackmon Jr.