The Minute After: UNLV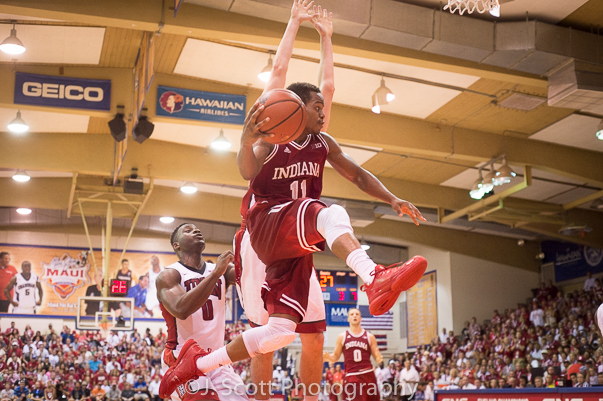 Thoughts on a 72-69 loss to the Runnin' Rebels:
LAHAINA, Hawaii — Riding high off a strong performance against Creighton on Thursday, Indiana seemed primed to make some serious noise in Maui.
But the Hoosiers leave uttering but a whimper. Three games of evidence show this: Indiana did not play well at the Lahania Civic Center. A 1-2 record and sixth place. Both sides of the ball need serious work right now — confusion, chaos and calamity abound.
The same issues reared their ugly heads again this afternoon. For all the talk about Indiana having one of the best — if not the best — offenses in the country, the Hoosiers didn't show it against UNLV. They mustered just .94 points per possession against the Runnin' Rebels. There were moments where the ball movement went flat and Indiana's uptempo attack looked stale.
But most concerning is the turnovers. Some ugly numbers again today. On 28.7 percent of their possessions, the Hoosiers gifted the ball back to UNLV, resulting in 22 points. Indiana is turning the ball over all over the court on plays it simply should not be. It's mental and fundamental stuff that Indiana struggled with here in Maui.
"Common sense things," Tom Crean said after the game.
It's also Indiana trying to ride the big wave instead of playing it safer in the shallow water.
"Home runs, trying to make plays that weren't there," Crean said.
"Troy (Williams) can't throw a no look pass, he can't do that," he added. "That's not what we're doing."
When you are turning it over on a quarter of your possession or more, it gives you so many less opportunities to put the ball in the hole. It allows for less margin for error everywhere else in your offense — which means today's 10-19 performance from the line is all the more deadly to your team's shot at the W.
Cleaning up the turnovers can go a long way towards making IU capture its potential. When the Hoosiers strung possessions together without a bunch of slop, they were efficient and effective. They went on runs and got back into things. Down 15 in the first half (27-12), the Hoosiers pulled back to within one (31-30). They turned the ball over zero times during that stretch which lasted five minutes and 23 seconds of game time.
"You look really good when you keep it simple," Crean said.
Indiana wants to play fast and Crean is right that some of their best offense is out of speed, as he said after the game. And he's also said here more than once that he recognizes a slow down could be in order. But it's hard to see Indiana slowing down enough where they become a probing half court team exclusively. A clean up of the simple stuff is probably the best course to offensive success with the group that's assembled and with how Crean's offensive system operates at its best.
On defense today, Indiana did well enough to win, giving up an average-ish .98 points per possession. But too often the drives right to the rim were there again. And when the Hoosiers mixed things up and went zone, UNLV carved it up with drives and cuts to the rim.
Crean has often cited the inexperience and thinner than expected front line as part of the defensive problems. But his perimeter players are leaving much to be desired as well.
Indiana gets Duke next week and that's going to be a harder test for this group than anything they saw in Maui. The hidden truth behind the Wake Forest loss is Indiana lost chances to rack up good non-conference wins for the tournament committee. Just Duke and Notre Dame remain.
Yes, it's only six games in. But with the way things went here in Maui, a tournament-ready resume is now something to keep an eye on. It must be earned. Because as we saw this week with the rain and overcast conditions in the land of the cruel sun, there are no givens despite the expectations.
Filed to: 2015 Maui Invitational, UNLV Runnin' Rebels