The Minute After: Wake Forest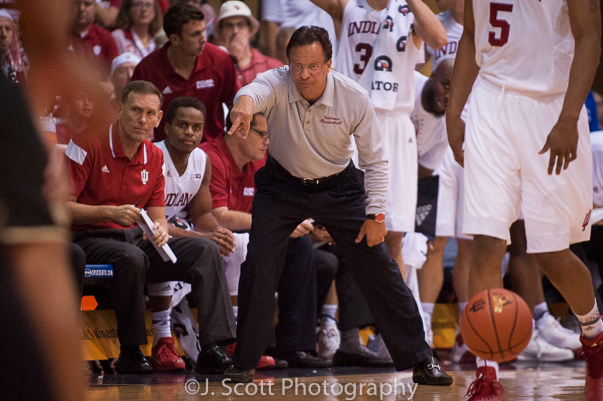 Thoughts on an 82-78 loss to the Demon Deacons:
LAHAINA, Hawaii — Indiana had finally found its stride.
After a first half it failed to defend at an acceptable level and Wake Forest had a lot of confidence, the Hoosiers made things more difficult for the Demon Deacons to start the second half. They contested better at the rim and off the perimeter.
On the back of a 9-0 run, Indiana entered the under-8 timeout at the 7:09 mark up 72-63. The heavy-IU crowd was rocking and the Hoosiers were on the verge of closing the door and facing Vanderbilt tomorrow.
But they fell apart down the stretch. The defensive issues crept back in hard. Senior Devin Thomas (game-high 21 points) scored at will on Indiana in the post. Freshman Thomas Bryant just had no chance against him. Welcome to college, kid.
"Still waiting for one of our guys to remember to take away his left hand," Tom Crean said of Thomas after the game.
Bryant Crawford (13 points) came in off the perimeter for scores on several occasions
The offense and Indiana's confidence sputtered. Up one with under two minutes to play, Max Bielfeldt air balled a 3-pointer from the left corner. Yogi Ferrell hit nothing but backboard with Indiana's next shot. For a team with such talent on offense, it was ugly and puzzling.
On Wake Forest's next possession, Crawford came in off the right wing to the rim and hit the go-ahead score with three seconds left to put the Demon Deacons up one. Just too easy of a score and it happened all too often this afternoon. Suddenly, Indiana had let it all slip away. A last ditch play where Collin Hartman threw a home run pass to Max Bielfeldt instead of checking down for their second option was intercepted. Ball game.
"We just didn't execute coming down late," said Bielfeldt.
The stats tell the tale. Indiana allowed 52 points in the paint and 1.11 points per possession. Wake Forest came into this game as the fourth best offensive rebounding team in the country. The Demon Deacons rebounded nearly half their misses (48.6 percent) for 17 second-chance points. They brought a lot of intensity around the hoop and Indiana failed to match them there.
"Wake Forest deserved to win because they played a better game for a longer period of time," Crean said. "It's hard to beat anybody when you play about 15-16 solid minutes."
Crean, who opted to stand instead of sit at the podium after the game, sugar coated nothing.
"Highly disappointed in some of our efforts, disappointed in some of the toughness and disappointed in myself and some of the substitutions," he said.
A disappointment this was. It was the first real test of the season away from home, and Indiana just couldn't put it together for long enough to get over the hump for a victory. But it's also November in Maui. There is time yet to grow.
"Today we learned a hard lesson and we're going to learn from it," said Beilfeldt.
Filed to: 2015 Maui Invitational, Wake Forest Demon Deacons