At the buzzer: Wake Forest 82, Indiana 78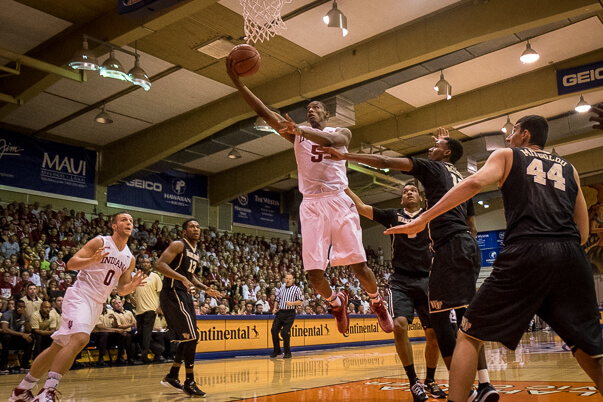 A few quick thoughts on Indiana's 82-78 loss to Wake Forest in the Maui Jim Maui Invitational:
How it happened: After taking a 72-63 lead with 7:34 to play, Indiana scored just six points the rest of the way as Wake Forest easily attacked the basket down the stretch (like it did for the entire first half). Freshman Bryant Crawford scored the game winner for the Demon Deacons with just 3.2 seconds to play as the Hoosiers failed to stop a routine screen and roll on the right side. Indiana then called two timeouts to set up a final play, but an errant pass by Collin Hartman was intercepted and the Hoosiers didn't even get off a shot, which simply cannot happen.
Standout performer: Troy Williams gets the nod, but deserves an asterisk. Williams had a solid line – 16 points, five steals, four assists and three rebounds – but also had five turnovers.
Number(s) that needs work: Indiana was shaky on the defensive glass, particularly before halftime. Wake Forest rebounded 61.1 percent of its missed shots in the first half and 48.6 for the game for 17 second chance points. The Demon Deacons also came in shooting an effective field goal percentage of just 49.7 through three games and lit Indiana up for 55.1 percent. Simply stated, Indiana only played defense for about the first 12 minutes of the second half in this game.
Statistic that stands out: The Hoosiers did get to the line 22 times and made 16 of those attempts for a 10-point advantage over Wake Forest, which was a mild positive.
Bonus note: Yogi Ferrell didn't make a 3-pointer, ending his NCAA leading streak of consecutive games with a 3-pointer made at 67.
Final stats: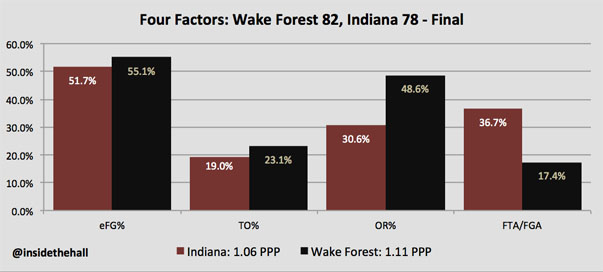 Filed to: 2015 Maui Invitational, Wake Forest Demon Deacons