Quotes: Crean, IU players preview Maui Jim Maui Invitational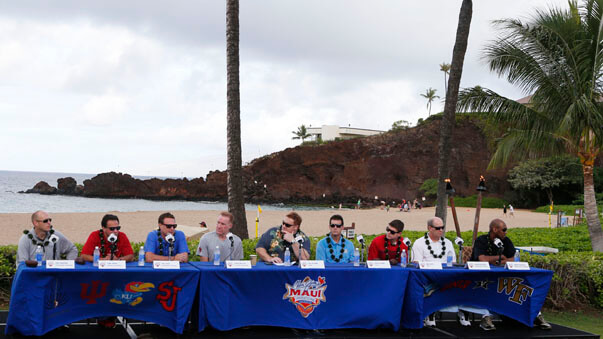 LAHAINA, Hawaii – Indiana tips off the 2015 Maui Jim Maui Invitational on Monday against Wake Forest and on Sunday, the Hoosiers and their coach, Tom Crean, looked ahead to the event.
We've got quotes from Crean's comments in an early morning Q & A session with the other seven Maui coaches, quotes from a roundtable session with Crean as well as thoughts from several IU players below which were provided by IU:
Crean's thoughts on the team (from press conference):
"I think our whole front line is so young. Thomas (Bryant) is a young 18-year old and we have two other young freshmen on the front line with Juwan Morgan and O.G. Anunoby. And then we added Max Bielfeldt from Michigan as a fifth-year transfer. So we are young in age and – in Max's case, young to Indiana. But I like their upside and their work ethic and then the fact that we have experience in the back court – whether it's Kevin Yogi Ferrell as a senior or Nick Zeisloft as a senior or Troy Williams as a junior or James Blackmon Jr. and Robert Johnson as sophomores now. Those guys can really help us along.
"Our team is learning to play with a consistent level of toughness every day and with an ability to get better defensively. If we keep maxing out that ability, then I think we have a chance to have a really good team. I think that's where our potential is going to be, in our up-side defensively and our upside rebounding the ball, which will hopefully make our offense even better."
Crean breakout session
On the team bonding so far in Hawaii:
"I think it's been good. They have rarely been apart from each other since (our home game) on Thursday night outside of when they went home afterwards for a little bit. We left again at 4:30 a.m. to head to the airport. It has been a great trip out here, and it's been uneventful so I think they have enjoyed it. They are getting acclimated to the time change and spending time together too. We had a great practice yesterday and they got a chance to see their families if they are out here with them. But most importantly, they have had a chance to take it in, whether it's getting in the water or just walking around or go down to the shops and those kinds of things. There hasn't been any surf training going on. My daughter Ainsley is going to do that, but I don't think any of the players are. But they are having a good time."
On the biggest adjustment with the five hour time difference from Eastern time:
"I think the biggest thing we tried to do on Friday night was to keep them up late so they start trying to get to sleep around 8:30 p.m. or 9:00 p.m. (Hawaiian time) time range. Or at least that's what we aimed for. And then sleep in as much as possible and get up around 8:00 a.m. HT, eat breakfast and then have a meeting at 8:30 a.m. and head to practice. I think they were fatigued last night and I think they will feel tired but a lot better today and hopefully a little better each day.
"The key is to really stay hydrated and take care of yourself and get rest when you can. But when you can get that first night of sleep and the second night of sleep and try to make those long nights of sleep rather than napping during the day. I think, for the most part, they have done that."
On preparing for three games in three days:
"What you want to do in the preseason is build in some of those concepts that you will need when you look ahead to the schedule. And then when you get out here, you will put a good focus on the game that you are going to play because that's the most important game. It is very easy to look at it as a three-game tournament but you have to look at it as one game per day for three days. There's a difference.. To me, we want to put our focus on making sure we are defending Wake Forest the right way. And make sure that we understand their personnel. But as far as how we play and the defensive concepts and things like that, you want to be working on those in the preseason so that when you get into that in a walk-through out here, from game two to game three, then it is a little bit easier."
On Wake Forest:
"They are very, very physical. They are relentless on the glass, outrebounding teams by 17 or 18 per game. They are shooting almost 34 free throws per game. Bryant Crawford is playing outstanding, shooting 50 percent from the 3-point line and getting to the foul line seven times per game. He has had some big scoring games. They run the break effectively but selectively when they go. But they do a great job of getting the ball inside. They are very similar to the way they played at Kansas when Danny Manning was there and then when he was a head coach at Tulsa.
"They are really, really good at getting you into a half court game, keeping good spacing to attack you in a hi-lo situation and then they are relentless on the glass. We have to make the game go, but at the same time, when the game is in the half court, we have to do a good job of recognizing their personnel and not letting them just own the middle of the floor.
Kevin "Yogi" Ferrell
On getting out to Maui and continuing preparation:
"The trip has been great. We had a long day of travel getting here but I think we did a great job of getting extra amounts of sleep and hydration and resting our bodies up. We have come in and had good practices, I think they have been very high level and the coaches are doing a great job preparing us for the first game on Monday."
On preparing for Wake Forest:
"I think the biggest thing is being able to stop them on the defensive end. They like to go inside a lot. So if we can take that away and get on the glass – they are outrebounding teams by 18 per game – then we have a great chance to win."
On coming to Maui as a senior:
"This is my first time out here, so I am going to live it up and go into the ocean and enjoy the journey with my teammates."
Robert Johnson
On playing three games in three days:
"I think the main thing playing in an environment like this is that we have to focus in. It is easy to get distracted with the beach and the perfect weather but when we are in the gym, we have to focus in and prepare to win."
On the preparation in Maui:
"It's the same as when we were at home. We are trying to build off the things that we have been doing well and to build the defense and the different schemes. And I think that's going well."
On the key against Wake Forest:
"I think honing into the gameplan and being aggressive on both ends. We need to get the game going early so that will be key for us."
Nick Zeisloft
On the preparation in Maui:
"I think the practices have been wonderful. It feels good to get our feet under us after a long day of travel out here. The first day was great and today was even better so we are ready for Wake Forest tomorrow."
On the mindset getting ready for Wake Forest:
"We have to control the boards. We have to win the paint game. Those are two keys, but it is just going to be us playing together as one unit."
On how much the trip to Montreal last year and how that may help this trip:
"That was the first step for me as a new guy coming in and getting to know the guys better last year. That was a big things for me to be able to get a feel for how guys play and what they like to do. So to be able to do this trip and play these games against some great teams should really help us out as we continue to try to get better every day."
Filed to: 2015 Maui Invitational