The Minute After: Creighton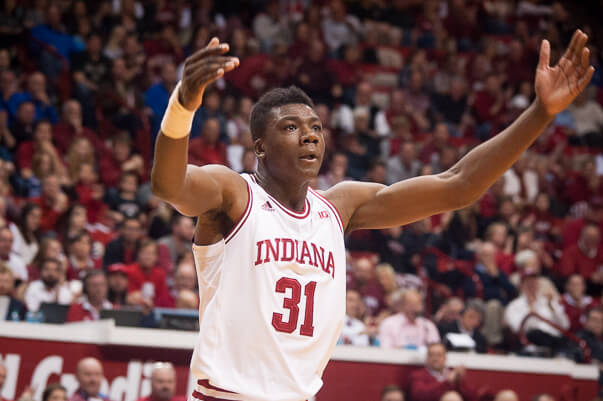 Thoughts on an 86-65 win over the Bluejays:
Cautious optimism ran through the minds of the IU faithful this summer.
Sure, Indiana was primed to have an elite offense once more, but could it incorporate a big man seamlessly into this group of shooters when the narrative has often suggested otherwise? And more importantly, after an abysmal defensive showing last year, could it improve enough to put the Hoosiers in elite territory?
A performance like tonight's against Creighton helps to start remove the caution and let the optimism reign free. Indiana put it together on both ends in its drubbing of the Bluejays and the possibilities of what the Hoosiers can become are starting to take shape.
We need to start with Thomas Bryant. What a performance. As I noted on Twitter, Bryant is this team's emotional leader for a squad sorely needing one. His emotion and passion have endeared him early to the fanbase. He gets the crowd and his teammates hyped.
Bryant was a little more in control with his body and he did huge things on offense and defense. The freshman was just about unstoppable in the post and got a bunch of buckets around the hoop with some terrific moves. He hit all six of his 2-pointers and added a 3-pointer to boot to finish with 17 points and seven boards. Bryant was equally impressive on defense, intimidating the Bluejays at the rim with four blocks. One of his two assists was a solid touch pass back to Yogi Ferrell for a 3-pointer early in the game.
When Bryant is this good on both ends and everyone is filling in the gaps around him, it makes this team a force to be reckoned with.
"The lion came out in me," Bryant said after the game with a smile.
James Blackmon Jr. had perhaps an equally impressive performance. Tom Crean has asked for more playmaking from his sophomore and he provided that tonight. Blackmon Jr. got into the lane and found a streaking Troy Williams for scores out of the short corner on his way to four assists. He was also feeling it from distance, as he hit 4-of-6 from beyond the arc to lead Indiana in scoring with 19 points.
Couple Blackmon Jr.'s shooting with his playmaking and respectable defense, and it was a next-level performance from the sophomore.
The Hoosiers' defense never really figured out how to stop Maurice Watson Jr. (game-high 21 points), but got it done regardless. It held the Bluejays to .84 points per possession after giving up .97 to Austin Peay. Creighton only mustered an effective field goal percentage of 48.
After Indiana's burst to a double-digit lead in the first half, the Bluejays were never really in this one and the Hoosiers simply coasted for much of the second half before closing the door with Troy Williams' emphatic putback jam off a Nick Zeisloft miss.
Indiana is up bright and early tomorrow morning to travel to Maui. This performance was a great confidence boost and lead-in to the tournament. Play like this next week and you put yourself in position to bring home the championship.
Filed to: Creighton Blue Jays