Five takeaways from Indiana's win over Creighton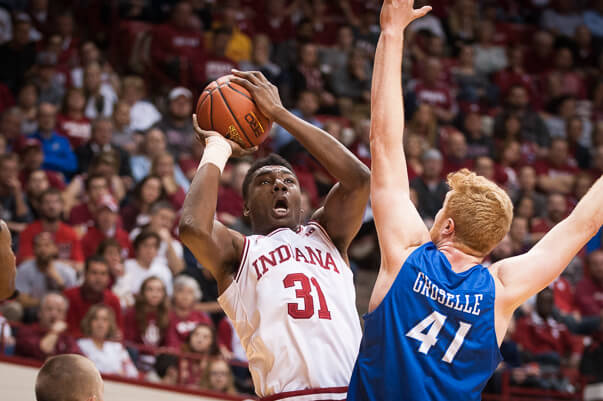 Indiana moved to 3-0 on Thursday night with a convincing 86-65 win over Creighton in the Gavitt Tipoff Games at Assembly Hall.
Here's a look at five takeaways from the win over the Bluejays:
· Bryant makes his presence felt: It's not that Indiana freshman Thomas Bryant didn't make an impact through the team's exhibitions and first two regular season games.
But Bryant took things to a different level against Creighton, the first formidable opponent for the Hoosiers this season. The 6-foot-10 center made all six of his 2s, nailed a 3 and hit a pair of free throws to finish with 17 points. He also added seven rebounds and had a season-high four blocks. Bryant has yet to miss a 2-point field goal attempt this season as he's now 15-of-15.
Not only did Bryant bring a presence in the post, but he also got the crowd engaged early and often.
"He's been well-coached, he's poised, and what I'm proudest of is that he's playing with emotion, and it's not emotional," Tom Crean said of his freshman. "He's got great emotion. If it was emotional, he wouldn't be able to make the plays he's making and he wouldn't make the finishes that he's making."
· Indiana's offense was as balanced as we've seen: The Hoosiers had five guys finish in double figures in scoring in their route of Creighton as the Bluejays simply had no answer for all of the weapons.
In addition to Bryant's 17 points, James Blackmon Jr. poured in a game-high 19 points, Yogi Ferrell had 15, Troy Williams had 13 and Nick Zeisloft added 12. Zeisloft is now 9-of-13 on 3s over his last two games.
Creighton was on its heels defensively for most of the night.
· Efficiency at the rim, but IU still needs to get fouled: As pointed out in "At the buzzer," Indiana only got to the line nine times in the win, but the Hoosiers still turned in an efficient 1.12 points per possession performance.
The Hoosiers hit just 10 of their 28 attempts from 3, but shot 68 percent at the rim. Still, as the competition picks up, Crean realizes that IU has to figure out ways to get to the line more.
"For us to get better, we've got to get fouled," he said. "Whether it's through the post, through the drive, whether it's the offensive board, whatever it is."
· Defense shuts down Creighton from deep: The Bluejays came in averaging 98 points through their first two wins and had 25 3s in those games.
Thursday was a different story as Greg McDermott's team hit just three of its 18 attempts from deep. Creighton's offense came to a screeching halt in Assembly Hall as Indiana did a good job of pushing shooters out further than they were comfortable.
In the second half, Creighton didn't hit a 3 and it scored just .85 points per possession. Indiana held just three teams to .85 points per possession all of last season. This season, they've already done it twice.
· Turnovers still lingering as an issue: It's a small sample size, but through three games Indiana is turning it over on 24 percent of its possessions.
Last year, the Hoosiers were able to make a huge leap forward offensively by cutting down on the mistakes. It's not a cause for major concern just yet as IU is 3-0 and has the nation's No. 2 offense through the first week of the season.
However, as the competition level picks up in Maui, unnecessary mistakes could be costly in a game that comes down to one or two possessions.
Filed to: