The Minute After: Austin Peay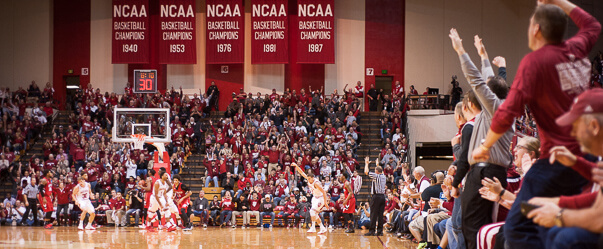 Thoughts on a 102-76 win against the Governors:
The Hoosiers played a near perfect offensive second half. Fifteen straight made shots, 18 for their last 20, a barrage of 3-pointers, ridiculous highlight reel plays from Troy Williams.
They finished the contest with an insane effective field goal percentage of 80, 16-of-27 (59.2 percent) from distance and scored 1.30 points per possession.
There's perhaps no other team in America that can do what these guys do on offense. It's a marvel. It's a joy. But it's old hat now. We know they can pump in points like no one else.
What Indiana needs to do is complement its high-powered offense with a respectable defense. (Or gasp, even a good to great defense.) Against Eastern Illinois it was there. The Hoosiers allowed just .716 points per possession to the Panthers, its best mark since November of 2013. But from the onset in this one, the defense was an after thought. Austin Peay scored 41 total points against Vanderbilt in their opener on Friday night. The Governors had 38 against Indiana at half and ended the contest with 76 points.
Indiana gave up nearly a point per possession (.97) and a 54 effective field goal percentage to one of the worst shooting teams in the country last season.
The frantic, fast, sloppy play of the first half seemed to play into Indiana's defensive issues tonight. When both teams are all over the court, making mistakes and getting shots up quick, it can throw focus off. It's hard to lock into chaos.
The Governors got a lot of uncontested looks at the rim from drives off the perimeter and hoisted a fair amount of uncontested 3-pointers — both reminiscent of looks last year's squad gave up to opponents.
"We got caught in some over helps tonight, we didn't fight through screens," Tom Crean said on the Big Ten Network after the game. "We didn't get our shoulder dropped and really come across on the screen. Our ball pressure could be better."
Crean even started Robert Johnson and Collin Hartman in favor of James Blackmon Jr. and Troy Williams in the second half. It didn't do much, as Johnson got beat on a back door to start the half.
The Hoosiers turned the ball over too much tonight and that's been a bit of an issue so far this year. A quarter of Indiana's possessions ended in a turnover tonight. Against Eastern Illinois it was nearly the same (23.5 percent).
As we saw last season against Maryland at Assembly Hall, a ridiculous shooting night from this team (79.3 effective field goal percentage, 1.39 PPP in that one) can stomp even the best teams. But they know and we know they must also defend and take care of the ball better if they want to be truly elite.
Anyway: Nice to see Nick Zeisloft light it up from distance tonight (5-of-7), despite his injured finger. Yogi Ferrell (4-of-5) and James Blackmon Jr. (4-of-6) were also on fire from 3-point range. When you have three dudes shooting this well from distance, it's pretty unfair. Max Bielfeldt (1-of-2) even got into the mix. Had Thomas Bryant made his early look in the first half, the Hoosiers would have had a trey from all five positions on the court.
And that Williams reverse slam in transition? Good golly.
Some good, some bad tonight. Creighton comes to town Thursday and the Hoosiers have ample opportunity to correct their mistakes in short order.
Filed to: Austin Peay Governors