Five takeaways from Indiana's win over Eastern Illinois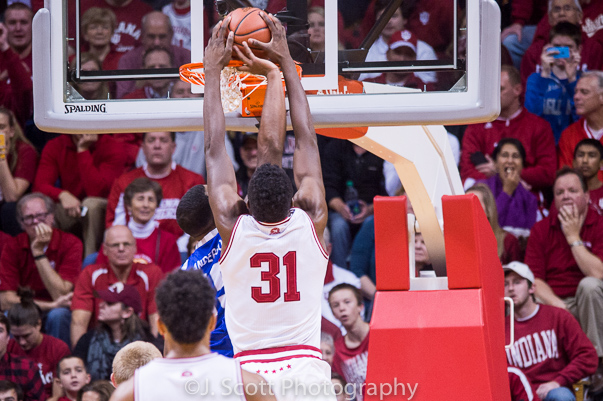 In their season opener, Indiana crushed Eastern Illinois, 88-49, on Friday night at Assembly Hall.
Here's a look at five takeaways from the win:
· It was Indiana's best defensive performance in almost two years: From a points per possession allowed perspective, this was the best defensive effort Indiana since a win over Evansville at Assembly Hall in November of 2013.
The Hoosiers allowed just .716 points per trip to the Panthers, a lower mark than IU allowed in any game all of last season. All preseason, the question has been: How improved will Indiana be defensively?
One game isn't enough to draw any conclusions, but the Hoosiers are off to a solid start and last night's performance is one to build on.
· Thomas Bryant posts impressive debut: Save for some unnecessary fouls and a technical for staring down a defender after a dunk, freshman McDonald's All-American was as advertised in his first game.
The 6-foot-10 forward finished with 11 points, nine rebounds and a blocked shot in 19 minutes. His energy had the Assembly Hall crowd engaged and it's clear Bryant's teammates feed off of his emotion.
"Thomas has got tremendous energy and he plays with emotion," Tom Crean said. "The whole key that you want any player, whether they are young, old, whoever it is, is not to play emotional. And there's a big difference. But playing with emotion leads to a lot of energy and enthusiasm, and he's got a tremendous spirit."
· Lineup change shouldn't have come as a surprise: The move to insert Collin Hartman into the starting lineup in place of Max Bielfeldt may not be permanent, but it makes perfect sense for better balance.
In Hartman, Indiana has a versatile four-man who can space the floor with his ability to shoot. The junior forward played all over the court last season, is experienced in the system and doesn't need the ball to be effective. Bringing Bielfeldt off the bench gives IU an experienced backup option for Bryant and also provides a fresh body in the event that the freshman gets into early foul trouble.
In Hartman, Robert Johnson, Nick Zeisloft and Bielfeldt, there are plenty of options that will allow the IU staff to mix up lineups more regularly than we saw last season.
· Poor free throw shooting prevented the game from being even more lopsided: Indiana did a better job of getting to the foul line on Friday than in its two exhibitions. The Hoosiers had a free throw rate (FTA/FGA) of 41 percent, which is solid.
The results from the line, however, weren't good as IU hit just 15-of-25 attempts. If Indiana can continue using the new freedom of movement rules to draw fouls and get to the line at a high rate, the offense has a chance to be even more dynamic than last season.
Last year's team, despite being the ninth best offense in the country, ranked just 284th in terms of ability to get to the line. This year, Indiana should aim to more closely resemble the 2012 and 2013 teams that ranked 15th and 7th, respectively, in that statistic.
· The win didn't mean much, but it's better than what happened elsewhere: The major storyline coming out of the first night of the regular season isn't what the top teams in the country did, but more about who some major conference teams lost to.
UCLA fell to Monmouth. Illinois lost to North Florida. Wisconsin was upset by Western Illinois. Other losers included North Carolina State, Georgia, Colorado and Arizona State.
Guarantee games are a staple of college basketball and are essentially scheduled wins for the home team. When they don't end up that way – like we saw last season when IU lost to Eastern Washington – they become storylines early in the season when there isn't much to talk about. Last night in Bloomington, the Hoosiers took care of business, which cannot be said for some Big Ten peers in their openers.
Filed to: Collin Hartman, Thomas Bryant