Notebook: Hoosiers dominate glass in season opener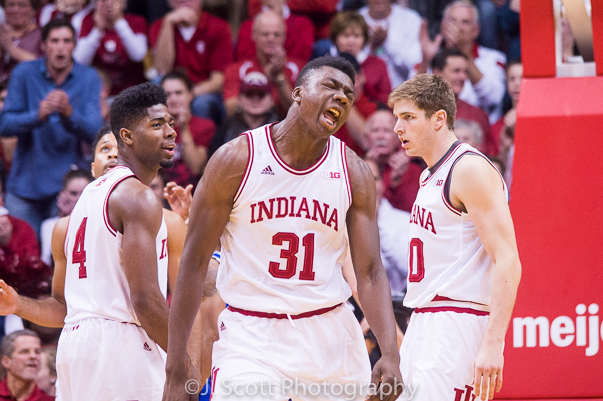 It only took about five minutes for Indiana to establish their dominance over Eastern Illinois.
After leading 9-7 with 15:11 to play in the first half, the Hoosiers outscored the Panthers 40-10 the rest of the half on their way to a comfortable 88-49 win in the season opener.
"I think it was just the whole energy of the place picked up," senior Max Bielfeldt said. "We got a couple offensive rebounds. We got some big plays by a lot of the guys and just built on one thing to the next. Defense picked up and we were getting stops. It just all piled on to bring the energy way up and we just rode that and it turned out to be a really good thing."
The dominance began on the glass, where Indiana grabbed 21 offensive boards. The Hoosier had five players with seven or more rebounds, and was led by freshman center Thomas Bryant who had nine.
EIU seemed helpless as IU would get offensive rebound after offensive rebound, and cashing in for a 26-1 advantage on second chance points.
"It's very disheartening for your team when you have guys trying to block out and get guys off the boards and you can't get it done," EIU coach Jay Spoonhour said. "It seemed like they scored on every second-chance opportunity."
Bielfeldt, who came off the bench, showed why he will be a valuable member of this year's squad with 11 points and eight rebounds. He said the team's aggressiveness paid off.
"We had a lot of guys just crashing out at all times, and if it wasn't the four or five getting it, Yogi (Ferrell) was in there getting a hand on it so someone else could get it," Bielfeldt said. "It was a really good team effort on the boards. It was a lot of fun to be a part of."
Bryant's emotion shows in debut
Bryant showed his strength on the inside in his first collegiate game by finishing with 11 points and nine rebounds. He slammed down a monster dunk in the second half and was called for a technical foul after he appeared to stare down an EIU player.
"He's got great energy," Bielfeldt said. "He loves the game, loves the team. He loves being here. It's a lot of fun to play next to him just because of all the positive energy he's bringing."
Tom Crean said he loves how Bryant plays with emotion and doesn't play emotionally. He said there's a big difference in the two and that Bryant bringing the energy is a great thing for the team.
Bryant started at center alongside Colin Hartman, a different lineup then what IU used in its preseason games. It seems that the fifth spot will rotate between Hartman, Bielfeldt and Robert Johnson depending on matchups.
"We didn't decide to change the lineup until they put their lineup in, and that's maybe what's going to happen throughout the year," Crean said. "When you have numerous guys that are multi-dimensional that can play together, you're going to be better, and Max and Thomas together or Max and Thomas separate, are key, key parts of our team. So we've got to be able to do both."
Yogi's streak continues
Late in the second half, senior Yogi Ferrell hit a three-pointer to keep his streak on consecutive games with a 3-pointer made going.
It now stands at 66 straight games, the longest active streak in the NCAA. He scored 13 points, grabbed seven rebounds and added six assists.
Other Notes
IU had six players score in double figures.
Robert Johnson was hot from behind the arc Friday, hitting 4-of-6 threes for 12 points off the bench. Crean said he still thinks of Johnson as a starter, and called him one of the team's best defeners.
IU plays host to Austin Peay, which lost 80-41 to Vanderbilt on Friday night, on Monday night at Assembly Hall.
Filed to: Max Bielfeldt, Thomas Bryant, Tom Crean, Yogi Ferrell