The Minute After: Eastern Illinois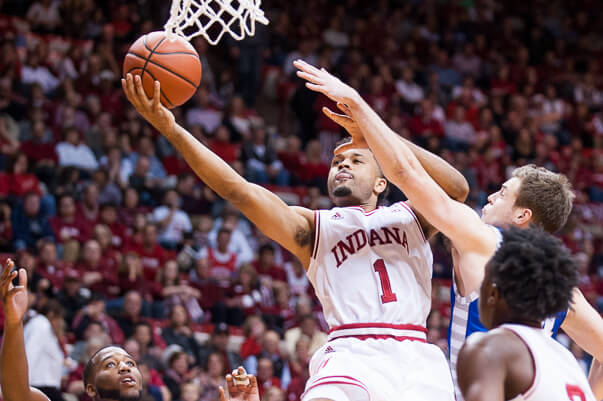 Thoughts on a 88-49 win over the Panthers:
After a closer, more challenging than usual exhibition finale Monday against Bellarmine, Indiana stepped on the gas and ran over Eastern Illinois in their season opener.
The Hoosiers entered the locker room at half up 49-17 on the strength of a 21-1 run and never really looked back, save for a bit of a sluggish and sloppy start in the second half. They dominated the boards, rebounding a comical 63.6 of their misses, which led to 26 second chance points. Eastern Illinois, meanwhile, rebounded just 14.3 percent of their missed shots and scored only one second chance point. IU's athleticism and size was just too much for the Panthers all night.
James Blackmon Jr. had himself a game. His 17 points (7-of-13) in 21 minutes led the Hoosiers. He added seven boards as well. But most importantly, he defended. Like his backcourt mates Robert Johnson and Yogi Ferrell, he's getting up in the defender's space well out past the perimeter. During one stretch in the first half, he appeared to alter a runner that didn't hit the rim and later recorded a steal.
It's just one game against Eastern Illinois, but this was the most encouraging takeaway from the opener. If Blackmon Jr. pours in points like he's known to do and defending at a respectable level? Watch out.
Thomas Bryant's energy continues to impress. It appears Indiana's plan is to establish their talented freshman early on the right mid-post. It worked tonight. Bryant drew a number of fouls on Eastern Illinois as the Panthers had trouble with his size and activity. But it's not his only area on the court. Bryant scored on and up and under off the left block in the second half. He tried driving off the top of the key as well, but drew an offensive foul.
And in his most emphatic score of the night, Bryant dunked it home off a pick and roll, drawing a technical for taunting afterwards. He finished the night with 11 points and nine boards (five offensive).
Indiana is still struggling with the 3-ball a bit (9-of-27, 33 percent). Yogi Ferrell's 3-pointer made streak was even in question at one point, though he ended up knocking one home with 6:11 to go to extend his nation-leading streak to 66 games with a made trey. Robert Johnson had little trouble with his 3-point shot tonight, however.
His new shooting style is looking nice and he knocked down 4-of-6 from distance and finished with 12 points. Having Johnson coming off the bench with his defense and ability to both handle and shoot the ball is a nice luxury in Tom Crean's rotation.
Max Bielfeldt looked more in place as a bench contributor for the Hoosiers tonight. He grabbed eight rebounds, had a couple nice buckets (3-of-3), got to the line (4-of-6) and finished with 11 points in 15 minutes of action.
Indiana's defense overall was again encouraging, as it held the Panthers to just .72 points per possession and an effective field goal percent of only 38 percent. There's just more commitment and effort across the board. Despite the weaker competition and the early juncture, I think we can safely say the defense is better than a season ago. But just how much better is still unclear.
We got a Tim Priller bucket. The Hoosiers are 1-0. Basketball is back and it feels good.
Filed to: Eastern Illinois Panthers