Q & A: De'Ron Davis talks Indiana commitment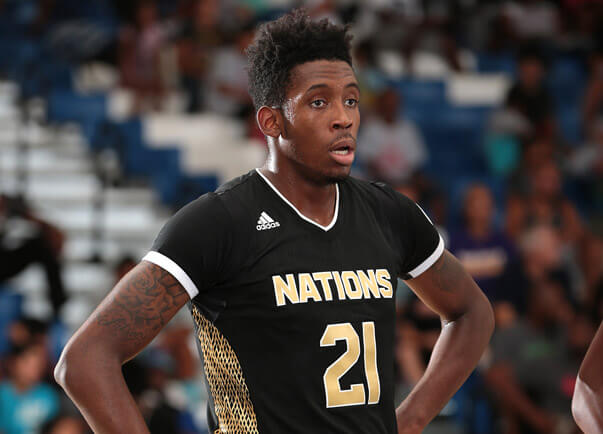 Class of 2016 Overland Aurora (Colo.) forward De'Ron Davis committed to Indiana in a ceremony on Thursday at his high school.
Inside the Hall caught up with Davis following the announcement for a Q & A, which is available below:
ITH: You talked a lot during the announcement about coach (Tom) Crean and how they've been recruiting you so long. When did you know that Indiana was where you wanted to be?
Davis: I've liked them for a while. They've been my frontrunner for a while. When I was the No. 1 player in the country, I had all of these schools on me. When I dropped down to 10, I still had quite a few. When I dropped down to 20, Indiana was still there with me. They didn't care about the rankings. They knew what kind of player I was, they knew what I could bring to the program. Family always sticks together and I'm a big family guy. That really stood out to me.
ITH: I know (former associate head coach) Steve McClain did a lot of work in the early stages and then Chuck Martin picked up after he left, but what stood out to you about the relationship with coach Crean and the coaching staff?
Davis: It just showed me the pride coach Crean takes in his coaching staff. Coach McClain he was there trying to help me get better and as soon as coach Chuck (Martin) came in, he picked up right where he left off. He didn't stop. They were giving me tips all of the time about how I could get better. That's what stood out to me.
ITH: As the process went along, how consistent was the approach from the staff?
Davis: They were there through the ups and downs. When I was up, they told me 'this is what you need to get better at.' When I was down, they told me 'this is what you need to get better at.' They were always looking to improve my game.
ITH: When you took the official visit, was there something you saw that made you convinced that the program was right for you?
Davis: No different from my high school team in that we really get after it in practice, we really compete and we really care for each other, but when I took my visit there I saw how the players were in the weight room, I saw how they are off the court and I saw how they were on the court just playing pick up. They're all there for each other.
ITH: How are you feeling now that the process is over?
Davis: I'm relieved. I'm just focused on trying to get better each and every day so when I go to Indiana I can just pick up strong. I'm just relieved and ready to start my high school season.
Filed to: Deron Davis