Five takeaways from Indiana's win over Bellarmine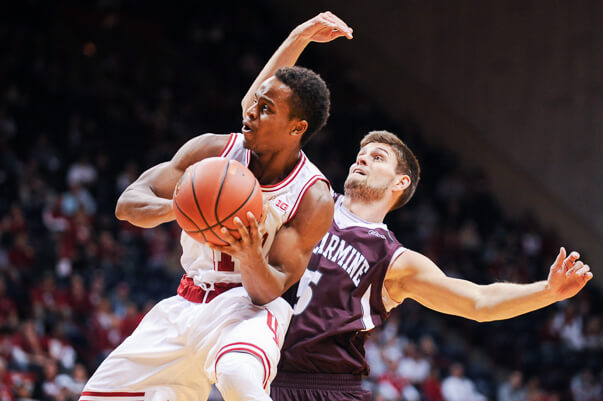 In their final exhibition tuneup before Friday's season opener, Indiana beat Division II No. 4 Bellarmine 73-62 on Monday night at Assembly Hall.
Here's a look at five takeaways from the win:
· Indiana's defense looked better … in stretches: It was far from the complete effort Indiana will need to produce if it hopes to compete at the top of the Big Ten, but the Hoosiers had some strong moments defensively in the win.
Indiana held Bellarmine scoreless for more than eight minutes, which allowed a 9-7 lead to balloon all the way to 32-9. Bellarmine moves very well without the ball and has shooters, so the eight minute scoreless streak is notable.
The flip side is that Indiana was outscored 53-41 from that point on. Rather than putting the game away early in the second half, Indiana allowed the Knights to linger, particularly early, before putting the game away with a run midway through the final 20 minutes.
· Robert Johnson provides spark off the bench: One of the early storylines to monitor is how sophomore Robert Johnson will adjust to coming off the bench after starting 33 games last season.
The 6-foot-3 guard was far more effective last night than he was in the Ottawa game, primarily because he focused on defense first and let the offense come to him. He was very good pressuring the ball and while he got over aggressive a couple of times, it was a performance to build on for a player who may have to adjust to a sixth man type of role.
Johnson finished with a very solid line in 24 minutes: eight points, two assists, one rebound and one steal. Most importantly, he didn't commit a turnover.
· Indiana needs to generate more easy looks around the basket: As mentioned in "At the buzzer," Indiana managed to get to the line 21 times, but many of those came after the game was already decided.
The Hoosiers took 43 percent of their field goal attempts from behind the 3-point line and hit just 32 percent from distance for the game. That bears mentioning because Indiana shot 51.5 percent on its 2s and when it drove the ball, it typically found success or easy looks at the rim or in the paint.
As the Hoosiers adjust to having a legitimate post presence who can score in Thomas Bryant, will they look to establish things inside early with the hope of freeing up shooters more easily? Monday probably wasn't the best gauge because Bryant's minutes were limited as were Max Bielfeldt's, but playing inside first should force defenses to collapse and free up more comfortable looks.
· Ferrell and Williams controlled the game: In a surprise to no one, when Indiana needed a big play, its two best players were ready to make it.
Yogi Ferrell played a much more complete game than we saw against Ottawa and finished with 21 points, eight rebounds and four assists. In the second half, he caught fire from distance (3-of-5) and the Knights had no answer for his quickness and ability to rise on a jump shot.
Williams was equally as impressive with 20 points and eight rebounds, although he's still turning it over at a high rate. Through two exhibitions, he's got 10 turnovers, a number that he said postgame he realizes must come down.
"I'm always worried about turnovers," he said. "It's a turnover. That's fast break points for the other team. But, I mean, it's just mostly just cherish the ball more. It's not like I want to turn it over."
· Indiana has plenty of room for growth, which is a good thing: The Hoosiers have been criticized for peaking too early in previous seasons, which is something fans will be watching again closely this year.
Indiana could have scheduled a couple of guaranteed 40-point exhibition blowout wins, but playing teams that would at least put up a fight should provide the staff with plenty of material as the season gets underway.
Indiana is still learning how to play with a more traditional big man on the floor. The ball movement is nowhere near where it was at times last season. And the defense, while promising at times, still has plenty of room to grow. None of that, however, should be a major concern in early November. The upside is still very high, particularly offensively, for this group to compete with the nation's best.
Filed to: Robert Johnson, Troy Williams, Yogi Ferrell