At the buzzer: Indiana 73, Bellarmine 62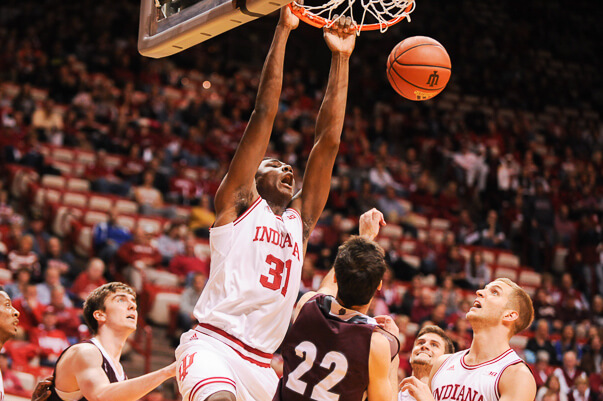 A few quick thoughts on Indiana's 73-62 exhibition win over Bellarmine:
How it happened: After Al Davis hit a jump shot to draw Bellarmine within two at 9-7 with 14:31 remaining in the first half, Indiana ripped off an 18-0 run and eventually build a 23-point lead over the Knights. Bellarmine, however, didn't go down without a fight. The IU lead was cut all the way down to seven early in the second half before the Hoosiers regained control on back-to-back 3s from Robert Johnson and Yogi Ferrell to push the lead back to 15 with 13:47 to play. Bellarmine never got closer than 10 the rest of the way.
Standout performance: Yogi Ferrell did a little bit of everything in the win and finished with team-highs in points (21), rebounds (eight) and assists (four). The senior guard was in mid-season form from behind the 3-point line as he finished 5-of-9 from deep.
Number to build on: The Hoosiers cleaned up on the offensive glass, particularly in the first half. Indiana rebounded 57.9 percent of its misses in the first half and 47.1 percent for the game. The work on the offensive glass resulted in 13 second-chance points.
Number that needs work: Indiana again struggled to get to the free throw line after a subpar performance in that area against Ottawa. The Hoosiers took just nine free throws in their win over the Gee-Gees. On Monday, they attempted 21 against the Knights for a free throw rate (FTA/FGA) of 36.2, but many of those attempts came late when the game was already decided. With an emphasis on freedom of movement rules early in the season, it bears watching whether Indiana can find its way to the line more regularly once the season tips off.
Final player stats: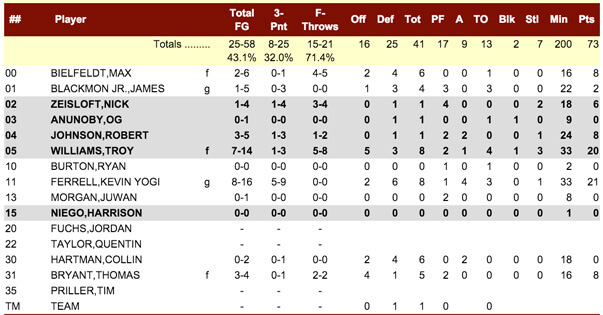 Final tempo-free stats: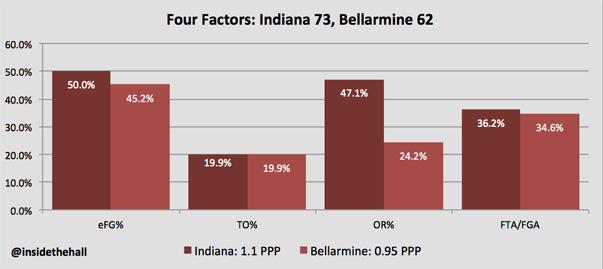 Filed to: Bellarmine Knights