The Minute After: Bellarmine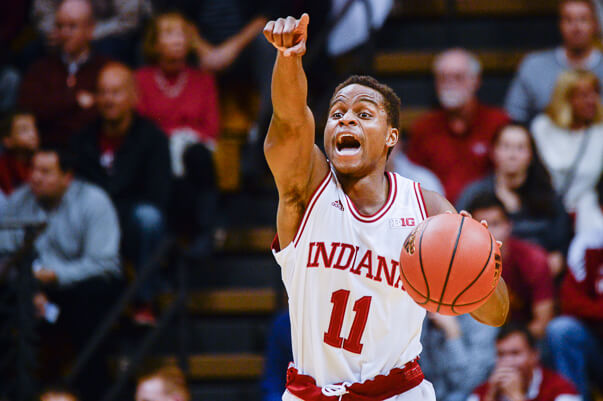 Thoughts on a 73-62 win over the Knights:
Who are these Hoosiers after two exhibition games?
Are they the team exhibiting more effort on defense — blocking shots, getting steals, forcing a shot clock violation? Or are they a group still prone to losing shooters on the perimeter, leaving them with room to hoist unobstructed 3-pointers?
Are they the best offense in the country — the run-and-gun squad with a McDonald's All-American inside to balance their bevy of shooters? Or are they the one forgoing getting into the lane for kickouts to their shooters, opting to shoot off the dribble instead of open and in rhythm?
Through 80 minutes, they've shown a little bit of everything. A finished product right now, these Hoosiers are not.
But that's okay. And maybe even to be expected, despite this season's expectations.
Tonight's game was an exhibition in November, not a conference matchup in February. And Tom Crean is still in the midst of sorting out a lineup and rotation he's hoping to go two-deep with at every position. There's new players in the mix.
Consider the frontline: Indiana is starting two guys that came to campus this summer in Max Bielfeldt and Thomas Bryant. Their first frontline player off the bench is Collin Hartman, who's coming off a rib injury. Two other freshman, Juwan Morgan and O.G. Anunoby, are also seeing time up front.
On defense: There's enough consistent effort — and none of that silly sinking back from man to zone from last season — that Indiana is trending upwards on that end of the court. It's a work in progress to be sure. But during their 18-0 run in the first half, they showed some promise. With Robert Johnson and Collin Hartman checked into the game off the bench, Johnson went to work on the ball on the perimeter.
And Troy Williams — who has the staff and players after him to be locked in on D — was just that for a stretch. He chased down a block from behind, scrambled to the sidelines to recover the ball and whipped it ahead to James Blackmon Jr. for a breakaway score as he fell out of bounds. About a minute of game clock later, Williams recorded a steal — one of his three on the night. Despite some Troy being Troy moments (three turnovers, a couple head-scratching decisions), Williams had an efficient 20 points (7-of-14) and tied for the team lead in rebounding with eight boards.
As he showed tonight, the junior's athleticism coupled with more effort can be a dangerous combination for the opponent and lead to scores for the Hoosiers. That, along with Bryant as the safety valve on the backline and everyone else communicating, switching and getting more up into the opponent on the perimeter is where Indiana's defense needs to go.
The Hoosiers held the Knights to under a point per possession (.95) tonight, but were outscored  42-38 in the second half.
On offense: Indiana scored 1.1 points per possession, thanks to 17 points off turnovers and 13 second-chance points on a night it rebounded nearly half (47.1 percent) of its misses. But the Hoosiers still turned the ball over a little too much (19.9 percent). And they relied a bit much on just taking the 3-point shot tonight instead of driving and kicking or making the extra pass. For them, 32 percent (8-of-25 shooting) is below average.
However, as we've seen before, when Indiana's offense needs a little spark or things aren't working right, Yogi Ferrell can start taking semi-contested 3s and all of a sudden the lead jumps. Ferrell (team-high 21 points) hit back-to-back 3s in the middle of the second half to put Indiana up 17, seemingly saying "I got this", before a sloppy finish saw the Knights close to just an 11-point loss.
Indiana has the week before Eastern Illinois comes to town for the season opener on Friday night. But with the Maui Invitational just two weeks away, the Hoosiers don't have a ton of time before what's likely to be their first taste of a high-level DI opponent.
Filed to: Bellarmine Knights