What to watch for in Indiana's exhibition opener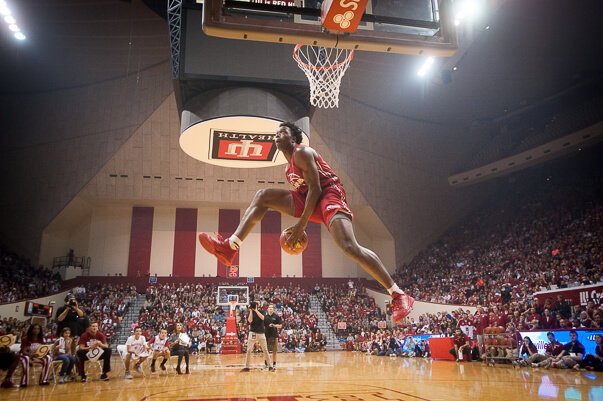 Basketball returns to Assembly Hall on Tuesday night as Indiana will host the University of Ottawa for the first of two exhibition games this preseason.
The game will be broadcast live on BTN Plus at 7 p.m. ET and replayed on BTN on Wednesday at 1 p.m. ET. In lieu of our traditional game previews which focus heavily on the opponent, here's a look at what to watch for as the Hoosiers take the floor against the Gee-Gees:
· How will the defense look? It's an exhibition, so drawing any definitive conclusions would be ill-advised, but signs of improved defensive play tops the list of things Indiana fans will be looking for on Tuesday night.
Ottawa shredded the Hoosiers for 109 points in August of 2014 during a five-game exhibition tour in Canada. The Gee-Gees are one of the most powerful offensive teams in Canada and are averaging 94.1 points in nine exhibition games.
Of particular interest to watch: How will Thomas Bryant defend and challenge shots in the paint? Are Indiana's guards more aggressive with ball pressure and closing out on shooters? Ottawa is shooting close to 43 percent on 3s, so the Gee-Gees are more than capable of making IU pay for missed assignments on the perimeter. And finally, how is IU's help defense and communications? Both were issues last season and are areas that have been emphasized all offseason and over the first month of practice.
· Where does O.G. Anunoby fit? The freshman forward from Jefferson City, Missouri, is the least heralded of IU's newcomers, but is generating excitement based on his play in the Hoosier Hysteria and Haunted Hall of Hoops scrimmages.
The 6-foot-8 Anunoby was viewed by many as a player with long term potential, but is he ready to make an impact immediately? It's one thing to stand out in an inter-squad scrimmage, but it's another to do so in a live game setting.
Tom Crean has talked in the preseason about his desire to establish a two-deep rotation, but in order to do so, he'll need reliable contributions from guys like Anunoby and Juwan Morgan. Anunoby has the size to help Indiana in the frontcourt with his size and athleticism and Tuesday night could be the next step in him establishing a bigger role than anticipated.
· A look at one of the premier programs in Canada: Indiana was aggressive in scheduling exhibition games this season as the Hoosiers targeted one of the top programs in Canada as well as Division II power Bellarmine.
Ottawa was the only team Indiana lost to during its trip to Montreal and Ottawa last August and the Gee-Gees return several key players from last season's team that was a national runner-up for the Canadian Interuniversity Sport title.
Of particular interest is point guard Mike L'Africain, who is averaging 16.6 points and is shooting 50 percent on 3s through nine exhibition games. L'African is also averaging better than four assists in the preseason and watching him go head-to-head with Yogi Ferrell will arguably be the best matchup of the evening.
Furthermore, it's good to see Indiana reconnect with a program that it clearly gained a lot of respect for last August. The Hoosiers and Gee-Gees played the most entertaining game of IU's Canadian tour and this game, along with the Bellarmine matchup, holds more intrigue than several of IU's regular season non-conference games.
Filed to: Ottawa Gee-Gees