Newcomers impress during Haunted Hall scrimmage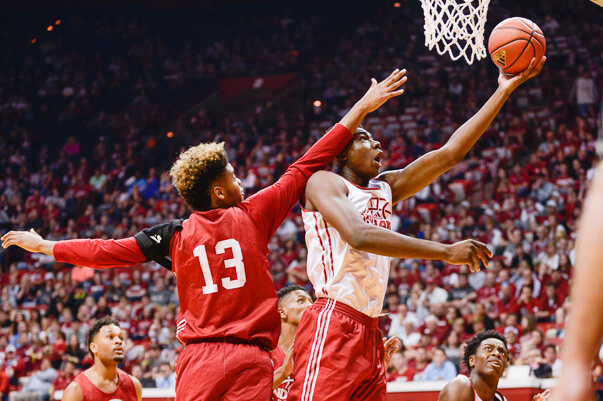 Playing in front of superheroes and princesses of all ages, the Indiana men's basketball team faced off against each other in a scrimmage as a part of the annual Haunted Hall of Hoops event on Saturday at Assembly Hall.
Split into red and white teams, the red squad knocked off white 57-49 in what ended up being a 26-minute game.
The red team was made up of James Blackmon Jr., Troy Williams, O.G. Anunoby, Max Bielfeldt, Harrison Niego, Ryan Burton and Josh Newkirk.
Team white was led by Yogi Ferrell, and also had Thomas Bryant, Nick Zeisloft, Robert Johnson, Colin Hartman, Juwan Morgan and Tim Priller.
Both Hartman and Newkirk sat out due to injuries.
"This is always an event that we look forward to," IU associate head coach Tim Buckley said. "It's been really neat to see this grow and develop, and we really appreciate the families that come out who ordinarily might not be able to make it out or this is their only opportunity to see the Hoosiers, and I think our guys take a lot of pride in that."
Blackmon Jr. led all scoring with 17 points for the red team. Anunoby added 15 points, Williams 13 points and Bielfeldt scored 9 points and had 9 rebounds.
Anunoby was the surprise of the day as he stood out on both ends of the floor.
"(Anunoby) needs to understand what his strengths are and understand what the things are he's got to get better at," Buckley said. "He's a guy that will eventually develop and play out on the perimeter and he can do that at times now but he can also really post up and be strong inside. He's big and physical so he may have to guard those types of matchups."
Blackmon Jr., who underwent offseason knee surgery looked good running the floor, showing no signs of his injury. He played point guard for a large chunk of the scrimmage to get more comfortable running the offense.
"I think he's getting there, I think he shot it pretty well today if I'm not mistaken," Buckley said. "I think when the fatigue set in that's when he missed but he's fighting through that, and I think he's done a terrific job both mentally and physically bouncing back from his injury."
Ferrell and Bryant led the white team with 15 points each.
Buckley said that the Hoosiers could have some bigger lineups on the court this year, especially with Bielfeldt's improvement.
"I think Max played pretty well, he has really expanded his game since the time he got here," Buckley said. "He's handled the ball more than he had before so I think now understanding when to shoot it and when to kick it, how to set up other guys. He's a really good passer out of the post and I think he's got really good poise in the post."
He sees this team as one that is very versatile and can matchup with any team.
"Basketball is becoming more of a matchup game than a position game," Buckley said. "I think you are who you can guard."
Bryant was another player that has impressed the coaching staff and figures to be a main cog in the offense. He received high praise after the scrimmage.
"I don't think Thomas (Bryant) has had too much trouble with crowds," Buckley said. "I think he's a guy that really changes things for you offensively because he reminds me of Cody (Zeller) in that you can run offenses through him."
Filed to: James Blackmon Jr., Max Bielfeldt, O.G. Anunoby, Thomas Bryant