The Inside the Hall Mailbag: October 30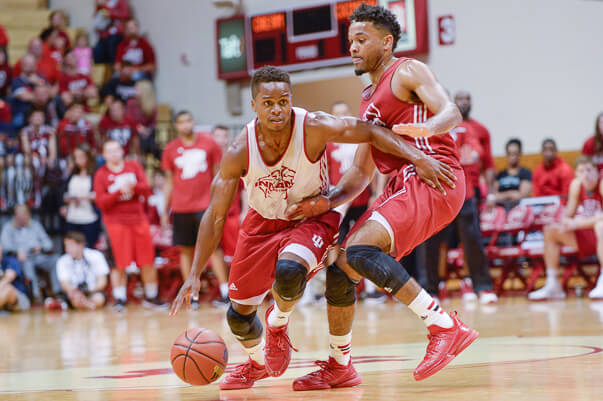 The Inside the Hall Mailbag is a collection of questions tweeted to us via Twitter (@insidethehall), via email, submitted on our premium forum and sent to us via our Facebook page. Submit your questions and we'll answer as many as we can.
@kyl470 on Twitter: Please settle an argument for me. If IU wins the NCAA tournament Yogi becomes the best player in IU history. True? False?
False. I didn't really have to think about it, either. Regardless of what goes down this season, I'd still rank Calbert Cheaney, Scott May and Isiah Thomas as my top three players in IU history. Cheaney is the Big Ten's all-time leading scorer. May was a standout on the historically great 1975 and 1976 teams. Thomas led the Hoosiers to the 1981 championship.
There are others I would have in front of Ferrell, as well, even if IU won the title. The question that would have to be answered is whether Ferrell would be considered in the top ten. But no, he would not be the best player in IU history if the Hoosiers win the title this season. – Alex Bozich
townie12 on the premium forum writes: A lot of recruits about to decide – what's your general feel on how things might play out? Is IU basically out of the mix for Jarrett Allen?
Let's start with Allen first. The Hoosiers no longer seem to be a legitimate contender here as he seems focused on Texas, Kansas, Notre Dame, Kentucky and potentially Houston, where he's currently visiting. Given that he's from Austin, the Longhorns are going to be strong here and Kansas and Notre Dame both seem to be in good shape as well.
The other three recruits who may be close to decisions are De'Ron Davis, Mario Kegler and Bruce Brown. With Davis, it's a two-team race with Indiana and Mississippi State. The Bulldogs have made up ground in recent weeks and get their shot to impress Davis during his official visit on Nov. 5-7. He's obviously an incredibly important recruit for the Hoosiers given the time invested and the fact that he plays in the frontcourt. Most people I've spoken to in recent weeks feel that this one is going down to the wire.
Mississippi State is also involved with Kegler and appears to be the favorite to land him. Maryland, Indiana and Arizona State are also involved, as is Baylor.
With Brown, he's taken official visits to Indiana, Xavier and is at Miami (FL) this weekend. He'll then visit Purdue next weekend. UMass, where he's visited plenty of times unofficially, is also heavily involved. Indiana is right in the mix here as well, but the Minutemen are also a viable contender.
The early signing period isn't far away, so we should have answers on several of these prospects soon. Indiana already has two commitments in its 2016 class, but adding Brown and Davis early would really solidify things moving forward. – Alex Bozich
kleeman20 on the premium forum writes: Crean has already mentioned that they would like to get "2 Deep" at every position although they aren't there yet. Judging by the past, his sub patterns seem to cause a lot of us armchair QB's some headaches. Do you think this team is better suited for a smaller, eight man type rotation? Or the 10 plus that CTC hopes to have.
If everyone is healthy, I think 10 guys could play regularly: Yogi Ferrell, Troy Williams, Robert Johnson, Nick Zeisloft, James Blackmon Jr., Max Bielfeldt, Thomas Bryant, Collin Hartman, Juwan Morgan and O.G. Anunoby. Right now, Hartman is out with a rib injury.
Assuming there's not a significant dropoff when Morgan and Anunoby take the floor (which remains to be seen until we see live action against a formidable opponent), I think there's a good argument for playing all ten of these guys. Some roles may be larger than others, obviously, but this doesn't have the feel of two seasons ago when Indiana was searching for answers on the bench and couldn't find them. – Alex Bozich
Kwang on the premium forum writes: I would like a comprehensive injury report: Blackmon, Hartman, Bryant, and anyone else.
Blackmon Jr. is 100 percent healthy and ready to go for the season. Hartman has been out with a rib injury and Tom Crean said last weekend it would be at least a week before he returns. Bryant missed time in recent weeks with a sore arch in his foot, but was a full participant in Hoosier Hysteria. Indiana is expected to move slowly with him, but barring any setbacks, I'd expect to see him ready to go on Tuesday against Ottawa in the first exhibition. – Alex Bozich
jerad95 on the premium forum writes: What is your starting five and why?
My five would be Ferrell, Blackmon Jr., Johnson, Williams and Bryant. The first four are returning starters from last season and I like Williams playing the role of the undersized four. He's a good enough rebounder to fill that role and he creates plenty of mismatches offensively to justify it. Bryant, Blackmon Jr. and Ferrell are all fairly self explanatory, although Blackmon Jr. does need to show improvement defensively this season like many of his teammates.
The one potential change I could see would be either Bielfeldt or Hartman in for Johnson, depending on matchups. Personally, I would prefer Hartman if a change were to occur because of his ability to stretch the floor. – Alex Bozich
ancphill on the premium forum writes: Watched the Hoosier Hysteria scrimmage highlights and O.G. looked good around the basket on both ends, and just generally looked like a big, imposing dude. He looks like the biggest guy on the floor behind Bryant. Is he a possibility for minutes at the five? It seems he has a higher upside than Max.
Anunoby could see some time up front, but Morgan, Bielfeldt and Bryant will be the primary guys playing in the post for the Hoosiers. Indiana doesn't really have true "positions," but Anunoby isn't a guy who is going to be able to guard many post players straight up like Bielfeldt and Bryant. Morgan isn't as tall as Anunoby, but his instincts in terms of shot blocking and rebounding seem to be more advanced right now.
I agree that he does have upside, but this isn't really a season where Indiana can afford to look at upside. Bielfeldt is an experienced guy entering his fifth year of college basketball, understands the game and isn't going to get pushed around in the post. Look for him to be Bryant's primary backup and you could also see those two playing together as well. – Alex Bozich
mcred24 on the premium forum writes: Defense is a huge question for our team this year. What are your thoughts on potential improvements this year? Do you think the addition of Bryant alone raises the bar significantly without other improvements? And do you think Indiana will continue to flip man and zone during the same possession this year?
These are the questions that could really define the season, right? I believe, for many of the reasons Fran Fraschilla outlined in our recent conversations, Indiana will be a better defensive team. How much better will really tell the story of just how far this team could go.
Experience will be a factor in guys making gains defensively, as will the presence of Bryant, who should be a competent post defender. Indiana didn't have that consistently last season and it was a major problem. Still, there has to be better ball pressure, more focus on containing dribble penetration, more communication and better help side defense. If Indiana just has a top 100 defense, this should be a top 15 team for most of the season.
As for the switching defenses, I would not expect to see it with any regularity, no. It clearly didn't work last season and while I suppose it could happen on occasion just to throw in a different look, Indiana needs to develop in a solid man-to-man team. There has been a huge emphasis on defense thus far in practice. We'll soon begin to get answers on just how much improvement will be realized when the games that matter begin two weeks from today. – Alex Bozich
Filed to: Twitter Mailbag