Notes and quotes from Tom Crean's press conference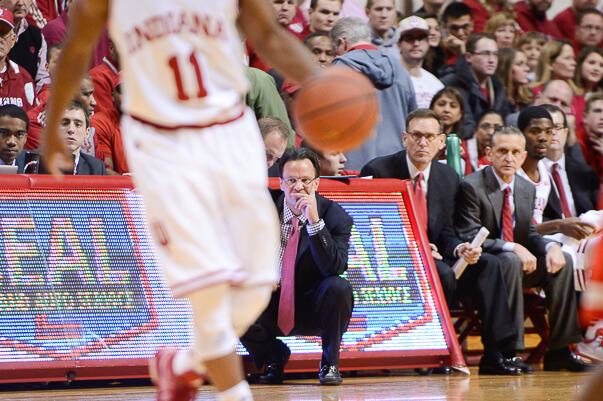 As Indiana prepares for its first practice Friday, Tom Crean met with the media Thursday afternoon at Cook Hall to provide updates on a variety of topics.
You can watch the full video of Crean's comments here, but we've also transcribed some of his more notable comments below:
· Opening statement: "Obviously we start practice tomorrow and it's an exciting weekend at Indiana with everything that's going on with the football team and the fact that Ohio State comes in. And we're equally as excited because we get to start official practice. We'll start tomorrow morning. We'll go twice tomorrow, we'll go on Saturday and then everybody will have time to go to the game and do all of that. With the practices starting so early, it's really important, to me, that we continue to stay in … it's still preseason which means that conditioning has got to continue to get better, strength has got to continue to get better. And we're in really good shape from where we sit right now on October 1, when it comes to our cardiovascular, when it comes to our fitness, when it comes to the way we've tried to build their bodies and the things that they've done in that situation, but you want to continue to stay on that pace. So, to me, with starting it early, it's more about let's make sure we're building up towards a timeline inside of practice rather than throwing it all out there right at the beginning and having these long endurance tested practices at the beginning. Instead, let's try to make sure that we're building towards that because October has to be really, really important for us. This is going to be as challenging of a November schedule, certainly on paper, that we've had, when you look at who we play, with Creighton coming here and then certainly with Maui and the potential of those teams. What we'll try to do inside of the preseason practice, when you're not really preparing for a team specifically, is prepare concepts and prepare for strengths of teams. That's what our staff and myself have tried to do a really good job of over the last couple of months, not only preparing for what we want to do but preparing for what we want to take away and building that into our drills and building that into the mindset really as we get started with practice. And really try to make this a great month of training, of building their skills and building their endurance, but at the same time trying to get them ready for the myriad of things they're going to see as they get into the season and max it out and keep the practices at a really good pace, at a built-up pace rather than a taper-it-down pace, so that we kind of do it in reverse order this year. That's why shorter practices sometimes twice a day and then still get in our conditioning and still get in our lifting and all those types of things."
· Crean said that while the team isn't fully healthy, everyone will be ready to go on Friday besides Josh Newkirk, who continues to recover from microfracture surgery. Newkirk is not eligible to play this season, but Crean noted that Indiana is trying to be "extremely creative" in workouts with him while concentrating on improving his fundamentals.
· James Blackmon Jr. missed a lot this summer because of his knee injury, but is now going "full tilt" according to Crean.
· Crean mentioned that Emmitt Holt would have likely been in the top eight on this team and potentially a starter and noted that his absence is going to force younger players to step up.
"He was having a great spring and summer, so with that being said, that pushes the freshmen up the ladder that much quicker in a sense of them having to really get an understanding," Crean said. "That stuff is important."
· Michigan graduate transfer Max Bielfeldt has increased his vertical jump by five inches in seven weeks according to Crean. Thomas Bryant has increased his vertical by nine inches since arriving on campus according to Crean.
· Crean said going through the NBA draft process helped "build a level of maturity" for all three players who decided to come back.
"Troy (Williams) has still got a ways to go to be considered as one of those guys that is one of the most committed workers when it comes to extra work, but he is also one of those guys that improves the fastest on our team. They all had really good summers."
· As Blackmon Jr. continues to round back into form, Crean noted that his shot hasn't been normal, but said he doesn't have any concerns about that. Defense is also going to key for his sophomore season.
"The biggest thing is going to be how he does on defense," Crean said. "He has an awareness, more and more, defensively right now. It has been in shorter pockets of time. It hasn't been over game-to-game or day-to-day yet. I am hopeful he understands that will have a lot to do with his playing time this year. The decision making and the defense will have a lot to do with all of their playing time."
· Indiana is planning to change the way it rebounds as a team, according to Crean.
"We are going to change some structure of how we rebound," he said. "We will send the guards even more in random situations to the glass, especially on the offensive end. They are going to have to adapt to that pretty quick. So we are going to have to make sure we are getting in a lot of good results out of the hustle stats. Score more off our defense, get more rebounds, and things like that."
· Freshman O.G. Anunoby went up 80 pounds on his bench press and freshman Juwan Morgan has increased his squat by 130 pounds. Anunoby had the second strongest legs on the team.
· Crean said the most important thing for Indiana defensively is to begin building in the half and 3/4 court and to "get our principles down."
"We were not as good as we needed to be on defense, but there were certain areas: navigating screens, anticipating screens, getting over screens, rotating quick enough on reversals, closing out in 2-on-1 situations, and being able to get to the next shooter," he said. "It was not out of lack of want-to, sometimes it was out of lack of will-do. Some of it was just experience. So we have to make sure we have all that stuff down."
· Indiana has been working out in Cook Hall due to the Assembly Hall renovations, but Crean is hopeful they'll be able to get in there by the time Hoosier Hysteria comes on October 24.
· Crean was asked about what he hopes his team learned from the most recent round of off the court issues. Here's his full statement:
"Shared responsibility. I hope we keep getting across to them, I hope people see this, poor choices doesn't necessarily mean poor character. Poor choices sometimes just mean poor choices and any parent could attest to that or should be able to attest to that. But I think the bottom line is they have to understand there has to be a shared responsibility 24/7 with each other and that's asking an awful lot, because most people really don't want to get to that place, whether they're adults, we do that for our kids. Right? We feel that for our children but most people that's a hard thing to do, it really is. You're asking people to really look out for one another in a lot of different ways and that's where it becomes a family. That's how they become a family and that's how they learn down the road to build on when it is time for them to be parents and what those things come into. That's the biggest thing and the growth of that responsibility continues to grow. And have them continue to understand inside these walls that, just because it gets played out the way it does inside of this program, doesn't mean they're in an isolated situation, nationally.
"But that doesn't excuse it but … they need to understand they can be really good and they need to understand we're only going to be as good as our ability to deal with success and adversity and you have to be able to deal with both of them in the same way. You've got to focus or you've got to get refocused, you've got to come out and you've got to be constantly determined to get better, you've got to help your teammates get better and you've got to have great preparation.
"And preparation is discipline. It's all those type of things. It's spending that extra time and it gets hard. It gets really, really easy to get bored with the process. The ones that stick with the process the best are usually the ones that win, and the ones that deal with adversity the best are the ones that usually end up winning the most because it happens. Ours get played out at a different level. I know that and you know that. The bottom line is that they have to continue to grow the right way and I think they're definitely working at that. They're young men, things could change tonight, they could change tomorrow night, and they could change next week. Any parent or anybody that's been around children for any point of time and anybody who's been an employer they should be able to identify with that and hope they do because this team is really working hard to get better."
Filed to: James Blackmon Jr., Juwan Morgan, Max Bielfeldt, O.G. Anunoby, Thomas Bryant, Tom Crean