An early look at the 2015-2016 backcourt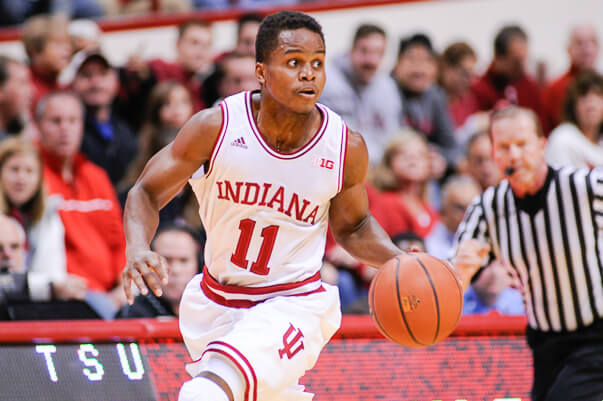 With the official start of practice less than a month away, the 2015-2016 season is on the horizon. We'll have comprehensive player-by-player previews later this fall, but here's an early look at some of the storylines to keep an eye on with this season's backcourt:
Previously: An early look at the 2015-2016 frontcourt
· This group should be special: After missing the postseason altogether in 2013-2014, Indiana returned to the NCAA tournament last season. The reason? Guard play.
The Hoosiers had one of the country's best backcourts last season and every notable contributor returns this season. Yogi Ferrell is back with a chance to set some program records. James Blackmon Jr. was one of the best freshman scorers in the country last season and after considering turning pro, is back with plenty to prove. Robert Johnson was overlooked at times as a freshman, but played heavy minutes and that experience will be beneficial as IU sets its goals even higher this season.
Troy Williams, another player who considered entering the NBA draft, is also back as one of the Big Ten's most versatile wing players. And there's also senior Nick Zeisloft, who torched the nets as a shooting specialist to the tune of 45 percent from 3.
· Can Yogi lead a deeper NCAA tournament run? Ferrell's career in an IU uniform hasn't been without its share of twists and turns. As a freshman, he was the point guard for a team that won the Big Ten and spent considerable time ranked No. 1. His role grew as a sophomore, but Indiana took a major step back and failed to reach the postseason.
As a junior, Ferrell was a big reason Indiana won 20 games and returned to the postseason, but the Hoosiers never developed the consistency necessary for sustained success.
Now Ferrell is back for the final chapter in his IU career with major expectations. He'll be a consensus All-Big Ten first team selection in all of the preseason magazines. He's also surrounded by enough talent to make a run in March. But can he be the catalyst on a team that advances past the Sweet 16? Fair or not, that is how Indiana's season is going to be judged and could drastically shape how Ferrell is remembered in the hierarchy of Indiana point guards.
· Major expectations for sophomore duo: Plenty was expected of Blackmon Jr. and Johnson last season. Those expectations will be ramped up significantly this year as both players were successful last season, but showed plenty of room for growth.
Blackmon Jr. continues to recover from offseason knee surgery, but is on track to be 100 percent by the start of practice. He had no problem finding ways to score as a freshman. His impact on defense, however, was minimal. For Blackmon Jr. to be considered one of the best guards in the Big Ten, he must become more than just a scorer and rebounder.
For Johnson, who quietly put together a very good freshman campaign, there are questions to be answered from a decision making perspective. His turnover rate of 24.2 stood out on a team that was vastly improved in that area last season. Johnson could also be in line for a bit of a shift in his role if Indiana opts to go with more traditional lineups featuring Williams at the three.
· Is Williams in line for another leap? Williams was undoubtedly one of the Big Ten's most improved players as a sophomore. But in what will likely be his final season in Bloomington, is he ready to solidify himself as one of the league's elite players?
To do so, Williams must continue to exhibit improvement with his midrange and perimeter game. There's no questioning his ability to score at the rim and in transition, but when the offense slows down, Indiana needs Williams to create plays for others and knock down shots when left open.
Williams is also one of the league's top returning rebounders, which should continue to be a major focus of his game. Thomas Bryant's arrival should take some of the pressure of cleaning up the defensive glass off Williams, but it should still be his goal to lead Indiana on the glass as he did as a sophomore.
· Can Zeisloft's hot shooting continue? After being questioned by many IU fans when he signed with the program in July 2014, Zeisloft was one of the surprises for Indiana last season.
He led the Big Ten in 3-point shooting in conference games at 51.4 percent and 70 of his 81 field goal attempts in conference play came from behind the 3-point arc.
While he's talked this offseason about diversifying his game, it's hard to imagine a role more appropriate for Zeisloft than finding space on the perimeter and burying shots when the defense collapses on IU's other playmakers.
Like the rest of Indiana's backcourt, Zeisloft must improve defensively, but it's clear he's one of the best perimeter shooters in the country. When he's on from distance and is on the court with playmakers like Ferrell and Williams, Indiana boasts one of the best offenses in the country.
Filed to: James Blackmon Jr., Nick Zeisloft, Robert Johnson, Troy Williams, Yogi Ferrell