President McRobbie: "This misbehavior simply has to stop"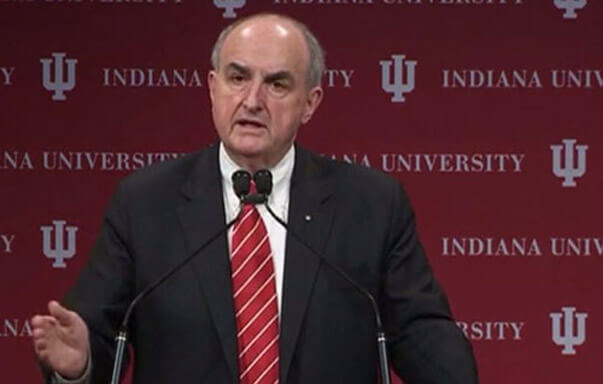 Indiana President Michael McRobbie spoke Tuesday at an all-staff meeting for athletics and addressed conduct, competition and compliance.
The purpose of those remarks were for coaches to share with their respective student-athletes. A full transcript of what McRobbie had to say follows:
I expect that all of you will have noticed the announcement last week of a brilliant scientific result in paleobotany by an outstanding team of scientists led by Dr. David Dilcher of IU's Department of Geological Sciences, where they seem to have identified the earliest form of ancient flowering plant life that emerged about 130 million years ago. This finding was published in one of the world's most prestigious scientific publications, the Proceedings of the National Academies of Sciences.
This epochal result was applauded prominently in the media all over the world.
This is the sort of world-class achievement by our researchers with which I want to see Indiana University associated. I want to see the world-class accomplishments of our faculty and students celebrated, as well as the accomplishments of our student-athletes.
What I do not want to see is any more stories of repeated student misbehavior.
They embarrass the university, they embarrass all of you in Athletics, and they are a complete distraction from our primary role as an educational institution.
This misbehavior simply has to stop.
I expect all of you to ensure that my message is heard loud and clear by all student athletes.
I have stressed repeatedly that our student-athletes are first and foremost students!
Our ultimate goal is to help them obtain a degree that will prepare them for career and life success.
We owe this to them.
COMPETITION, CONDUCT, AND COMPLIANCE
As Hoosiers, we want to win—but win the right way, and with student athletes we can be proud of.
We expect our student-athletes to win with good sportsmanship but without sacrificing their education and without shortcuts.
As always—compliance with all NCAA, Big Ten, and Indiana University rules and policies by all coaches, student-athletes, and staff is crucial, and we will remain vigilant at every level to ensure we follow the rules.
As I have said to this group on numerous occasions, the love of sport must never sacrifice integrity.
Our student-athletes act as role models for students across campus and representatives of IU to the world beyond. They should embody Hoosier values of hard work, dignity, and respect.
All of us must play by the rules, whether those of the law or those of the game, whether we agree with the call or not, whether competition brings victory or defeat.
Filed to: Michael McRobbie