Despite injury, Blackmon Jr. still working to improve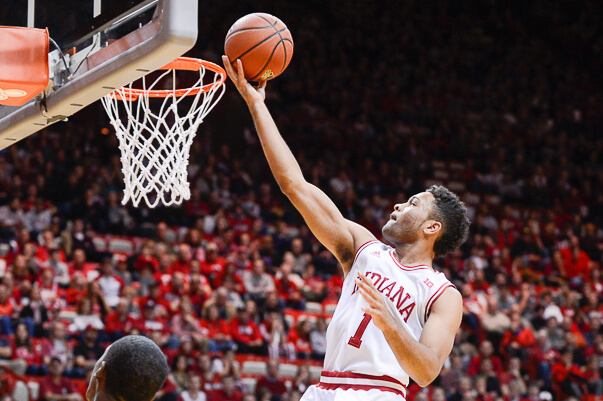 James Blackmon Jr. may have missed a significant chunk of this offseason with a left knee injury, but it hasn't stopped him from finding ways to improve his game.
Last week at a speaking engagement in Fort Wayne, Indiana coach Tom Crean told reporters that Blackmon Jr. is still working to get better as he recovers from surgery to repair a torn meniscus.
"I'm sure he's been doing a little bit more now since he's been back home," Crean said. "But we dove into where we would work on his passing from a stationary position, we'd work on one-legged shooting, we'd work on both hands, we'd work on a myriad of ways to throw the ball because he's going to have to handle the ball a lot more for us this year."
When Blackmon Jr. announced in April that he would return for his sophomore season, Crean said he planned to use the sophomore guard in more of an "initiator" role in his second season.
Blackmon Jr. averaged 15.7 points and 5.3 rebounds per game last season, but mentioned that proving he could play point guard as one of the areas in which he received feedback from the NBA undergraduate advisory committee.
His 518 points were the third most ever by an IU freshman and he hit 77 3-pointers, breaking Eric Gordon's record for 3-pointers for a freshman at IU.
"We want the ball in his hands more," Crean said. "And at the same time, he's got to be able to defend the ball even more. But he can become a more all-around player all the time and he was just working towards that, so we didn't want to take any steps back from that. But his attitude has been tremendous. Even when he gets down a little bit when he's injured, he doesn't stay down because he's got a great spirit about him."
This is the second time Blackmon Jr. has had knee surgery.
As a sophomore at Fort Wayne Luers, he tore the ACL in his right knee, which involved a lengthy rehab. The current setback was much more minor and Blackmon Jr. is expected to be available for the start of practice this fall.
"It's nothing compared to what he had to deal with in high school," Crean said. "I think any time you go through what he had to deal with when he got hurt, hurt his knee and you recover as nicely, as rapidly and as effectively as he did, it's only going to make you stronger. He's a very strong young man, a very smart young man. And what he's done is, he's dove into what he can control."
Filed to: James Blackmon Jr.