A look at how IU recruiting targets performed at adidas Global Nations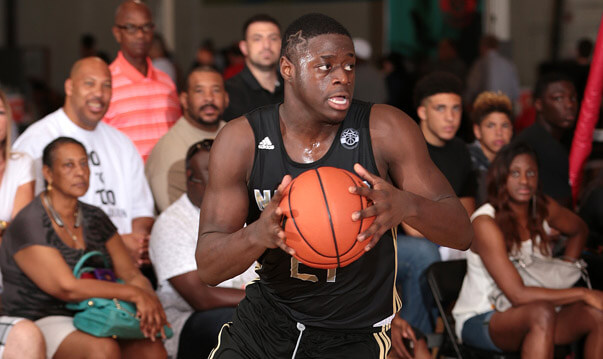 One of the summer's premier events, adidas Global Nations, wrapped up yesterday at Cerritos College in Norwalk, California and several IU recruiting targets took part in the four-day event.
Here's a look at how several prospects being recruited by IU performed:
Rawle Alkins (2016), Team Rose – 21.8 ppg, 5.6 rpg, 5.4 apg, 54.5 FG%, 87.5 FT%
The New York guard (pictured) continued his dominant summer as he was named the MVP of the event following a 26-point outburst in the event's championship game, which his team won 113-93. Alkins scored 20 or more in four games and hit 35 percent of his 3-pointers.
Rawle Alkins filling it up from three tonight. I've seen him have success on (Eurocamp) and off the ball. Can do a lot of different things.

— Mike Schmitz (@Mike_Schmitz) August 4, 2015
De'Ron Davis (2016), Team Wall – 12.5 ppg, 4.8 rpg, 1.2 apg, 53.6 FG%, 64.4 FT%
The four-star forward recently trimmed his list to three schools – Arizona, Indiana and Texas – and he capped off the event with an 11-point, seven rebounds performance on Monday night in front of a national television audience on ESPNU. In a notebook over at Rivals.com from the event, Eric Bossi speculated that the Hoosiers may be in best position to land Davis.
T-Ferg with the nice drop off to De'Ron Davis #sharingiscaring #kubball @the2kferguson pic.twitter.com/lyM5PlEPU1

— Matt Scott (@KUTheShiver) August 3, 2015
Hamidou Diallo (2017), Team Africa – 19.5 ppg, 3.2 rpg, 1.2 apg, 47.1 FG%, 59.8 FT%
The Hoosiers are one of several schools pursuing Diallo, a class of 2017 guard who plays at Woodstock Academy in Putnam, Connecticut. Diallo exploded for 26 points on Monday night at Team Africa beat Team Lillard, 89-85, to win the third place game. He was the event's sixth leading scorer.
Team Africa wins 3rd place game. 89-85. 6-4 jr combo Hamidou Diallo was the best player on the floor. Sensational all week. #adidasnations

— NBADraft.net (@nbadraftnet) August 4, 2015
Trevon Duval (2017), Team Lillard – 12.7 ppg, 4.8 apg, 3.8 rpg, 52.9 FG%, 36.7 FT%
One of the nation's top point guards in the class of 2017, Duval finished eighth in the event in assists per game, but struggled from the free throw line (7-of-19) and from behind the 3-point line (1-of-11). In his first game of the event on July 31, he had 18 points, seven rebounds and five assists, but also had seven turnovers.
When Gary Trent Jr & Trevon Duval are on their A game it's a tough backcourt to beat.(@THAT_KID_GARY) (@DatGuy_Trey) pic.twitter.com/SDEjH1t6nb

— Paul Biancardi (@PaulBiancardi) August 2, 2015
Mario Kegler (2016), Team Rose – 12.6 ppg, 4.0 rpg, 2.0 apg, 47.9 FG%, 52.1 FT%
Indiana offered the 6-foot-7 Kegler over the weekend and his guardian quickly confirmed that he would be taking an official visit to Bloomington. He teamed with Alkins on Team Rose on the team that won the event and had 19 points in the championship game.
With 5:04 in third, Team Rose takes a 10-point lead on two free throws by Mario Kegler, 65-55, then he gets breakaway. #AdidasNations

— Ronnie Flores (@RonMFlores) August 4, 2015
Jarrett Allen (2016), Team Rose – 4.2 ppg, 5.8 rpg, 37.5 FG%, 75.0 FT%
The 6-foot-10 forward from Texas didn't receive a ton of playing time for Team Rose as he logged 70 minutes in five games. His best performance statistically was eight points and nine rebounds in a 138-69 Team Rose beatdown of Team Nations Select on July 31.
Jarrett Allen has at least three blocks already. Nice feed by De'Ron Davis to see Jackson sliding to corner for 3. #adidasNations

— Dustin McComas (@DMcComasOB) August 4, 2015
(Photo credit: Kelly Kline/adidas)
Filed to: Deron Davis, Hamidou Diallo, Jarrett Allen, Mario Kegler, Rawle Alkins, Trevon Duval