Injury in the rearview, Hartman prepares for junior campaign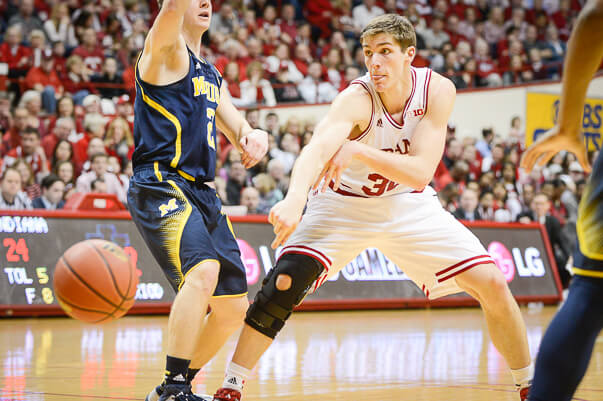 After an underwhelming first season in Bloomington, expectations for Collin Hartman as a sophomore were tepid.
The Cathedral product appeared in just 16 games during his first season in an IU uniform, totaling 11 points in 72 minutes. At the conclusion of the 2013-2014 season during a workout, he tore his ACL, forcing him to miss the offseason and sit out the program's trip to Montreal and Ottawa last August.
But Hartman's 2014-2015 campaign – one in which he averaged 4.8 points and 3.1 rebounds in 19.7 minutes per game – made him one of the surprises of last season and positioned him as a pivotal rotation piece as he enters his junior campaign.
Despite the fact that little was expected out of him leading into his sophomore season, Hartman said last week at Assembly Hall that sticking to the fundamentals are what earned him a role last season.
"It was really just knowing that if I make the hustle plays and do the hustle plays, then I'm going to stay on the court," he said. "Playing is every kids dream, especially in Assembly Hall, so hustle plays are what kept me on the court. It was really what I had to start doing, because my skill set wasn't exactly there, so I couldn't really do much outside of my element. So the hustle plays and the fundamental plays are what really kept me on the court. And that is what I really think gave me the confidence knowing that if I did this, it would help."
Hartman's role as a sophomore was unconventional in that, at just 6-foot-6, he started several games at center when Hanner Mosquera-Perea went down with a knee injury.
His best scoring output was 15 points in a win over No. 13 Maryland on January 22 and he followed that up with 12 points on the road in a loss to Ohio State. The additions of Thomas Bryant and Max Bielfeldt, coupled with the continued development of Emmitt Holt, should mean Hartman will shift back into his more natural position on the wing or as a stretch four.
"Those guys are great with Thomas and Max and guys like that down there," Hartman said. "But as for myself, I just have to really polish my all-around game and be able to play the five if needed. I need to be able to play any position that coach needs and work on my guard skills, getting stronger and quicker to be able to play any of those positions."
One thing that Hartman says doesn't cross his mind much now is his right knee. He was forced to play limited minutes at times last season and also sit out some workouts and practices. But he said on Thursday that's no longer the case. He also looked noticeably stronger in his upper body.
"For myself, getting back into it physically and being able to participate in everything, not having any limitations or not being so much as fearful but just being conscious of my knee, I don't really have to think about it anymore or do anything about that," he said. "So it's great to be able to participate fully in everything that we do."
As one of IU's upperclassmen who has experienced multiple offseasons now in Bloomington, Hartman said having his teammates on campus for most of the summer has been beneficial for building relationships on and off the court.
The Hoosiers will face significant expectations this season as most preseason polls have them pegged as a top 15 team entering the fall. That optimism could quickly be tapered if the defense doesn't make a major improvement.
Indiana ranked just 214th last season in adjusted defensive efficiency. The issue must be solved on both the individual and team levels, Hartman believes.
"I think guys like Max (Bielfeldt), Thomas (Bryant), and Emmitt (Holt) getting stronger like he has and being able to be bigger down low really helps," he said. "We are also getting a lot quicker with the things we are doing in strength and conditioning, such as keeping the ball out of the paint, keeping guys in front in one-on-one defensively and just all around.
"Starting off individually, you have to do your job, which is to keep your man out of the paint. If you don't do your job to the fullest of your ability, that's where the team part comes in, the help side comes over and everyone has to rotate. There's multiple steps that go in between that, as you know, but it does start off individually with being able to keep your man in front in a one-on-one situation."
Filed to: Collin Hartman