Williams recaps offseason work with John Lucas, Nike Basketball Academy experience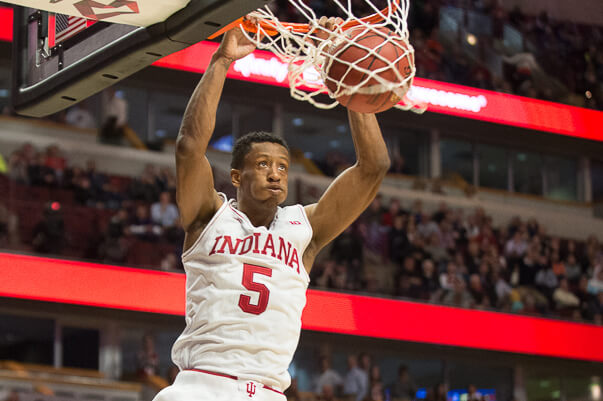 It's been a busy offseason for Troy Williams and the junior forward from Hampton (Va.) has one more event to close it out on a strong note.
The 6-foot-7 forward contemplated leaving early for the NBA, but announced on April 8 he would return for another season. Since then, he's been working on his game not only in Bloomington, but in other venues across the country.
"All of May when I left (campus), I went to Houston to work out with John Lucas and other players there," Williams said on Thursday. "I worked out with his son (John Lucas III), of course, a couple of NBA players were there. People like Tim Frazier, Trevor Lacey and others. Very good workouts. Left there, came back here and the end of last month, I went to the Nike Basketball Academy."
Up next for Williams is a trip to Long Beach, California for adidas Nations Global, where he will serve as a college counselor. That event runs from July 31 through August 3.
His experience at the inaugural Nike Basketball Academy in June, which took place at Santa Monica (Calif.) Airport's Barker Hanger, included some tutoring from one of the NBA's best 50 players of all-time.
"Got to learn a lot from Scottie Pippen," Williams said. "He was a person who definitely saw all of my games and told me how I could improve. I gained a great friendship with him."
The workouts with Lucas, a former No. 1 pick who trains players from the middle school level all the way up to the NBA, were nothing new for Williams.
As a high school player, he trained with Lucas and attended many of his camps. Lucas is a close friend of his uncle, Boo Williams.
"He likes that I play fast, he just wants me to make better decisions with it," Williams explained. "Just making the right plays, the right moves and knowing when I have an open shot and knowing when I have to pass it and spacing.
"Really I look at him like a grandfather. We have a really close relationship like that. I don't even see the No. 1 pick or all the other stuff. He's just mostly a person who is like family that helps me with my game."
In addition to the work with Lucas and the experience at Nike Basketball Academy, Williams has also spent plenty of time in Bloomington working with his teammates and new strength and conditioning coach, Lyonel Anderson.
"Just been here working, extra shooting, been watching a little bit of film," he said. "Some of the clips of the last game we played last year and now just getting ready to leave for adidas Nations next week."
Williams took a major step forward last season with his shot selection, particularly from the perimeter. He took fewer 3s (just 13 compared to 29 as a freshman) and hit a hit a higher percentage (46 percent compared to 20.7 percent as a freshman).
Continuing to improve his perimeter shot and midrange game have remained a focus this offseason.
"I like to drive and kick to get my teammates open, so if they have to respect the 3, I can get that going even more," Williams said. "Really doing a lot of things off the dribble, still working on set shot, trying to work on midrange more."
Defensively, Williams said he's been "checking Yogi (Ferrell)" in an effort improve as an individual defender.
With the additions of Thomas Bryant and Max Bielfeldt and the continued growth of Emmitt Holt, Williams will likely have the opportunity to spend more time on the perimeter.
He's also focused some on film work, something he started to do at the conclusion of his freshman season. When he does watch clips from last season, he primarily goes back to the Wichita State game, an 81-76 loss in the opening round of the NCAA tournament.
"That was the last game we played. I had a lot of ups and downs in that game and as a team, we had a lot of ups and downs so it's just basically learn from that," he said. "Your last game tells you a lot about how your season went."
Filed to: Troy Williams