Zeisloft working to diversify his game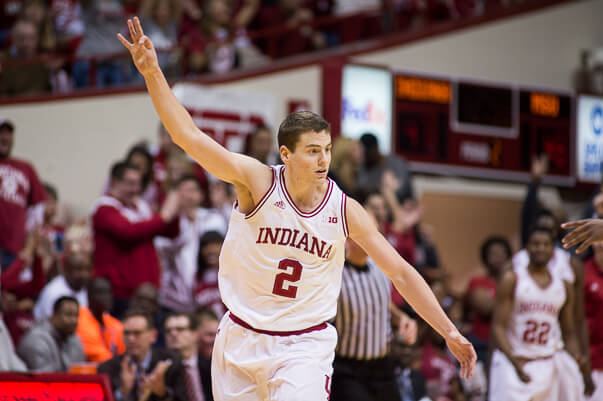 As his first full offseason as a member of the Indiana basketball program moves along, there are differences in the surroundings for redshirt senior Nick Zeisloft.
Strength and conditioning coach Je'Ney Jackson, who departed earlier this year for the University of Kansas, has been replaced by Lyonel Anderson. Hanner Mosquera-Perea and Devin Davis are no longer with the program following dismissals in May. And there are five newcomers, including McDonald's All-American Thomas Bryant.
But perhaps the most important change is that, unlike last year when both Zeisloft and Emmitt Holt were late arrivals into the offseason program, the Hoosiers have had a full roster nearly all summer.
The exception, of course, is James Blackmon Jr., who is recovering from recent knee surgery. The offseason continuity, according to Zeisloft, has its benefits.
"Open gym this summer is more competitive compared to last summer and fall," he said last week. "Last year, we didn't really know each other, so we didn't get after it. Now, we get after it and we don't really care about feelings anymore, which is better for us. We're all best friends at the end of the day and great teammates. But when it's open gym time, you don't want to lose a series, to say the least."
For Zeisloft, a rare graduate transfer who arrived with two years to play rather than one, the focus this offseason has been on making himself more well-rounded.
As a redshirt junior, the 6-foot-4 native of LaGrange, Illinois, was one of the nation's top shooters.
He posted an offensive rating of 139.1, the second best figure in the country. His effective field goal percentage was 67.4, thanks mostly to a 45 percent mark behind the 3-point line. And his turnover rate of just 10 percent was the best among IU's rotation regulars.
This season, however, Zeisloft wants to be able to contribute in more ways.
"I wouldn't call it 'branching out' so much as I would call it improving, and being able to do more with what you work on every day," he said. "I'm not just shooting every day, I'm working on driving, shot fakes, getting to the rim, my mid-range game, drawing fouls, and posting up every day. I'm not trying to stick with what I've done before. I'm looking to improve every day."
Two of the primary areas of focus for Zeisloft are attempting to find ways to get to the foul line more – he shot just 17 free throws last season – as well as becoming a better defender.
"I'm working on ball screens, making plays for others, and drawing fouls so that I can get to the free throw line," Zeisloft said. "Drawing fouls is a big key with coach (Crean). Defensively, guarding the best guys that I can—James (Blackmon Jr.), Troy (Williams), Collin (Hartman), Yogi (Ferrell) and Rob (Johnson). I'm even working against the bigs. Thomas is strong down there. Sometimes, you get switched to guarding him in open gym, and it's pretty tough."
One benefit Indiana doesn't have this summer that it enjoyed last offseason was its foreign trip to Canada. The Hoosiers had 10 practices leading up to that trip and then played five games over a six-day span in Montreal and Ottawa.
The absence of that opportunity, however, doesn't have Zeisloft any less bullish on this year's team, which figures to start out in the top 15 in the preseason as seven of the team's top eight scorers return.
"I would say (there's) more camaraderie, more understanding of what guys are going to be on the court, more timing," Zeisloft explained. "We had a lot of new guys come in last year and we didn't have the months of the summer to work together. This summer we've had everybody here the whole time and it's been great.
"Whether it's open gym or individuals or just seeing how guys tick in the weight room and in different conditioning drills. You know how to communicate with one another and work with one another already at this point instead of Emmitt coming in in September and us just trying to get our feet wet with him and then school starts."
Filed to: Nick Zeisloft