NBA Summer League roundup: Vonleh breaking out in Vegas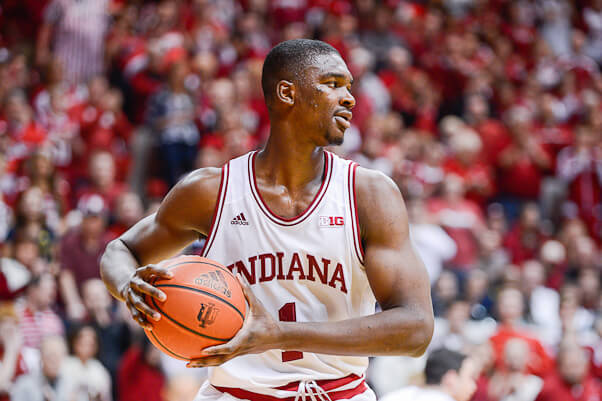 Four former IU players – Christian Watford, D.J. White, Noah Vonleh and Will Sheehey – are participating in the various NBA summer leagues with varying roles and different degrees of success.
The standout of the group is Vonleh, a 2014 lottery pick who was traded from Charlotte to Portland last month. Here's a look at how each of the former Hoosiers has fared this summer:
· Vonleh, Portland (17.2 points, 8.5 rebounds in 29 minutes per game): The summer league in Vegas is the perfect learning ground for Vonleh, a player with immense talent but still in need of plenty of seasoning.
Through four games, Vonleh, who is reportedly between 255 and 260 pounds, appears to be moving in the right direction. As Grantland's Danny Chau pointed out on Wednesday, Vonleh's 20 points on Tuesday against San Antonio were more than he ever put up in a game at Indiana.
He hit the 20-point mark again on Thursday and did it against the No. 1 pick in this year's draft, Karl-Anthony Towns. Vonleh also had 10 rebounds and a blocked shot. That performance drew praise from the Blazers summer league coach, Nate Tibbetts.
"Noah is really active. He really battled him," Blazers summer league coach Nate Tibbetts said. "This is what summer league is for: to go against a good player like that who's going to be great player in our league. I think he stepped up and challenged him."
For his part, Vonleh is keeping things in perspective and realizes that carrying over things from the summer to the regular season won't be an easy feat.
"I'm getting more comfortable against most of these opposing (power forwards) because I know most of them can't stay in front of me," he told OregonLive.com. "But it's going to be different in the NBA. The game is changing and most of these guys are quicker and, kind of like me, they like to get to the basket, do different things. So I got to keep working on that."
· Watford, Indiana (4.8 points, 3.8 rebounds in 16.5 minutes per game): Watford spent last season in the Development League after playing in Israel as a rookie.
While he may have a chance at getting a training camp invite again like he did last year with Boston, the realistic view is weighing another season in the D-League versus trying to go overseas to maximize his earnings potential.
He played in four of five games for the Pacers in Orlando with his best effort coming in the finale, a 98-74 loss to the Orlando Magic blue team in which he had seven points, 10 rebounds, four assists, two blocks and two steals in 25 minutes.
Watford is scheduled to play for Armored Athlete in The Basketball Tournament this weekend in Chicago along with Sheehey and Jordan Hulls.
· White, Cleveland (8.0 points, 4.0 rebounds in 19.3 minutes per game): White has appeared in three of Cleveland's four games thus far in Vegas with one start.
He had 13 points and five rebounds over 22 minutes in a 94-87 win over Milwaukee on Monday. Like Watford, he's probably looking to earn a training camp invite and if that doesn't work out, he'll likely be headed back overseas.
White played for Laboral Kutxa Vitoria of the ACB League (Spain) and the Fujian Sturgeons of the Chinese Basketball Association last season.
· Sheehey, New Orleans (7.0 points, 1.5 rebounds in 12.5 minutes per game): Sheehey's stint in Vegas appears to have been cut short due to a hamstring injury.
He started both games he appeared in for the Pelicans, but has not played since Monday.
Pelicans Summer League coach Darren Erman called the loss of Sheehey a blow to the roster due to his "rugged defense on the ball," according to Pelicans.com.
Filed to: D.J. White, Noah Vonleh, Will Sheehey