Thon Maker dominant at Under Armour All-American Camp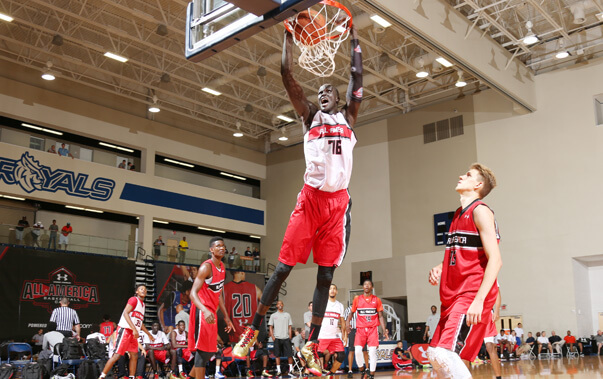 One of the storylines that has emerged through the first two days of the July evaluation period is Thon Maker's dominance at the Under Armour All-American Camp in Charlotte, North Carolina.
The 7-foot Maker, who recently announced he would remain a class of 2016 recruit rather than graduating this December, won the MVP at the NBPA Camp last month.
And his stellar play has carried over into July as he's averaging 20.7 points, 15.7 rebounds and three blocked shots at the Under Armour All-American Camp. The rebound and block averages lead all players in the camp.
His performances so far in Charlotte are drawing rave reviews from the national media, including ESPN's Fran Fraschilla, who is on staff for Under Armour at the camp.
Watched Thon Maker dominate tonight @UnderArmour All American Camp. I've never NOT seen him play hard. Easily a high lottery pick in 2016!

— Fran Fraschilla (@franfraschilla) July 9, 2015
The performance Fraschilla is speaking of was 23 points and 17 rebounds for Maker against the No. 1 player in the class of 2017, DeAndre Ayton.
Maker's move to solidify himself as a 2016 recruit has also led more schools to contacting him.
According to ESPN.com's Jeff Borzello, Kentucky, Florida State and Oklahoma State have all reached out to Maker in the weeks since his announcement to remain in 2016 at NBPA camp. Borzello's report also mentioned Arizona State and Indiana, two schools that have been talked about near the forefront of Maker's recruitment for months.
The Hoosiers have had a presence in Charlotte for Maker's games as both Tom Crean and Rob Judson have been at the camp.
Indiana has been recruiting Maker for more than a year as Crean offered a scholarship to Thon and his brother, Matur, in May of 2014. The duo took an unofficial visit to Indiana in March for the regular season finale against Michigan State.
(Photo credit: Ned Dishman/Under Armour)
Filed to: Thon Maker