Offseason storylines: Is Troy Williams in line for another leap?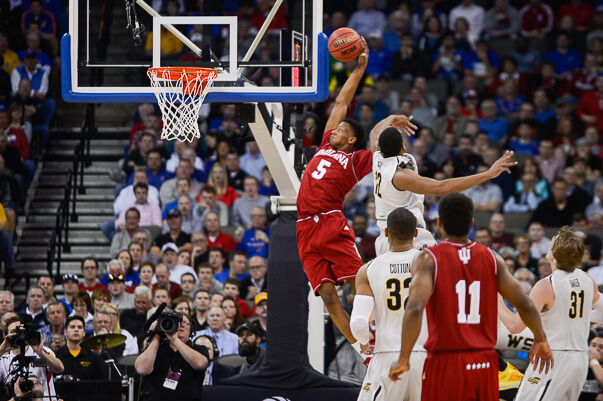 Welcome to offseason storylines, a look into some of the biggest storylines surrounding the 2015-2016 Indiana Hoosiers. First up, a detailed look at rising junior Troy Williams — his game, his numbers, his future and the possibility of another big leap as a junior.
If the title here looks familiar, it's because a post with a similar title was penned last June. At the time, Williams was coming off a freshman season with mixed results, but there was plenty of optimism for what he might become in his second collegiate season.
A year later, Williams appears on the cusp of a breakout after a sophomore season full of improvements. At the recent Nike Skills Academy, Williams was already being discussed as a player who could find himself with a guaranteed NBA contract a season from now.
But there's still plenty of room for growth for a player who has the talent to land in the first round of next June's NBA draft. In fact, according to Williams' uncle, Boo Williams, there were teams willing to consider him in the first round of this year's draft, but that wasn't assurance enough to convince him it was time to go.
"I don't think Troy is anywhere near his ceiling," Boo Williams told Inside the Hall back in April. "I think Troy has the potential to get better. There were some teams willing to draft Troy in the first round. Not many, but enough to make you think about it. I think he'll be better next year, especially if he has the same improvement he did this year."
The perspective of Boo Williams, who knows the game at the grassroots level as well as anyone, isn't one that is found nearly enough when it comes to underclassmen making decisions on whether to enter the draft. The NBA is a league that drafts on future growth and while Williams has plenty of room for it, potential only gets you so far. There are countless examples of players who leave early for the league, stick around for a few years and then are never heard from again. Williams undoubtedly would have been given a chance somewhere, but at this stage, would he have had any staying power?
Coming back for a third season keeps Williams in the hunt to earn a degree in three years, allows him to grow his game for another season and sets him up to accomplish much more in the Big Ten and NCAA tournament while also solidifying his draft profile.
Making the decision to return even more clear are examples of several players who have grown under Tom Crean and his staff. Sure, there are examples of highly-touted recruits who never panned out, but those who take an ownership in their development and put in the time typically reap the benefits. This was true at Michigan State when Crean was a lead assistant under Tom Izzo, it was true at Marquette and it's also been the case at Indiana. Player development is a big part of Indiana's recruiting pitch and when one of the best NBA players of the last decade comes to Bloomington (with teammates in tow) to get in offseason work with Crean and his staff, it shows that it's not just some gimmick.
In terms of the numbers, Williams took a major step forward as a sophomore, but still has plenty of work to do. He showed off an improved jump shot last season, but the sample size wasn't large enough to consider it a legitimate part of his game.
His 3-point attempts were down – 29 as a freshman versus 13 as a sophomore – but his efficiency improved as his percentage grew from 20.7 to 46.7. The volume of attempts may not increase significantly in his junior season, but being able to continue to sprinkle a jumper in consistently (and perhaps a bit more often, too) will force defenses to make a choice: give him space or risk being blown past on the dribble.
In an interview earlier in the week with Andy Katz and Seth Greenburg, Crean mentioned that the 3-guard offense "could be a lot more of weapon than a necessity because we've got to be bigger," which suggests that lineups with Williams spending time at the 3 could happen more frequently. But for that to happen with any regularity and to pair Williams in the frontcourt with say, Emmitt Holt and Thomas Bryant, the jump shot must continue to improve.
Speaking of the dribble, Williams also showed improvement in his decision making and ability to facilitate as a sophomore, but is still a work in progress. His turnover rate as a sophomore dipped by more than five percent while his assist rate jumped by more than six percent. That sounds good, but a turnover percentage of 19.3 is still high. The Indiana staff, of course, shouldn't put the brakes on Williams in the open court, but as Crean often emphasizes, making the simple play must be the primary focus.
On the glass, the addition of Bryant should only help Williams and Indiana. The Hampton native was the team's best defensive rebounder last season and it wasn't really close. In fact, he was the second best defensive rebounder in the Big Ten in league games (25 DR%). Surrounding Williams with better frontcourt talent should help the Hoosiers improve on what was a below average performance last season on the defensive glass. IU's defensive problems last season started on the perimeter, but falling from 28th nationally in defensive rebounding percentage in 2013-2014 to 188th last season didn't help, either.
Consistency, too, is a key for Williams. It's no secret that when Williams played well last season, Indiana did too in many cases. In 18 wins (he missed IU's first two regular season games), he averaged 13.6 points and 7.6 rebounds per game with an effective field goal percentage of 60.2. In 14 losses, Williams came in at 12.4 points and 7.3 rebounds per game with an effective field goal percentage of just 49.2. Those aren't major differences in terms of per game averages, but the efficiency number is certainly notable.
As we sit here four weeks into IU's "phase two" of the offseason, it appears Williams is doing his part to set himself up for another leap as he enters his junior season. He again spent time in Houston working with John Lucas – something he did last offseason as well – and also challenged himself with the trip to Santa Monica for the Nike Basketball Academy.
This leap, however, may not be able to be judged quite like the one from his freshman to sophomore season, at least statistically. Given all the pieces returning around him, Williams may not score or rebound the ball more this coming season, but continuing to improve his efficiency and cutting down the turnovers will have a tangible effect on Indiana winning more games. And as the program enters a pivotal season with increased expectations, winning is as good a measure as any to judge improvement for Williams in his third season.
"The number one thing that's going to differentiate them is if they win and win big," Crean said early last month. "Because if you win big, now you're putting yourself in a different realm. And that's got to be as much of a driving force as anything else."
Filed to: Troy Williams