Major interest continues for five-star Kris Wilkes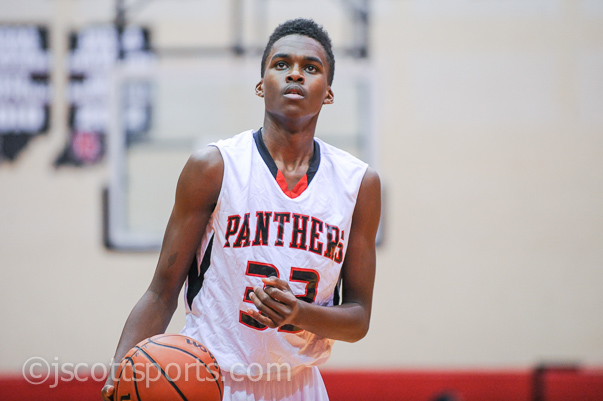 LOUISVILLE, Ky. – The class of 2017 is shaping up to be a good one in Indiana and Kris Wilkes, a 6-foot-7 wing from North Central, may be at the forefront.
Wilkes is rated the No. 19 prospect nationally in the 2017 class by the 247Composite and earlier in the year, Scout.com ranked him the No. 68 prospect in high school regardless of class.
As a sophomore at North Central, Wilkes helped lead the Panthers to a 16-6 record while averaging 17.4 points, 5.5 rebounds and 1.2 assists on 58 percent shooting.
This spring, he's once again starring for the Under Armour sponsored Indy Hoosiers team that also features Southport guard Paul Scruggs. Through seven UA Association circuit games, Wilkes leads the Hoosiers in scoring (13.0 ppg) and is second in rebounding (4.6 rpg).
And as a result of his strong play both during the high school season and thus far in AAU, he continues to pick up interest from many of the nation's top schools.
"I think I upgraded on a couple of things (in the last year)," Wilkes said on Saturday. "I handled the ball more and attacked more."
The early offer list for Wilkes is an impressive one.
Indiana, Purdue, Xavier, Kansas, Butler and Illinois have all offered scholarships and Michigan is also expressing strong interest. Kentucky and Ohio State watched him over the weekend at the UA Association stop at the MidAmerica Basketball Center in Louisville.
The Hoosiers were the first school to offer Wilkes and he's already taken several unofficial visits to Bloomington. This past season, he was in Assembly Hall for IU's 70-67 win over Michigan.
"I just know it's crazy (there). The crowd is great," he said of the IU atmosphere. "All the fans come and support (the team)."
Wilkes said he also attended games at Ohio State and Butler this past season and added that he could visit Michigan, Illinois and Ohio State soon.
For now, however, his focus remains on growing his game and also attempting to get stronger.
"I'm 6-7 and 184 pounds. It's a little bit hard (to put on weight)," he explained with a smile. "I eat a lot, but it doesn't show. But I'm lifting weights, so hopefully I can get bigger.
"I need to get bigger, rebound more and get my jump shot better."
Filed to: Kris Wilkes