Indiana remains heavily involved with 2017 guard Paul Scruggs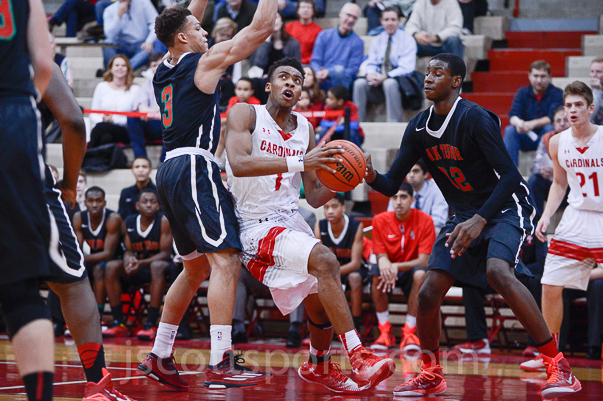 LOUISVILLE, Ky. – Class of 2017 Southport guard Paul Scruggs, who landed a scholarship offer from Indiana in July of 2013, remains a recruiting focus for the Hoosiers.
It's not hard to see why.
As a sophomore at Southport, Scruggs helped lead the Cardinals to a 23-3 record and a No. 1 ranking in the state for much of the season. He averaged 17.3 points, 7.3 rebounds, and 5.7 assists and was named to the MaxPreps 2014-2015 sophomore All-American team.
The spring AAU circuit is now underway and Scruggs continues to shine with the Under Armour sponsored Indy Hoosiers team that also features Kris Wilkes, a five-star prospect from North Central.
The 6-foot-3 Scruggs is capable of playing both guard spots, but sees himself as a point guard at the next level.
"I don't think I'll grow any more (height wise)," he told Inside the Hall. "I've got the ball handling skills and I can facilitate on the floor."
Recruiting interest continues to pick up for Scruggs. He picked up a scholarship offer earlier this week from Illinois and also has offers from Kansas, Purdue and Xavier.
The No. 25 prospect nationally in his class, according to the 247Composite, Scruggs was a frequent visitor to Bloomington this past season to watch Indiana. The Assembly Hall atmosphere is one he says he enjoys.
"I went to a lot of IU games," he said. "I just like how the place is hype. They let their point guards go at will."
After a disappointing season-ending loss in the sectional to Pike for the second straight year, Scruggs has a deeper state tournament run on his mind for his junior season.
The Cardinals will also return big man Joey Brunk, another IU recruiting target who will be a senior. The 49-48 loss to Pike back on March 7 is something Scruggs says he still thinks about and will use as motivation as he prepares for his junior season.
"I think about it every day. It motivates me to get better," he explained. "We turned over the ball too much and our shots weren't falling.
"It was a learning experience for us. The first year, we still had to get our chemistry down. My second year, we still had a little chemistry that we had to get, but I think we did better."
Filed to: Paul Scruggs