Q & A: Thomas Bryant at McDonald's All-American media day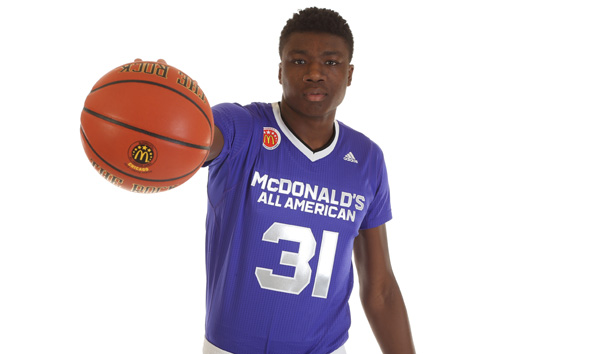 CHICAGO – Class of 2015 Huntington Prep (W.V.) big man Thomas Bryant was at the United Center on Tuesday afternoon for media day for the McDonald's All-America Game.
Inside the Hall had the chance to sit down with Bryant, who is considering the Hoosiers, for a one-on-one interview. Here's a full transcript of our conversation:
How's this experience been for you so far these last couple of days?
"It's been great. It's a once in a lifetime thing and I'm just blessed to be here and I'm just thanking God each and every day."
As far as the game tomorrow night, sometimes it can be a guard dominated game, how do you make your mark?
"I'm just going to play hard, play smart and just don't worry about whether it's a guard oriented game because I still have a national tournament to play with Huntington Prep right after this, but I'm just living in the moment right now and I'm just blessed and am taking full advantage of it because I know it won't happen again."
What's the transition like playing in an all-star game like this to go back to the team you've been with all season?
"It's good because you get to wind down a little bit and play in an all-star game, have some fun but also know in the back of your head not to get too lackadaisical because you still have a team that is counting on you and still have to be in that mindset that it's a national tournament that you're trying to win and let's get serious."
Reading your comments from yesterday, do you anticipate making a decision after that tournament? Or are you still thinking that through?
"I'm thinking about trying to make it soon, but I'm just taking it day by day. My mom and I are talking over it and once we're in agreement on everything, that's when everybody else will know. It shouldn't be too long."
You were on a visit recently to Indiana for the Michigan State game, what were your impressions and what are your overall impressions of Tom Crean and how you might fit into that system?
"If I chose Indiana, being a dominant player, I'd be a key focal point because being there and putting the hard work in and also just having a bunch of shooters around you, they double down and I kick out for an open 3 or if they don't help down, I could get a bucket down low, also. That game with Michigan State, they had heart, they played their hearts outs and the way they lost was just hard. You just know that they fight each and every day."
Will it be a factor on whether Yogi Ferrell and Troy Williams decide to return to school?
"I've thought about it, but I haven't really heard too much. As far as I know, they're there and they're still going to be there."
You mentioned (yesterday) that Syracuse and Kentucky hadn't been in quite as much contact with you, would you say that Indiana is recruiting you the hardest right now?
"Yeah, Indiana and Missouri."
What about the Mizzou program is keeping them in the mix and what do you like about them?
"Just coach Rob (Fulford) being there and him being my old coach (at Huntington Prep) and also Montaque Gill-Caesar who was my old teammate last year and me and him have so much chemistry together and we just love playing with each other."
Your game in general, how would you describe it and what are you working on the most now as you head into your college career?
"I would say I'm a guy that always brings energy and passion to the game. I never let a day off. I'm also a guy who has developed tremendously on the offensive and defensive end to being quicker, being more lateral and also a guy that is an interior scorer and an outside scorer that can shoot a jump shot, too."
(Photo credit: Brian Spurlock-USA TODAY Sports)
Filed to: Thomas Bryant