That's A Wrap: Max Hoetzel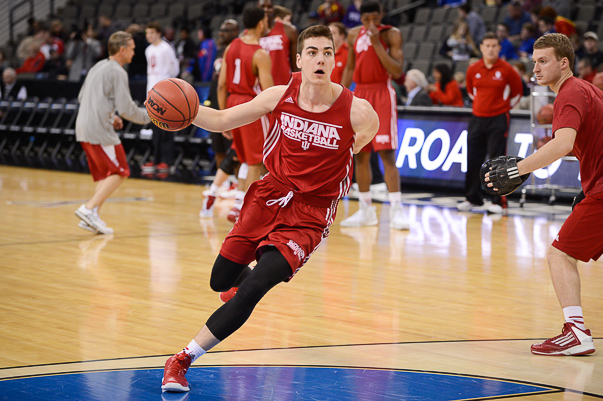 Welcome to "That's A Wrap," our player-by-player recap of the 2014-2015 Indiana Hoosiers. Today: Max Hoetzel.
Hoetzel (31 games): 2.4 points, 1.3 rebounds, 0.3 assists, 51.8% eFG, 71.4% FT, 34.5 3PFG% in 7.7 minutes per game.
It was in Max Hoetzel's first game at Indiana that the freshman showed what he could be for the Hoosiers.
Against Mississippi Valley State in the season opener, Hoetzel would score 19 points off the bench, five of his baskets coming from 2s and another from behind the arc. He also recorded nine rebounds (three offensive boards), along with an assist and a steal. But that was the most production the Hoosiers would see from Hoetzel all season.
A 6-foot-8 freshman originally from Calabasas, Calif, Hoetzel came into Indiana via Wilbraham and Monson (Mass.) Academy. And his coach, Chris Sparks immediately warned that the future Hoosier would have to improve his strength significantly.
It's eventually what held Hoetzel out of significant minutes this season.
Throughout his freshman campaign, Hoetzel — who happened to be one of the tallest players on Indiana's roster — struggled defending players taller and bigger than him. Indiana coach Tom Crean said he would have given Hoetzel a redshirt had he been given a choice, but Devin Davis's preseason injury eliminated that option.
That said, Crean did not hesitate in saying that Hoetzel has had "some really good moments" in his freshman season. Against Butler, Hoetzel hit a 3-pointer. At Illinois, he hit another and drew an and-one. He did that against Maryland in the Big Ten tournament, as well, his 3-pointer coming in the closing seconds to make the losing scoreline much more respectable for the Hoosiers.
More telling of the way his season went, however, was that he would never eclipse six points in a game after his 19-point regular season opener. He also would finish the season ranked third on the team in turnover rate (19.7 TO%).
Crean said during a radio show in early March that he wants to see Hoetzel gain a better understanding of going after every ball, rebounding and what exactly the Hoosiers need to do on offense, in addition to building his strength over the offseason.
But in all, Crean said "it's just a matter of time for him" to become a significant contributor to the Hoosiers.
Bottom Line: Hoetzel's first game at Indiana might have been a sign of things to come for him in a Hoosiers uniform — just not this season. Throughout his freshman year, the 6-foot-8 wing was played sparingly — deep in Crean's rotation and having little impact in most games. Hoetzel had his moments and proved to be yet another 3-point shooting option on a team loaded with them, but ultimately his lack of strength in guarding big men and his struggles of playing like Crean wants the Hoosiers to overall, in his eyes, limited his minutes this season.
Quotable: "It's just part of the game. Coach always says play on demand, so you've got to just have your mind ready. I think a big thing that helps me is talking, so when I'm on the bench if I'm talking like I'm actually playing, it helps me get ready. " – Hoetzel before Indiana's game at Ohio State.
Previously: Robert Johnson
Filed to: Max Hoetzel