What to Expect: Wichita State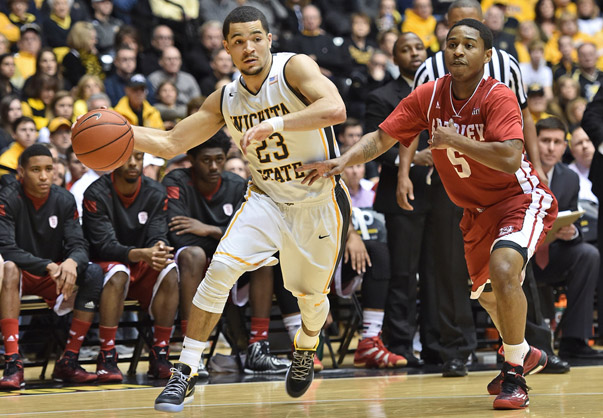 After missing the postseason altogether last season, Indiana makes its return to the NCAA tournament on Friday afternoon as the No. 10 seed in the Midwest Region. The Hoosiers will face No. 7 seed Wichita State, which last played on March 7 against Illinois State in the semifinals of the Missouri Valley Conference tournament.
The Shockers, ranked No. 14 in the Associated Press top 25 poll, are 28-4 and had a nine-game winning streak before falling in the MVC tournament. Friday's tip time is scheduled for approximately 2:45 p.m. ET on CBS with Marv Albert, Chris Webber and Len Elmore on the call.
OMAHA, Neb. – Indiana finds itself in an unfamiliar position in the NCAA tournament. Unlike 2012 and 2013, when the Hoosiers were heavy opening-round favorites, this Indiana team is an underdog.
The combination of Indiana being slotted in as a No. 10 seed, which is higher than most anticipated, along with the the belief that Wichita State was under-seeded by the selection committee as a seven, has the Hoosiers as a 5.5-point underdog as of Thursday morning.
A LOOK AT THE SHOCKERS
As we alluded to in our first look at Wichita State, the Shockers rely heavily on a pair of guards for success. Juniors Ron Baker and Fred VanVleet, who were both first team All-Missouri Valley Conference selections, both played significant roles on last year's team that went undefeated in the regular season and earned a No. 1 seed in the NCAA tournament.
Baker is the team's leading scorer at 15 points per game and is shooting 38.5 percent on his 3s. At 6-foot-4 and 220 pounds, he'll be a tough matchup for the Hoosiers on the perimeter and his ability to get shots off of screens is something IU must be prepared for defensively off of switches. He's also a solid defender with a block percentage of 2.9 and a steal percentage of 2.5. As a refresher, here's a look at Baker's shot chart this season via Shot Analytics: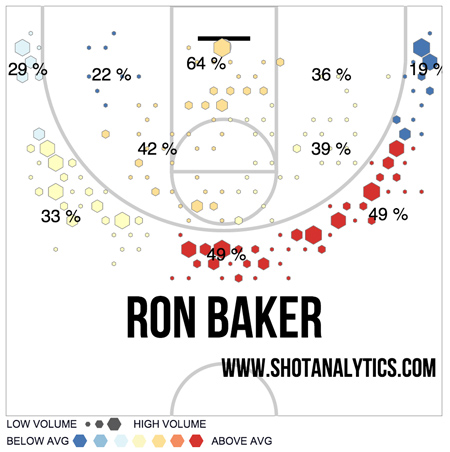 VanVleet, Baker's backcourt counterpart, is equally important in making the Shockers go. His assist-to-turnover ratio is better than 3-to-1 on the season and he's the team's second leading scorer at 12.7 points per game. VanVleet is both physical and aggressive off the dribble, which makes him effective at getting to the foul line. His free throw rate (FTA/FGA) is 46 percent on the season and he knocks down 79.1 percent of his attempts from the stripe. VanVleet also ranks just outside of the top 50 nationally in steal percentage at 3.8.
Senior Tekele Cotton is the team's fourth leading scorer at 9.6 points per game and has won the Missouri Valley Conference Defensive Player of the Year award twice. Cotton isn't a great 3-point shooter (29.2 percent), but his experience as a player who is entering his fourth NCAA tournament is pivotal.
Two others who played key roles on last year's team that started out 35-0 round out the Wichita State starting five. Senior forward Darius Carter, who is 6-foot-7 and 245 pounds, averages 11.2 points and 5.3 rebounds and could be a problem for Indiana on the glass. Carter owns a solid offensive rebounding percentage (10.6) as well as a very good defensive rebounding percentage (20.1). Carter is making 52 percent of his 2s this season, but is shaky from the foul line at 62.6 percent.
Junior Evan Wessel is a low usage offensive player who fills his role well. At 6-foot-4 and 218 pounds, Wessell makes the occasional 3 (33 percent) and rarely turns it over (12.1 turnover percentage).
Three freshman and a junior center who is 6-foot-11 round out the rotation for the Shockers. Freshman Shaquille Morris, a Missouri Valley All-freshman team selection, is 6-foot-7 and 261 pounds. He's making nearly 55 percent of his 2s and uses 21.2 percent of the team's possessions while on the floor. Freshman Rashard Kelly also stands 6-foot-7 and is a very good offensive rebounder from a percentage perspective at 11.1.
Freshman Zach Brown provides perimeter depth and he's hit 50 percent of his 3s and 55.2 percent of his 2s, albeit on limited attempts. Rounding out the rotation is 6-foot-11 Bush Wamukota, who could see spot minutes, but averages just 1.2 points and 1.6 rebounds per game.
TEMPO-FREE PREVIEW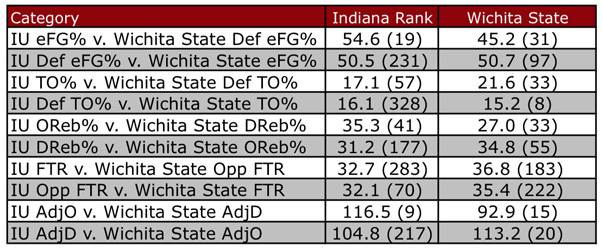 As the numbers indicate, there aren't many holes in the Wichita State profile. The Shockers rank in the top 20 nationally in adjusted offensive and defensive efficiency and the fact that they play at such a deliberate pace puts an extra emphasis on Indiana not giving away any possessions.
The Shockers don't turn the ball over, hit the glass hard on both ends and really don't have a glaring deficiency on their profile. They're not great at defending the 3 (34.4 percent allowed), but hold the 19th best 2-point defensive field goal percentage in the country. They also do an excellent job on the defensive glass as opponents are only grabbing 27 percent of their missed shots on the season.
WHAT IT COMES DOWN TO
KenPom likes Wichita by 6, with a 26 percent chance of Indiana pulling the upset. Sagarin likes Wichita by 4.5 and the current Vegas line sits at 5.5 points.
In terms of landing a matchup that is favorable from a size perspective, Indiana probably couldn't have done much better than Wichita State as the Shockers don't have a true post player to rely on. However, Wichita State's offense, one that features a lot of ball screens and two very tough players to cover in VanVleet and Baker, offers a stiff test for an Indiana defense that has struggled all season.
Guard play is always talked about as a primary factor to winning in college basketball, but it gets an added emphasis in March as last season we saw a Shabazz Napier-led Connecticut team ride his play all the way to the national championship. This game is likely going to come down to which team is better in its backcourt, which puts a lot of pressure on a pair of freshman, Robert Johnson and James Blackmon Jr., to not give up much ground against one of the nation's best guards and a future pro in Baker.
With Wichita State's ability to keep the game played in the halfcourt and its ability to take care of the ball, Indiana is going to need one of its best performances of the season in terms of taking care of the ball and a hot shooting performance from the perimeter to move on past the Shockers.
Filed to: 2015 NCAA tournament, Wichita State Shockers