First look: Wichita State Shockers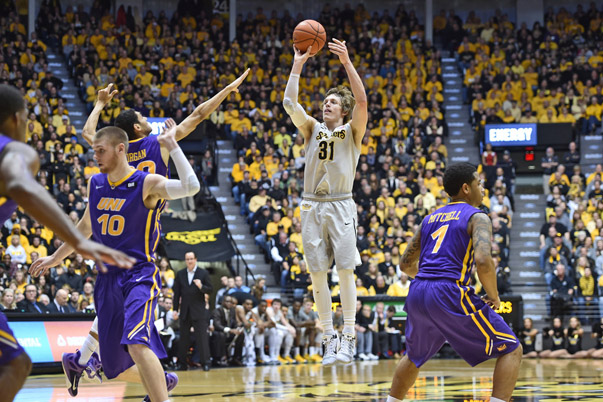 Indiana will face Wichita State in the NCAA tournament round of 64 on Friday in Omaha, Nebraska at the CenturyLink Center. We'll have our in-depth What To Expect preview later in the week, but here's a first look at the seventh-seeded Shockers.
Wichita State is located about 303 miles southwest of Omaha, so the Shockers should have a strong contingency of fans in the arena on Friday, especially with a potential matchup with Kansas looming on Sunday if they are to advance past Indiana. Gregg Marshall is in his eighth season at Wichita State and the Shockers were actually in the same bracket with Indiana back in 2012 in Portland, but were knocked off by VCU as a No. 5 seed.
This is the fourth straight NCAA tournament appearance for Wichita State and the program went to the Final Four back in 2013 where it fell to eventual national champion Louisville. Last season, the Shockers went undefeated in the regular season and earned a No. 1 seed, but were knocked off in their second game against eventual national runner-up Kentucky.
In a year in which it appears the NCAA tournament selection committee really valued who you played and who you beat, Wichita State's lack of a marquee win over a major conference team is the likely reason it slid down to a No. 7 seed. Despite a lofty No. 14 national ranking by Ken Pomeroy and a top 16 ranking in the AP Top 25 all season, the Shockers only beat two NCAA tournament teams in the regular season: New Mexico State and Northern Iowa.
That said, scheduling as a mid-major is no easy task as the marquee programs typically won't agree to home-and-homes and a program as established as Wichita State shouldn't subject itself to guarantee games. The Shockers did play teams from the American (Memphis and Tulsa), Southeastern Conference (Alabama), Big East (Seton Hall), Atlantic 10 (George Washington and Saint Louis) in the non-conference, but none of those teams amounted to much, which hurt their overall strength of schedule (119 nationally).
In his comments to the media last night, Marshall said he hadn't watched much of Indiana this season, but looked forward to digging into the tape to begin preparation.
"I haven't watched Indiana that much this year," he said. "I've seen bits of their games. I saw the end of a game one time when Yogi Ferrell tried a desperation 3, kind of like Fred's (VanVleet) the other night against Illinois State and he did not make it. But I have not watched them a lot."
One thing that both teams share in common is a lack of size in the frontcourt. The Shockers are just 275th nationally in Pomeroy's effective height statistic, while Indiana sits at No. 255. Despite the lack of post presence on both sides, this matchup won't be lacking in its backcourt matchups.
Before we dig into that a bit, a few notes on the Shockers stylistically. From a tempo perspective, this is a team that controls pace and likes to play deliberately. Wichita State is 298th nationally in tempo and is the eighth best team nationally at taking care of the ball. Simply put, if Indiana either falls behind or gives up possessions due to careless turnovers, Wichita State is a team that can make you pay.
The Shockers aren't a great shooting team (94th nationally in effective field goal percentage) and rarely get to the line, but they do hit the offensive glass well, which has been a vulnerability for Indiana at times.
As for the guard matchups, juniors Fred VanVleet and Ron Baker are battled tested leaders who form one of the nation's best backcourts. VanVleet is an elite distributor who ranks 23rd nationally in assist percentage while Baker is very good at getting his own shot using screens. Via Shot Analytics, here's the season shot chart to-date for Baker: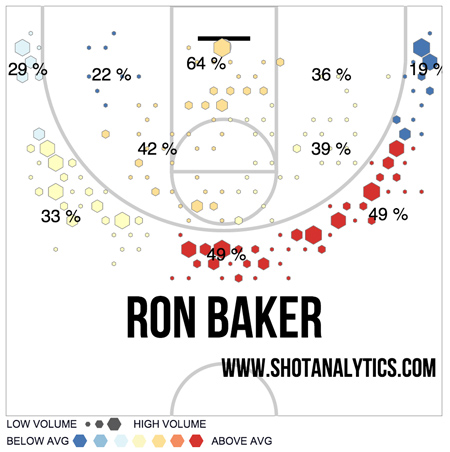 We'll dig into the remainder of the roster later in the week in What To Expect, but it's no secret that the VanVleet and Baker matchups loom large for the Hoosiers. Looking back at the four losses for the Shockers, Baker played below his offensive rating for the season in all four of them and VanVleet did so in three of the four losses.
One other player who very much deserves a mention at this juncture is 6-foot-7, 245 pound senior Darius Carter. In conference games, he used a team-high 27.3 possessions, ranked in the top 15 of the Missouri Valley Conference in both offensive and defensive rebounding percentages, ranked third in block percentage and was the league's third best player at drawing fouls.
On the defensive side of things, Wichita State ranks 15th nationally in adjusted defensive efficiency, but has struggled to defend the 3. Opponents are knocking down 34.4 percent of their 3s against the Shockers for the season, which is 186th in the country compared to just 42.5 percent shooting allowed on 2s, which ranks 20th.
Wichita State also allows a fair amount of free throws as their opponents have an average free throw rate (FTA/FGA) of 36.8 percent. Three of the four teams that beat Wichita State exceeded that number, the exception being George Washington.
So where are shots available against Wichita State?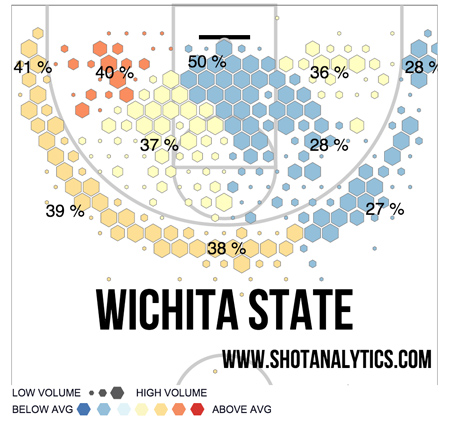 Three of the four teams that knocked off the Shockers posted offensive efficiency numbers over 1.09 points per possession and three of them also had effective field goal percentages over 55.
As fortunate as Indiana was to get a No. 10 seed and safely get a berth into the field, its road out of the first round won't be easy against a team that is playing closer to home, was under-seeded by the committee and is tournament tested.
The early lines reflect that as the Hoosiers opened as a 5.5-point underdog with just a 27 percent chance of advancing according to KenPom and a 28 percent chance of moving on according to FiveThirtyEight.
Filed to: 2015 NCAA tournament, Wichita State Shockers